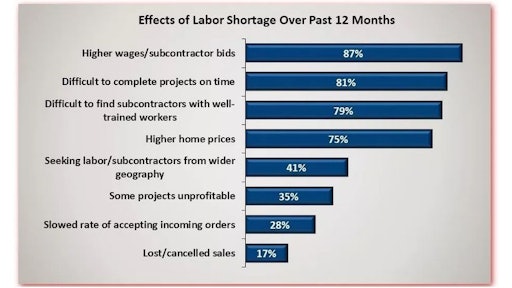 National Association of Home Builders
Labor and subcontractor shortages remained widespread in July of 2019 and are continuing to impact the home-building industry in a number of ways – including putting additional upward pressure on new home prices – according to results from special questions on the survey for the National Association of Home Builders/Well Fargo Housing Market Index (HMI).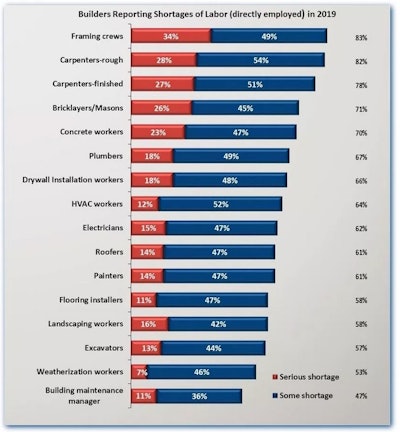 In July, the HMI survey asked builders specifically about shortages in 15 different occupations. Shortages of labor directly employed by builders remained at least fairly widespread for each of the 15 vocations, ranging from a low of 47% for building maintenance managers to a high of 83 percent for framing crews.
Many of the shortage percentages were little changed from where they were at this point last year. The share of builders reporting a shortage of rough carpenters actually ticked down a percentage point, from 83% in 2018 to 82% this year. Labor shortages in the other 14 occupations were either unchanged or even more widespread than they were in 2018. Averaged across the nine occupations NAHB has been covering in a consistent way since the 1990s, the incidence of shortages reached 69% in 2019—the highest number on record.
This shortage seems especially severe relative to housing starts, which still have not fully recovered from their historically low 2009-2011 trough. Nor, with the possible minor exception of rough carpenters, has the softness in new home production during the first part of the year had a noticeable impact on the incidence of reported shortages.
The same survey asked builders about the effects labor shortages may be having on their businesses. Four of these effects stand out as very common (cited by at least three-fourths of builders.
(more NAHB research on construction labor shortage . . . )
Related Stories
Construction Employment Slows Down in July
Construction Unemployment Remains Below 10% in All 50 States
How Resilience Training Can Improve Construction Productivity