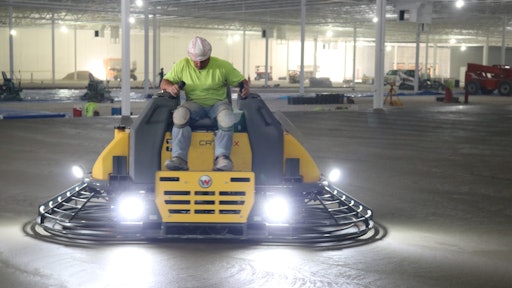 Wacker Neuson Corp.
The Construction Division of the Swedish firm Husqvarna Group announced it has acquired the concrete power trowel business from Wacker Neuson Group, including all product, R&D and manufacturing assets relating to both walk-behind and ride-on concrete power trowels. Sales in the power trowel segment (acquired assets) in 2018 amounted to about 150 MSEK, or roughly $15.2 million USD.
"Power trowels complement our current range in a great way, connecting the entire process from ground compaction to polished concrete floors, and fits well into our divisional strategy to grow our Concrete Surfaces and Floors business," says Henric Andersson, President Construction Division, Husqvarna Group. "With the addition of the ride-on trowels we will now have a complete offering for concrete surfacing and polishing which will add great value to our customers."
Wacker Neuson has been developing and producing trowels in North America, which represented the company's largest market for these products. The product range will be launched under the Husqvarna brand in early 2020. As part of the OEM agreement, Husqvarna Group will also manufacture power trowels on Wacker Neuson's behalf through the end of 2020.
"Our existing concrete power trowel customers will receive the same level of service and support as they experienced in the past," says Alexander Greschner, CSO of the Wacker Neuson Group. "We are and will remain a reliable partner for our customers in the concrete sector." The company plans to continue to supply spare parts and services to its customers beyond 2020.
According to Wacker Neuson, the sale marks another step in the move to focus on core products and streamline the product portfolio, as targeted in its Strategy 2022.
"Sharpening our focus on core competencies and products enables us to offer our customers premium quality and outstanding service solutions," explains Martin Lehner, CEO of the Wacker Neuson Group. "In line with our strategic pillar of 'focus,' which aims to optimize our portfolio of competitive construction equipment, we have decided to concentrate even more on our core businesses, namely compact equipment, compaction equipment, utility and concrete consolidation with internal and external vibrators, and to divest the trowel business."
Companies in this article