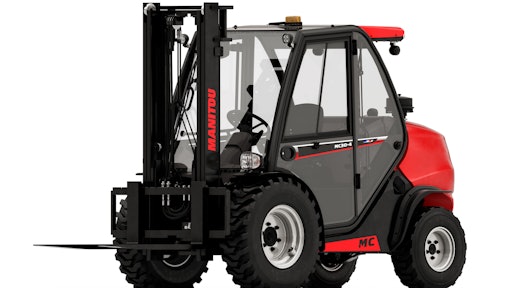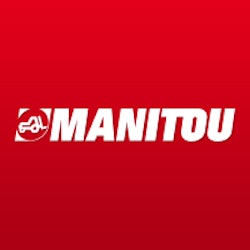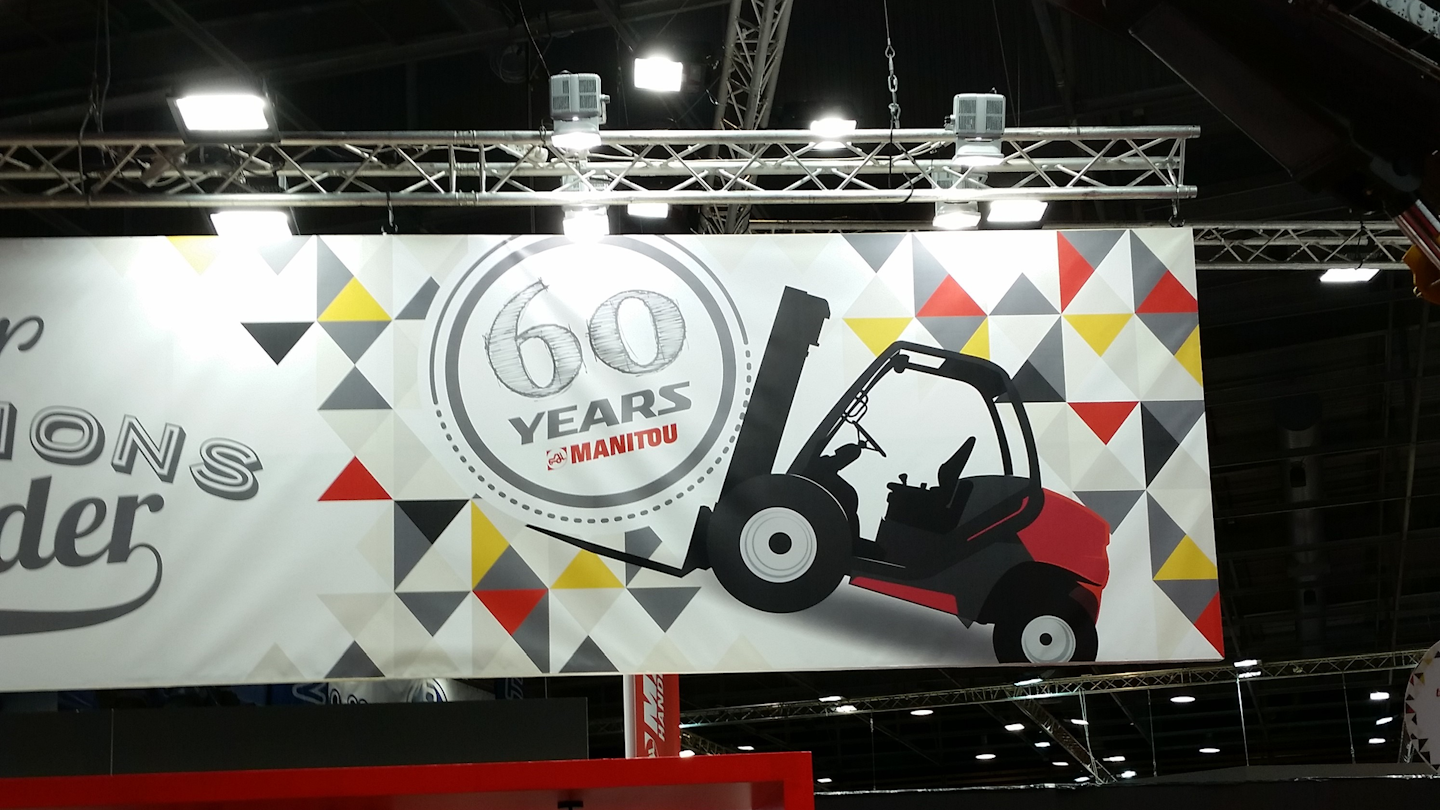 At INTERMAT 2018, the Manitou Group, a leading builder of rough-terrain handling equipment, showcased its innovative solutions geared toward increasingly optimized total cost of ownership. Two new aerial work platforms were unveiled, and the Gehl RT215 compact track loader also got an upgrade with a new hydraulic control system. Visitors to the show got a sneak preview of two new rough-terrain forklift trucks – the MC 25 and the MC 30 – emphasizing the innovation that has been the hallmark of these products since the first model was launched 60 years ago. 
Manitou went for a decidedly retro stand this year as a tribute to the 60th birthday of its first forklift truck, and unveiled a whole host of solutions to meet all possible handling requirements at construction sites. Thirteen products were show, including two new forklift trucks, two new versions of existing aerial work platforms and a rotating telehandler that picked up a prize at the Intermat Innovation Awards. Three compact track and tire loader models made by Gehl and Mustang were also shown at the group's stand.
Sneak preview of new rough-terrain forklift trucks
The Manitou Group used the 60th birthday of its first Manitou forklift truck to give visitors a sneak preview of two new models. With loading capacities of 2.5 tonnes and 3 tonnes (2.4 tons and 2.9 tons), the MC 25 and MC 30 models have ground clearances of 30 cm (12 in.), making clearing obstacles easy. There are also four-wheel-drive versions for negotiating rough and steep terrain.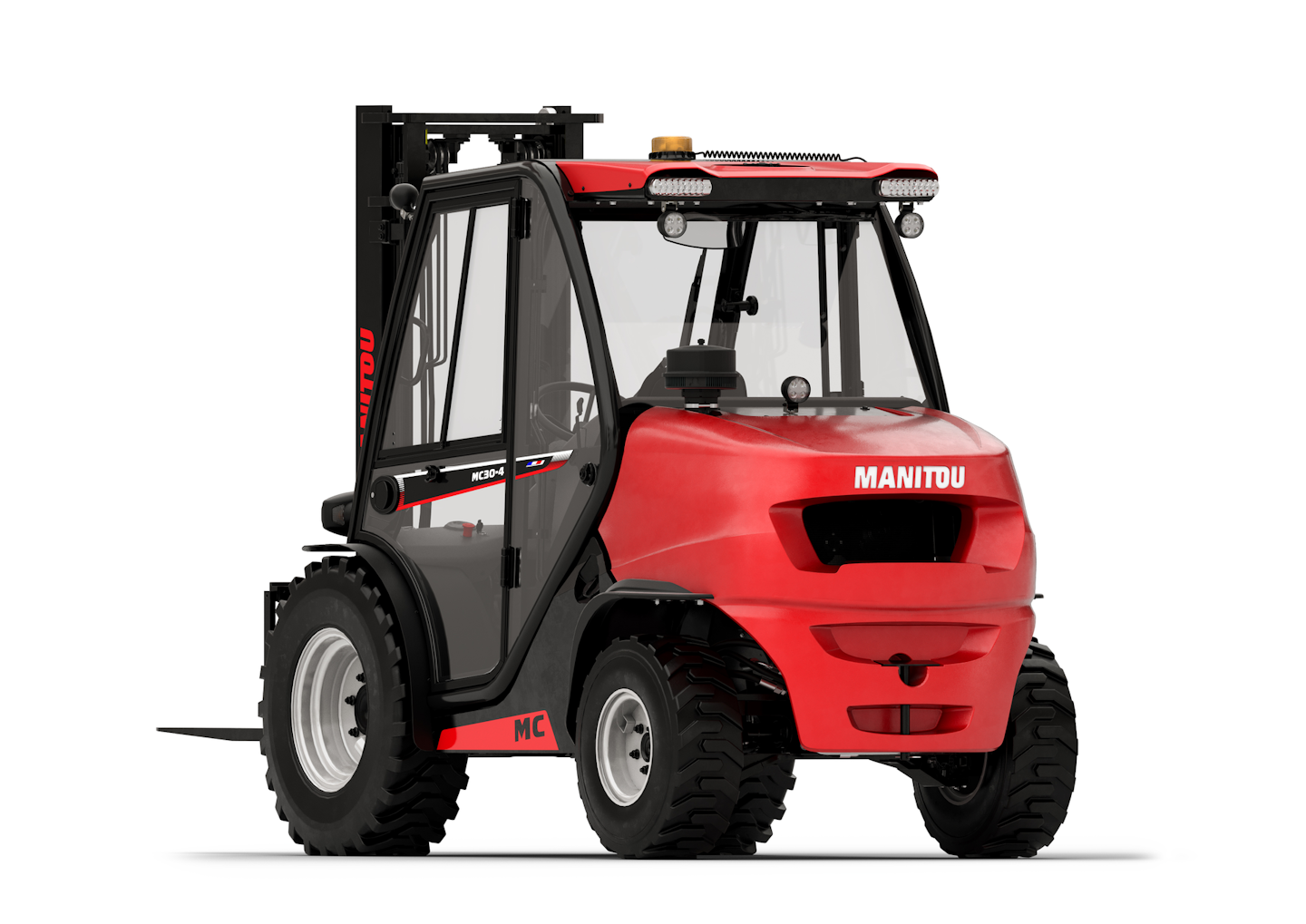 Extremely compact and only 1.45 m wide (4.8 ft.), these forklift trucks can be used for easily maneuvering around works sites. With maximum speeds of 25 km/h (15.5 mph), both the MC 25 and MC 30 models have been certified as roadworthy, so they can be used over long distances. The components can be easily accessed via an engine cover located behind the seat. Users no longer have to raise the whole cabin. This repositioning makes maintenance easier, thus reducing total cost of ownership for both these models.
The four-wheel-drive buggy version of the MC 25 was presented at INTERMAT, which features a maximum lifting height of 3.7 m (12.1 ft.) (for a mast height of up to 5.5 m or 18 ft.) and a turning radius of 3.4 m (11.2 ft.). These extremely compact dimensions are useful when maneuvering in cramped locations – the machine's height is under 2 m (6.6 ft.). This low height means that it can easily clear doorways, and perform loading/unloading operations on lower ground floors. The MC 25 is versatile and easy-to-use, making it ideal for numerous applications, such as masonry, building frameworks and cladding, as well as for assembling structures for use at events. This model has also been designed to provide operators with wide visibility: the top of the cabin features a panoramic roof.
Updated Aerial Work Platforms
The latest version of the 180 ATJ aerial work platform has a new STAGE V engine, with the platform no longer requiring post-treatment. Its Kubota engine's fuel consumption has been reduced from 26 kWh (on the previous version) to 19 kWh, while the services it delivers have been improved by the incorporation of a variable flow pump.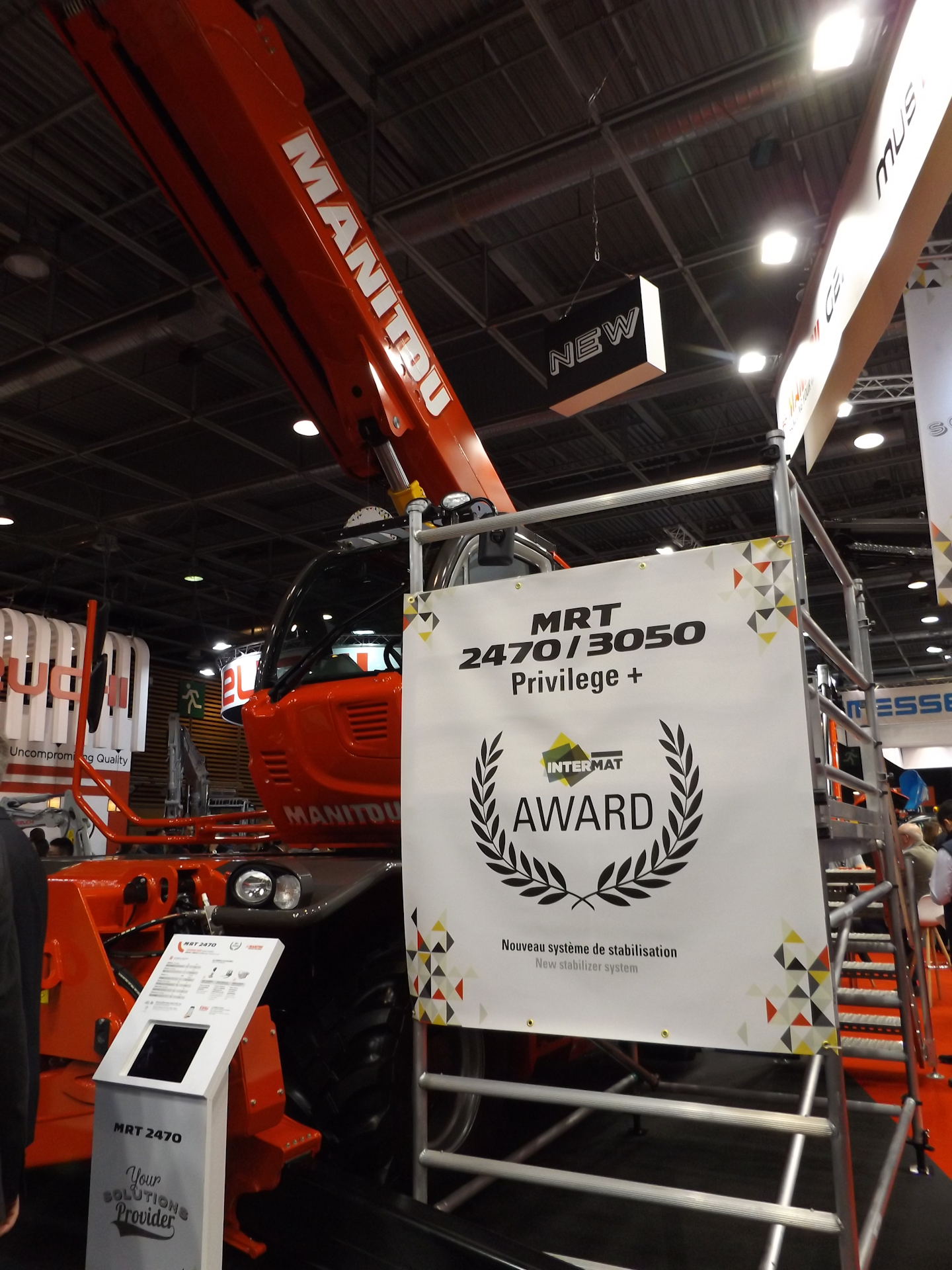 Fitted with a Stop & Go system and featuring anchoring points that can be easily located for transport, this model has been designed to meet hirers' requirements and has a particularly low total cost of ownership – 8% lower than the previous version. The design has also been overhauled: wider wheels mean optimum safety when the platform is moving. According to Samuel Viaud, Product Manager for Aerial Work Platforms:
The 100 VJR is another evolution in the range of aerial work platforms. With a new counterweight and a modified turret fitted with fork blades, the aerial work platform can now be moved by a forklift truck. New anchorage points have been added to the masthead, facilitating slinging operations for transporters. Intended for use when carrying out operations such as maintaining metal roof structures or assembling structures for events, this model is 10 m high and has a maximum loading capacity of 200 kg.
The MRT 2470 rotating telehandler won a prize in January at the Intermat Innovation Awards for its stabilization system and made its debut at an international show. With a lifting capacity of 7 tonnes (6.9 tons) and a maximum reach of 24 m (945 in.), the MRT 2470 is a high-precision handler that provides users with increased safety during heavyweight handling operations at heights.
Manitou MRT 2470, MRT 3050 and MRT 1840 Rotating Telehandlers
Manitou's Latest MRT Rotating Telehandlers Extend Reach and Lift Capabilities
Compact Track and Skid Steer Loaders
On show for the first time in Europe, Gehl's compact track loader now has a range of new controls. Hydraulically controlled, the joystick provides operators with greater control over their movements, without affecting what the vehicle can do. With an operating capacity of 975 kg (2,150 lbs.) and a lifting height of 3.25 m (128 in.), the 72-hp Yanmar engine ensures that the charger can be used for a range of different purposes. Suited for everything from demolition work to landscaping, this versatile model is a loader that can be used on all types of terrain.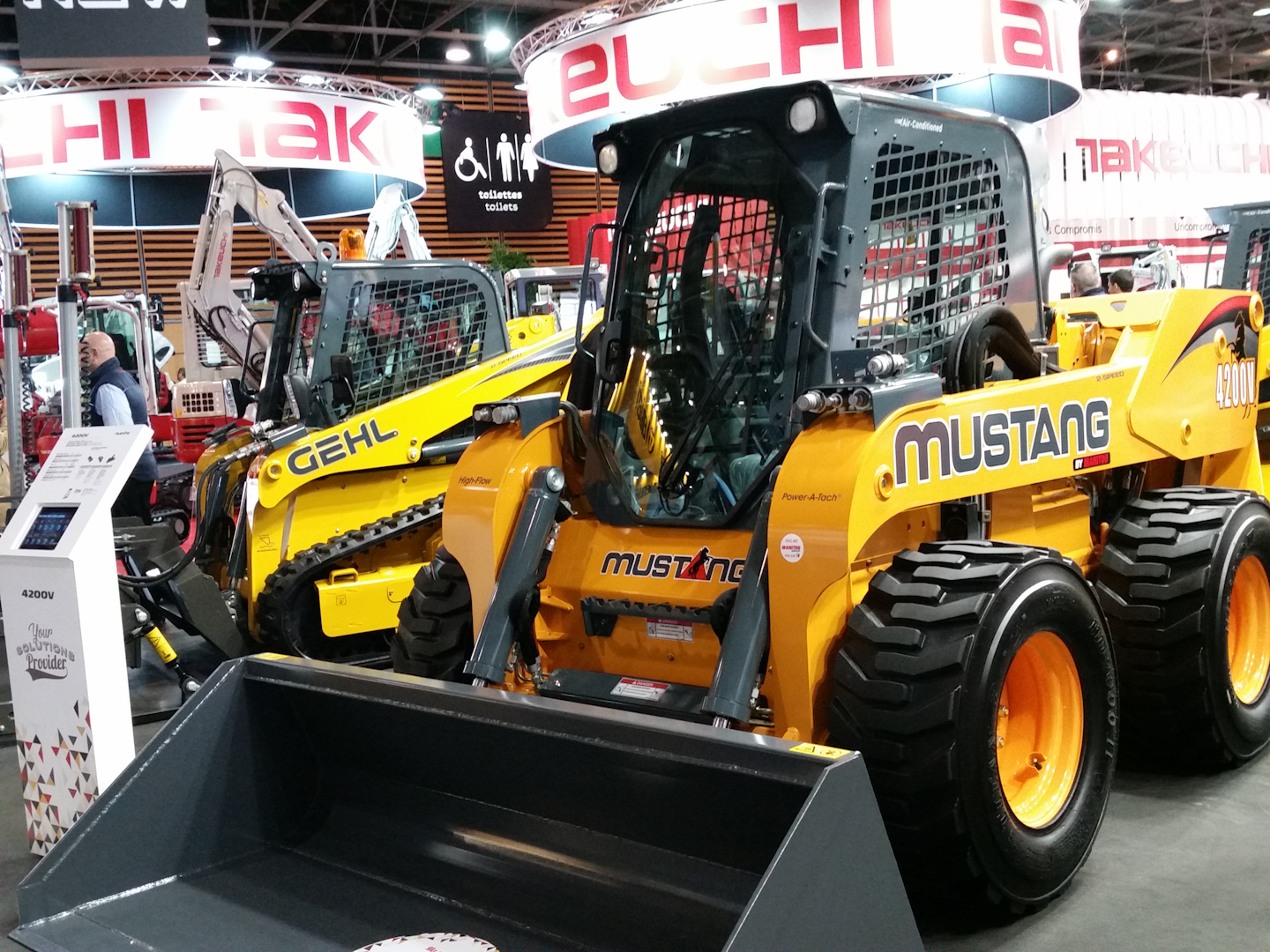 With a new 120-hp Deutz engine, the Mustang 4200V skid-steer loader meets all heavyweight requirements. Launched in 2017, the biggest loader on the market has an operating capacity of 1.9 t (1.87 tons) and a maximum lifting height of 3.65 m (11.98 ft.). With a hydraulic flow of 121 L per minute, operators can use the loader for a range of different applications, such as road building or handling operations in ports. Voted the best handling-dedicated machine in 2017 in the US among 100 other models, this loader will most certainly prove extremely popular in Europe in 2018. 
Compact yet powerful
With a width of less than 1.5 m (59 in.) and a height of under 2 m (79 in.), the MT 420H ultra-compact telehandler is ideal for cluttered works sites with narrow alleys or home renovations – its turning radius is just under 3 m (118 in.). Designed for a minimum total cost of ownership, this model has particularly low fuel consumption – 4.13 L per hour.
The hydraulic oil needs to be changed every 2,000 hours. With intelligently positioned anchoring points that are easy to locate, the MT 420 H can be moved from site to site quickly and easily, increasing contractors' productivity.
The MT 420 H was presented for the first time at INTERMAT, and is now available with the mini-loader forks carriage. Available as an option, this forks carriage means that operators do not require a specific carriage for each brand – it is compatible with all Gehl and Manitou attachments.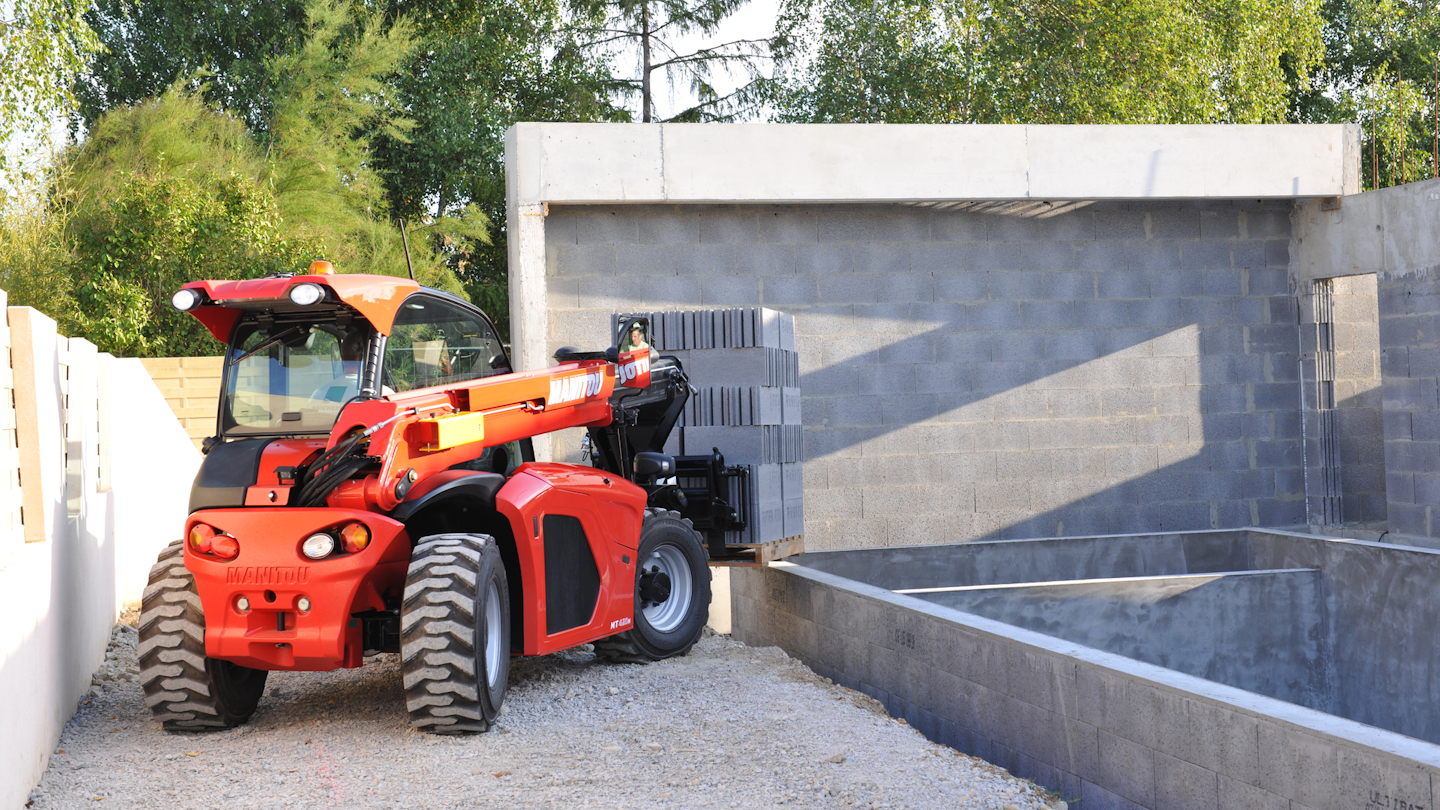 MT 420 H ultra-compact telehandlerTo show the scope of its range of telehandlers, the Manitou group also exhibited the MT 1335 HA Easy. It has a lifting capacity of 3.5 tonnes (3.4 tons) and a maximum lifting height of 12.55 m (41.2 ft.), making it the ideal compromise for builders or roofers in search of a compact model that can perform heavyweight handling operations. Its stabilizers keep it safe and ensure that handling operations remain precise – even at significant heights.
With a maximum reach of 8.75 m (20.7 ft.) and a total width of 2.28 m (7.5 ft.), the MT 1335 can be used with renovation projects. It's also compatible with a wide range of platforms that can lift up to 1,000 kg – large quantities of materials can be transported in one go, avoiding the need to return to ground level multiple times. Fitted with a new more robust engine cover, the air filters on the MT 1335 now only need to be changed every 2,000 hours, reducing the machine's total cost of ownership.
Innovative attachments for increased productivity
Working alongside its design firm based in Castelfranco (Italy), the Manitou Group has launched "Variowinch" – its new winch. This new attachment features a patented hydraulic motor, significantly increasing the hook's maximum speed with low loads (speed is three times faster during loading operations and two times faster during unloading operations), while ensuring normal speed at maximum loads – up to 7.2 tonnes (7.1 tons). The Variowinch system requires no acceleration to increase efficiency, keeping noise pollution to a minimum and preventing excessive fuel consumption. Initially available for the 3255 and 2470 models, the Manitou group is intending to make this attachment more widely available for the whole MRT rotating telehandler range.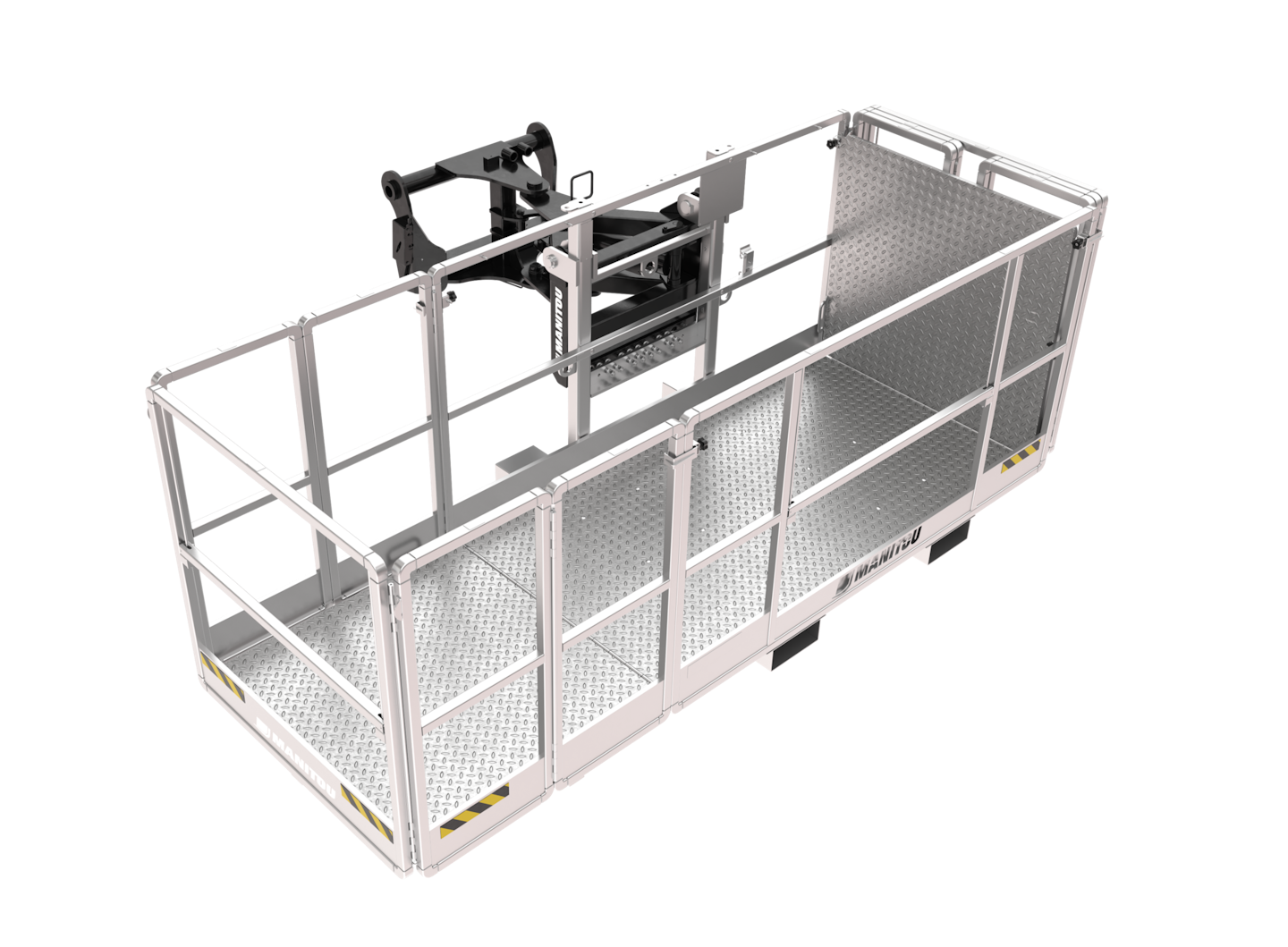 A new Manitou basket was launched at the show. Made entirely of aluminum, the 4200/365 model weighs only 180 kg (397 lbs.). With a width of 4.2 m (165 in.), it has a total lifting capacity of 365 kg (805 lbs.) – the equivalent of up to three people, together with equipment.This basket is compatible with all MT telehandlers and MRT rotating telehandlers.
Gehl and Mustang brand machinery now have a new dual-direction leveling bar. With the help of laser sensors, operators can very finely control the bar via a control box and a monitoring box located in the cabin. This simplifies leveling operations on both flat and undulating ground. The attachment can be used with two complementary modules: A sonic tracker module can be used to follow a marker line – such as a buried cable or a pipe. And a slope sensor module can be used to accurately control the bar's slant so as to follow a predefined slope.
[VIDEO] Manitou Previews Push-Pull Laser Grader Attachment
A connected and adapted range of services
To provide customers with turnkey solutions that will enable them to focus on their core business, the Manitou Group is making some changes to its ALL-IN package. The flexible ALL-IN package was launched 2 years ago and includes the leasing of a machine and all the associated services (customers can choose either a preventive maintenance contract or a preventive and corrective maintenance contract, together with the connected Easy MANAGER solution). This package is designed to cater to the requirements of long leases.
Users can choose a flexible lease of between 12 and 96 months for using their machine for up to 1,500 hours per year. This package is available in Germany, the Benelux countries, Spain, France, Portugal and the United Kingdom and covers machines in all Manitou ranges.
The connected Easy MANAGER solution is for managing and monitoring equipment remotely. It is an important tool for managing and optimizing the total cost of ownership of machines. Easy MANAGER is a machine option that is now available for all machines in the construction range. The service can be accessed via the "Manitou Easy MANAGER" smartphone app, and enables users to connect to their machine(s) at any time and from any location. The most recent upgrade to the service includes an API so that Easy MANAGER can send data to any operating system. This way, customers can get all their machine data and then use it with their own management tool.