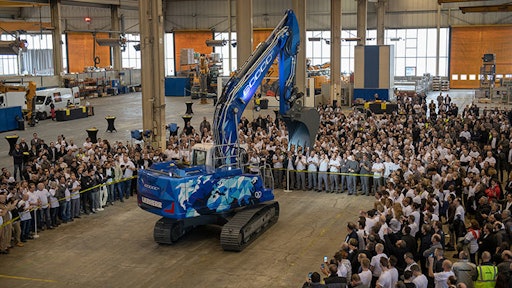 Liebherr Group

On Friday, March 1st, Liebherr-France SAS in Colmar, France, presented the 60,000th crawler excavator to all its staff. The R 922 from the Liebherr Group's latest generation was equipped with special panels designed by the illustrator and graffiti artist Jean Linnhoff for this occasion and to mark this historical moment.
The machine has a 22-tonne operating weight and is a model from the company's latest generation of crawler excavators. It will be on display in April at the bauma trade fair in Munich, Germany, and then at various Liebherr authorized dealers and sales partners in Belgium, France and Luxembourg.
The operator's cab of the special edition R 922 is white with blue as the background color as a reference to its country of origin. The artist Linnhoff from Colmar designed the panels, harmoniously combining graphical elements and design. To come up with his design, Linhoff spent six days working in a separate room at the Colmar site under conditions of strict secrecy.
The text "A coeur" ("To heart") on both sides of the machine alludes to the collaborative partnership with the Alsatian Tourism Agency (Agence d'Attractivité de l'Alsace). A world map across the entire uppercarriage acts as a reminder that the crawler excavator is sold all around the world from the site in Colmar. Lastly, the company employees who contributed their expertise were also celebrated, with all of them writing  their name on the undercarriage.
Liebherr-France SAS has been developing and producing crawler excavators at the historical site in Colmar since 1961. Initially, machines were specially designed for earthmoving applications; the range was later extended with the addition of machinery for the mining industry. Then in 2011, Liebherr-Mining-Equipment Colmar SAS was established as a dedicated production site with a clear separation between these two areas. Today, the company ships on average 2,000 machines per year to customers globally.
The celebration was symbolic of the company's long-term strategy and the combined expertise of this specific production site for crawler excavators from 14 to 100 tonnes. The current model series is designed for earthmoving and mining applications, material handling, demolition work and tunnel construction.
The Liebherr Group in France currently employs around 4,000 staff at various companies and production sites in the mining industry, at component suppliers, in the aerospace industry and in the construction sector.