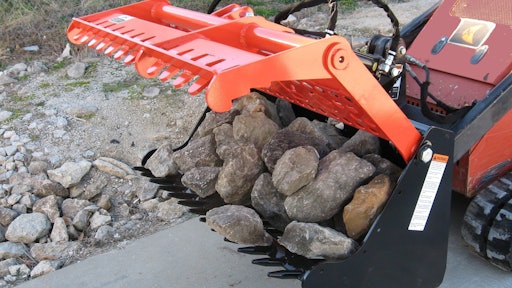 SitePro, from Worksaver, Inc., will be featuring its mini skid steer / compact tool carrier pallet forks, grapples and power landscape rakes in Booth No. 3549 at The ARA Rental Show from February 10-12, 2020 in Orlando, FL.   
SitePro's MPF-2000 pallet forks for Mini Skid Steers / Compact Tool Carriers increase productivity for the construction professional. Rated at 2,000 lbs. and featuring forks that are 1.18" x 3" x 42" Class I tines, they fit Toro Dingo, Boxer, Ditch Witch and others with "universal" mounting system.
The SARG-42 (Sweep Action Rock Grapple) for mini skid steers / compact tool carriers handles rocks, brush, logs, stumps, debris, scraps and more. The patent-pending design allows operators to sort large or small debris with just one tool. The front grapples operate in a sweeping action to pull rocks or debris into the bucket for easy site clean-up. Lower tines are made from 1-in. solid round and are spaced 3 in. apart. Optional bolt-in 10-gauge solid bottom is available for those jobs requiring all the material be retained in the bucket.