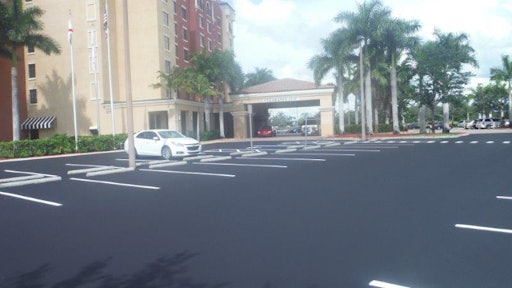 Based in sunny Fort Meyers, FL, D & G Sealcoat & Striping is no stranger to the high profile jobs of the tourist heavy area. One of their clients, the 4-Star Embassy Suites in Estero, requires a pristine finish on their 90,000 sq. ft. parking lot.
"While the first half of the project went smoothly, challenges came in when bad weather hit the area before our crew could start the second half of the project," Dennis Deibel of D & G Sealcoat & Striping says. The two-day project moved into the third day for striping with no additional cost to the customer due to the weather.
A four-member crew applied two spray coatings of Neyra Paveshield Asphalt Emulsion Sealer after applying a primer coat at the entrances and turn lanes, allowing a dry time between coats. This was done on all surfaces of roadways, guest and employee parking.
Silica Sand and Duraflex additive was added to produce a non-skid surface.  The property was then restriped using a 3900 Graco Line Lazer with White Acryset paint manufactured by Safety Coatings.  Broken carstops were removed and replaced and hot asphalt repairs were also completed. The project was completed using a Paver Saver II, Deibel says this helped decrease the amount of time that their client was inconvenienced.
"The client wanted to be environmentally friendly which is why they chose Paveshield, an asphalt emulsion sealer," Gail Shaw of D & G says. "We also used a new additive, Duraflex, which extends the life of the sealer." 
D & G chose to submit this job because the property was highly visible with a great deal of volume and it was a repeat maintenance job for them. 
"This customer chose us for this job for a second time because they were very happy with the extra effort we put forward on the initial project," Shaw says. "The asphalt is holding up well and looks great when one drives up to the property and it portrays excellent curb appeal." 
[Banking on success]
D & G hopes by winning this award, they can capitalize on gaining work from other hotels in the area.
"This award is pretty exciting," Deibel says.  "It makes the job stand out and our company looks good to be an award winning one. Especially since it's the first year of the awards."
"Winning this award is great for our company," Shaw says. "It will give us a marketing edge over our competition and also influence boards of Homeowner and Condo Associations. We always tell our customers that we are #1 because we follow the manufacturer's specifications and by receiving this award, it will prove it to them. Our motto is "QUALITY WORK DONE TO PERFECTION" and our projects reflect this. 
"We work very closely with our manufacturer, Neyra Industries, to constantly improve the quality of our jobs. We highly recommend that other contractors work closely with their suppliers in order to improve the quality of their projects and achieve the greatest results. We are very excited to receive this award because of what it can do for our company in the future."