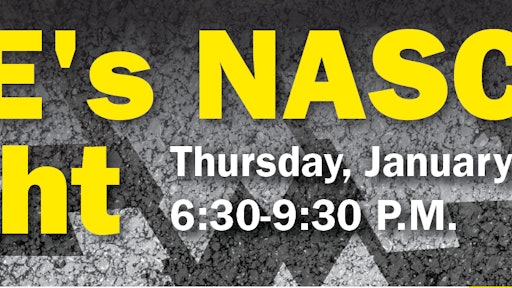 After a long day of seminars, workshops and walking the exhibit floor at the Charlotte Convention center, National Pavement Expo attendees could use a more little fun. That's exactly what NPE NASCAR night is designed for.
With your paid registration, National Pavement Expo invites exhibitors and attendees to an exclusive networking and entertainment experience at the NASCAR Hall of Fame on Thursday evening, Jan. 28th.
Located across from the Charlotte Convention Center, the NASCAR Hall of Fame is an interactive, entertainment attraction that will appeal to race fans and non-fans alike. Thanks to our sponsors, you'll have free run of the place with plenty of food and beverages … and four levels of racing simulators, exhibits and interactive fun. Highlights of the NPE NASCAR Hall of Fame night include:
Food, beverages, moonshine bar and desserts throughout the Hall of Fame
Challenges for you and your colleagues; live, simulated competition at eight interactive stations that test your skill, knowledge and performance in all things 'NASCAR'
Try your hand at being a radio or TV announcer
If you've registered to attend National Pavement Expo, then your entry to NPE NASCAR night is free. Just show your badge at the door and you're in for a night of racing fun with you pavement maintenance and reconstruction peers.
[VIDEO] National Pavement Expo to Host Exclusive NASCAR night at 2016 Show
Looking for more reasons to visit Charlotte for the event?
THE EPICENTRE: Just a five minute walk from the Charlotte Convention Center, the EPICENTRE is a huge indoor/outdoor entertainment mecca with three floors of dining and entertainment.
RESTAURANTS: 100+ within a 10-block radius of the Charlotte Convention Center
THRIVING NIGHTLIFE: Whisky River, Howl at the Moon, Tin Roof, Double Door Inn and more
HOTELS/MOTELS: More choices within a few blocks of the show
NPE 2016 Show highlights include:
ALL-DAY LEADERSHIP BOOT CAMP — JANUARY 26 with Brad Humphreys
50+ CONFERENCE SESSIONS
BIGGER EXHIBIT HALL than ever, featuring 1-800-Pavement Network, BOMAG, CASE, Crafco, KM International, Leeboy, Neyra, SealMaster, Seal-Rite and more.
Exhibit Floor Hours:
4:30-6:30 p.m., Wed., Jan. 27
11 a.m. – 5 p.m., Thurs., Jan. 28
11 a.m. – 5 p.m., Fri., Jan. 29
$70,000 IN GIVEAWAYS on the show floor
National Pavement Expo is proudly brought to you by
Companies in this article