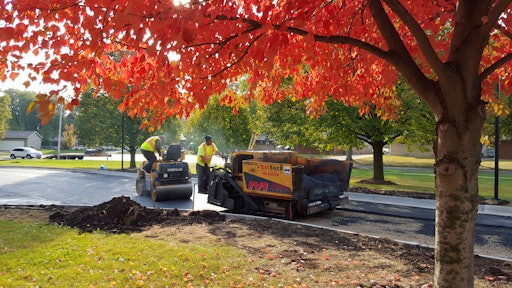 Avoid. Whether we want to accept it or not, people do not like change. When you bring a crew in to a place of business during the day, it disrupts the business and the customer. If at all possible, avoid work during hours of open operation. It is often possible to schedule work for times when a business is closed or receives minimal traffic. As a contractor, be willing to handle jobs at night or on weekends or holidays. This will minimize headaches for you and your customer.
Plan ahead. Whether you are paving, sealcoating or striping, there will be times traffic will need to be either turned off or re-routed during the process. Take an in-depth look at the jobsite and make a plan of attack well in advance to how you want to proceed. Depending on the size of the parking lot, the amount of traffic and the number of entrances and exits, it might be possible to perform the work in sections. As a rule, the larger the lot, the better the chances of dividing the work area and completing one (or more) sections before moving to the next. This keeps at least part of your lot open to traffic.
Also, the your crew will need access to all areas that are to be paved or sealcoated, so if part of the lot is behind a locked gate or fence, the company you're working with might need to have a representative available to unlock those areas.
Finally, be sure all sprinkler systems are turned off in advance of any work, for the entire curing time needed for paving, sealcoating and striping.
Communicate. As a contractor, you are accustomed to working with customers to establish a plan that will keep the disruption of traffic to a minimum. The specifics of the plan vary by parking lot, weather and customer needs, but be sure your customer is on board with the plan. It might even be a good idea to have someone from the company work with your crew while paving to direct customers where they need to go when the route is being changed over the course of the day.  
Think Safety. When your crew is sealcoating, hot crack sealing and striping a shopping mall parking lot, moving along and completing one section after another, they need to think safety. Both for themselves and the traveling public. If a driver is in an area they shouldn't be, your workers could be in danger of a collision. Keep areas you're working on clearly marked with cones and barricades so customers stay out.
Be patient. When having a parking lot sealcoated, you can normally open the area to pedestrians within a few hours, depending on the weather conditions and the type of sealant used. Vehicles, however, should not be allowed to drive on the freshly sealed asphalt until the next day. For freshly paved areas, the typical curing time is 24 hours for both vehicles and pedestrians, but the time can vary with the weather or with the type of traffic that the lot must bear. It could be that cars can be allowed on immediately to finish compaction if the job requires it.