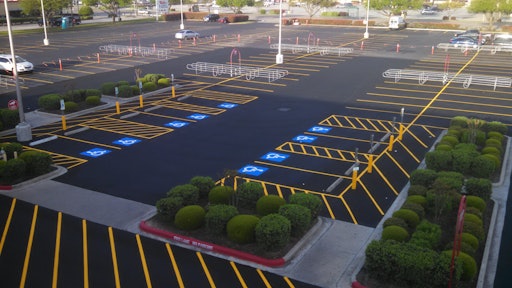 Delivering solutions on time and on budget without interrupting business is part and parcel to every job KAI Total Pavement Management manages. This can be more challenging for complex capital improvement projects but with the right partners and dedicated personnel, it is achievable.
Competition is steep when bidding for a national retailer like Target, and KAI Total Pavement Management (KAI), based out of Bucyrus, KS, won the bid to reconstruct the Target parking lot in Kalispell, MT.
The project required asphalt cutting, patching, milling and overlay; concrete cutting and patching; sidewalk, ramp and curb improvements; striping and full ADA parking adjustments with correct signage and striping.
"The parking lot was a capital improvement project which required a great deal more coordination of tasks, equipment, materials and providers to attend to a tight schedule to stay on task (and budget)," says Christie Knable, KAI vice president of marketing. "We were required to meet all Target specs/mix designs and Target's third party engineers had to approve all materials prior to commencement of any of the project."
KAI worked with an engineering firm to coordinate the full scope of work and ensure the project was completed in the short four week timeframe.
"Leading the efforts for Target was EMG's Brandon Rurik," Knable says. "The plans were coordinated and work managed by our in house project management team and included support from three different vendor partners to achieve the goals set in the statement of work. Our valued partners on this project were Knife River, Crone Pro Seal and Cook Painting."
Quick Completion
The existing parking lot asphalt was milled out. Meeting the design specifications set by Target engineers, KAI installed 2,288 tons of new asphalt.
"Curbing was removed and scope was used for additional concrete for ADA compliance at the property," Knable says. "Sometimes design/build occurs in the field with approvals from EMG required."
KAI also installed 700 sq. ft. of concrete sidewalks.
"The success with this project required the coordination of talented and dedicated personnel to meet the objectives of the scope," Knable says. "This award means a great deal to our company. We take pride in not only aligning with strong clients but also with strong vendor partners that share our values and attention to details and this award confirms that our approach is working. We are truly honored."
KAI Total Pavement Management, the national division of Kansas Asphalt, Inc., is a Woman Owned Business, certified through both the State of Kansas and NWBOC.