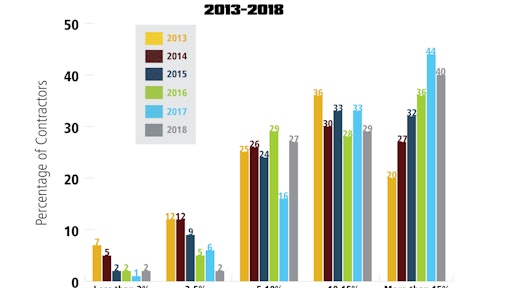 Last year Pavement Maintenance & Reconstruction's Top Contractor Survey experienced a 25% decline in the number of contractors participating – but this year participation jumped 30% to the highest number of companies since the survey was begun in 2013.
That increase enabled Pavement to expand each list to 75 companies where they've been all years but one (last year when we listed only 50 companies in each list. We're still shooting for 100 companies, but that's entirely up to contractors.
We're still hoping to develop a Sweeping 75 list, but participation from that segment of the industry is woefully inadequate. So once again we are not able to provide a Sweeping Top Contractor list.
Overall Sales Dollars
Let's start by looking at overall sales dollars of the participating contractors, which took an expected leap as each of the lists expanded to 75 contractors. Total sales all qualifying contractors reached more than $1.214 billion. That's a decline from $1.717 billion in 2015 but an increase from $1.188 billion in 2016 -- the last two years the list contained 75 companies. (Last year total sales topped $910 million when lists were cut to 50 companies.)
That overall sales number represents the combined total of only paving-only, sealcoating-only, striping-only, and repair-only sales – in other words the sales figures used to compile our four lists. No sales dollars are duplicated and any sales relegated to the "Other" sales category also are not included.
Overall Profit Margins
As always, we'll report profit margins for each industry segment in the introduction to each segment in the following pages, but the chart on this page provides a look at the overall range of profit margins for all companies responding to the survey, whether they qualified for a list or not.
As the chart shows, there continues to be a broad range of profit margins with which contractors are working. This holds true for each of the industry segments as well. But what is clear is that at the very least, margins are moving up -- as indicated by the drop in contractors who are working on margins of less than 5%.
Last year we reported the good news that margins continued their shift to the higher end, particularly in the "More than 15%" category. This year the number of contractors reporting margins in that range declined to 40% after a steady improvement each year. The "10-15%" category also shows a slip from 33% to 29% of contractors.
But the biggest change is in the "5-10%" category, which jumped from 16% to 27%, indicating that there might be a bit more price competition than in recent years - not a huge surprise given that the backlog of work caused by the Great Recession is now eliminated and the workload is close to back to normal. The "Less than 3%" and "3-5%" categories continue their positive downward trend, this year showing that only 4% contractor report profits of less than 5% wages.
Other Findings

As mentioned above, the pent-up demand that resulted from the Great Recession has dissipated. That work was reflected in the 2014, 2015 and to some extent 2016  survey results when both sales volume and profit margins were greater – there was plenty of work and contractors reaped the benefits.
Starting last year and continuing this year it seems the industry has settled to what might be considered a more normal level with work being let on a regular schedule and contractors having to compete for it – a plausible explanation for the slight shift in profit margins away from the top end and toward the middle range.
Last year 77% of contractors reported margins greater than 10%; that number has declined to 69% this year with the shift toward the 5-10% profit margin. And while that could be a result of the pent-up demand dissipating, it could also reflect the fact that by expanding the list we have included smaller contractors who might be working on slimmer margins.
Diversification. As in years' past the lists reinforce the diversification of the industry:
4 of the Striping 75 perform only pavement marking work; 3 generate 90% or more from pavement marking

1 of the Paving 75 performs only paving and 3 companies generate 90% of sales from paving

None of the Sealcoating 75 perform only sealcoating and only 2 companies generate 90% or more from sealcoating

None of the Paving Repair 75 perform only repair and none even come close to 100%
Number of Jobs. Contractors generally have to juggle their schedule, as indicated by their responses to a question of how many jobs they complete each year. Just over two-thirds (68%) complete more than 200 jobs, with 42% completing more than 400 jobs. Almost one-third (32%) perform fewer than 150 jobs.
9% perform less than 100 jobs

13% perform between 101-150 jobs

10% perform between 151-200 jobs

17% perform 201-300 jobs

9% perform 301-400 jobs

42% perform more than 400 jobs
Number of Customers. But the number of customers contractor perform those job for indicates they often obtain multiple projects from the same customer. A little over half (55%) work for fewer than 200 customers, while 28% work for more than 400 customers
30% work for fewer than 100 customers

11% work for between 101-150 customers

14% work for 151-200 customers

10% work for 201-300 customers

7% work for 301-400 customers

28% work for more than 400 customers
Replacement Value of Equipment. While the pavement maintenance business has been viewed as an industry with a low-cost barrier to entry, the contractors that make up these lists have formidable fleets. While almost one-quarter (24%) could replace their fleet for less than $500,000, it would cost more than $1 million for 63% of contractors – 42% of whom would have to spend more than $2 million.
12% less than $250,000

12% $250,000-$500,000

13% $500,000-$1 million

21% $1 million-$2 million

42% More than $2 million