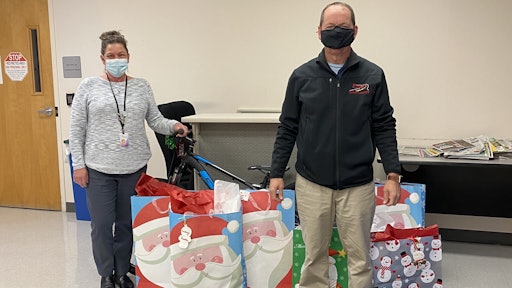 Over the last year, many communities were hit hard by the Coronavirus pandemic and people relied on each other and their neighbors for help. Luckily, the people of Manassas, VA, and surrounding communities have been able to rely on the generosity of Finley Asphalt & Concrete for the past 55 years and 2020 was no different. 
Each year, the company chooses a host of charities to make donations of both time and money to, and this year they contributed $50,000 among local school systems and food banks in their community. 
"Every year brings different challenges to our communities and with each year comes greater needs in a different area. As Finley is performing work in the community; we can see the needs of others and we find charities to help the community where we see the greatest need," Erick Finley, owner of Finley Asphalt & Concrete says. "We aren't sure what the future has in-store for our fellow community members but we could see the effects COVID-19 was taking on our communities and Finley Asphalt felt fortunate to assist families where we live and work."
The company knows that their employees live in these communities and makes sure to listen to the needs of the employees when deciding what charities to donate to. In all, Finley donated to 20 different charities where they saw the greatest need. 
"Caring for our community directly effects everyone at Finley Asphalt & Concrete because we are helping all of our neighbors." Finley says. "This is why Finley feels strongly about giving to a wide range of charities to help expecting mothers, children, parents, adults and the elderly in our community. Thanking the oldest generation, working alongside the current generation, and raising the newest generation by giving donations shows that we are all connected in our community."
These efforts have created a culture of giving at the company that can be felt throughout the entire organization and have helped the company to maintain their deep and long-lasting roots in the communities they serve. 
"Having "deep roots" in the community is something we pride ourselves on," Finley says. "Finley has provided a service to the community for more than 50 years. These community members are not just customers, they are our neighbors who we stand in line with at a grocery store, our children go to school with them and our parents have grown up with them. Finley has been through recessions, depressions and currently a pandemic. FAC cares for our fellow community members because we are them. We live and work in the areas that we serve and can see firsthand the effects of hard times on our neighbors. The community believes in our company and Finley wants to support them."