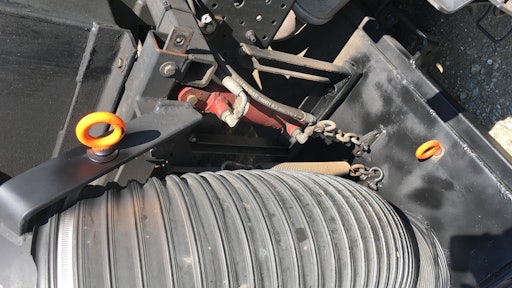 Most sweeper operators have experienced situations where the sweeper head or gutter broom won't respond and lift off the pavement.
Karl Stauty, co-owner of Commercial Power Sweeping, Suffolk, VA, and Pavement Maintenance & Reconstruction's 2020 Sweeper of the Year, has experienced that issue, too, and has devised a work-around.
Mechanics at Commercial Power Sweeping have installed an eye hook on each side of the sweeper head and on the curb broom. They then installed another eye hook on the top of the truck. The hooks are painted orange so they are easy to find.
"If the operator runs into a situation where he can't raise the head or gutter broom, he can use a ratchet strip run through the top eye hook and through the eye hooks on the head or gutter broom and lift it up so he can drive away," Stauty says. "We try to come up with solutions for problems that are repetitive and that's one example."