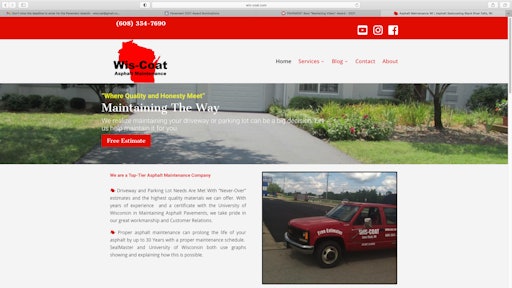 Re-designed and re-launched in 2017, Wis-Coat LLC updated its website (https://wis-coat.com), making it mobile friendly, easier to navigate, reflecting company values, and improving Search Engine Optimization (SEO). The result is online voters selected the website as Pavement's "Best of the Web" Award recipient for 2021.
In 2004 with one truck and tank, Marvin Joles began Wis-Coat LLC. Located in Lone Rock, WI, the company has grown from just sealcoating and crack sealing, to encompassing everything from start to finish.
"Since we are in a rural part of Wisconsin, it's an added benefit to our customers that we can provide anything from crack sealing to asphalt installation," said Joles, owner of Wis-Coat.
As the company grows, Joles's goal is to continue to live by his brand standards.
SEO Helps Drive Traffic
Search Engine Optimization (SEO) is the process of improving the quality and quantity of website traffic to a website from search engines, such as Google. Re-evaluating the keywords people search for that are tied to the website is crucial to the success of SEO. "I talk with my website designer once a month to discuss what I want to update, change or move around," Joles stated, "We want to make sure things are changing and moving so we make a little bit of noise, that way the search engine, like Google or Bing, keeps us on top."
Along with SEO, Joles wanted to make sure his website was mobile friendly and easy to navigate. According to a survey conducted by Statista, mobile users account for 50.81% of global website traffic. A visit to Wis-Coat's website lands you on the home page with a white background adorned with photos, a pop of red in the company logo and a call-to-action button "Free Estimate."
"I wanted to keep the site very simple," Joles said. "We are located in a rural area, and I want the website easy to navigate, right down to the point and have customers be able to contact us easily through it." 
Taking Social Media to the Next Level
Utilizing social media can expand your reach and attract new business. Owners know the importance of networking, and with social media you can easily connect with your employees, customers, prospects and others in the industry in real-time.
"Social media really allows us to give a personal touch in an industry where a lot of times, it's very crisp and cut, customers can click on those links and see where we are that day," Joles said. "It's very important to me that our customers know how transparent Wis-Coat is. Social media allows us to showcase our work."
Joles takes advantage of social media not only to show his company projects, but he is also considered a social media influencer, showcasing the pavement industry through podcasts and videos at industry events such as National Pavement Expo. 
Joles says incorporating fresh content and pictures to social media and the website is a key to success. Joles uses his crew leaders to snap a photo on a job or asks to give a brief description on their projects. Another way Joles stays on top of industry news and trends is a group of contractors he meets with.
"We brainstorm ideas on how to market ourselves and businesses. We discuss things that will grab and keep the attention of our customers," Joles said. "We have contractors not only in our industry, but some from landscape, roofing and other industries as well."
Joles says that it took him awhile to make his website successful and that other business owners can make their sites successful if they persevere.
"What has worked for me and my company is making sure the website and social media reflect my business culture. Define what your marketing plan is and run with it." Joles he said, "Keep at it, don't give up. You're going to have some form of success if you develop your plan and sick with it."