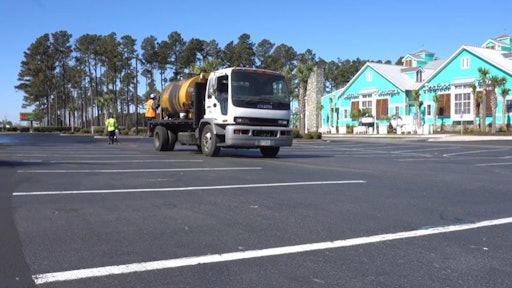 There's no doubt 2020 was a tough year for many business owners and individuals, but in the midst of the global pandemic and economic crisis, there was also a notable shift toward reversing decades of damage and a renewed focus on addressing climate change. Still, while emissions were lower in 2020 due to shutdowns and travel restrictions, current data indicates 2020 was likely the third-warmest year on record. And soon, more people will come out of isolation and begin traveling again.
As climate change becomes a broader conversation internationally, there will likely be sweeping changes across many industries in the coming decades. Companies in the construction sector can do their part now to help make their operations more sustainable, helping them stay competitive for years to come. From material use to operational practices, here are a few ways your team can work toward utilizing environmentally friendly practices in 2021 and beyond.
High-Quality Sustainable Material Use
For paving, we prioritize sustainable materials, such as high-quality asphalt, additives, crack fillers and pavement sealers. 
There are many opportunities to use greener choices when it comes to materials. Start by speaking directly with your suppliers to figure out how and from where they're sourcing their products. If you're ordering in large quantities or know other businesses who buy products from the same supplier, you may be able to convince your supplier to work with more sustainable partners. Working with local suppliers will also reduce emissions since they won't be transporting your materials across long distances.
Sustainable Operational Practices
How you manage equipment on a construction site is very important. Prioritizing eco-friendly practices and making sure employees on each job site are trained to work sustainably is key to breeding a green-minded culture. For example, while most construction sites simply keep equipment running at all times to reduce downtime between tasks, green construction sites reduce equipment usage time to save energy. Building on this, you could also help organize a ridesharing system for your employees to reduce transportation carbon emissions while getting to and from a worksite.
As construction managers know, sites often contain a large build-up of waste. One way to ensure the project is more environmentally friendly is to dispose of waste properly. Many materials that might be considered waste can actually be recycled or reused in future projects, saving your business money and time down the road. Consulting with a waste removal service can also aid in ensuring your site is removing waste in the most efficient way possible.
Increased Product Quality
To minimize emissions and decrease your carbon footprint, using high-quality products that are specifically tailored for each project can also eliminate the need for unnecessary repairs in the short-term. When an asphalt job is done well, it will decrease the need for larger, more expensive repairs in the future. With this approach, excess emissions from unneeded jobs are virtually eliminated, not to mention client satisfaction is improved.
In the long term, sustainability practices will continue changing due to regulation and innovation, but construction companies that adapt early on will attract customers who want to work with partners who have a proven track record. By kickstarting your company's sustainable construction methods in 2021, you'll gain a competitive edge for years to come.  


Bob Lester is president and CEO of Columbus, Ohio-based
Dura-Seal
, a sealcoating, asphalt, and concrete services company. He has worked in the construction industry for over 20 years, leading two buyouts, an acquisition, and the sale of an equipment manufacturing company at Dura-Seal. Prior to joining the company, Bob studied business finance at Otterbein University.