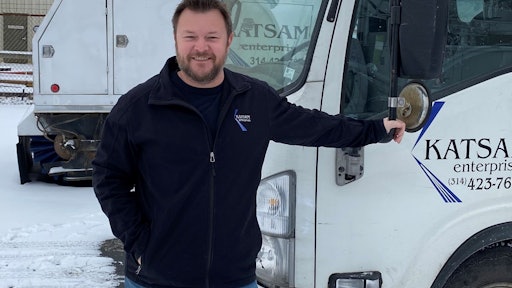 Chris Dick, President of Katsam Enterprises in Fenton, MO is the new North American Power Sweeping Association (NAPSA) President. He will serve two years in this position and hopes to continue the success of the organization.
Katsam Enterprises primarily identifies as a parkinglot sweeping contractor, but offers complimentary services like pressure washing, day porter, debris hauling and janitorial services. Celebrating its 35th anniversary as a company, Katsam services the greater St. Louis, MO area.  Dick has been the president of Katsam for eight years and has seen tremendous growth within that time. "In 2014, we had about 18 employees and as of 2021, we sit about 68 employees," says Dick. "That paints a picture of how fast our business has grown over the last few years."
Getting the Most of NAPSA
An association provides members with opportunities to network and share experiences in a group setting with other industry members who may be having similar issues.
"NAPSA aims to offer support and programs to members so we can accomplish tasks together that may be insurmountable to individual contractors," says Dick. "An example of this is that NAPSA has developed the power sweeping standard that is ANSI approved. Having a standard in place for the industry helps contractors in defending against frivolous litigation and could result in reduced insurance rates. Our members can utilize this standard to train their employees on basic guidelines for best practices in power sweeping."
In a tight labor market, employee retention is more important than ever. Providing professional development and quality benefits can make a difference in keeping a quality employee at your company.
"One of the biggest challenges that remains is finding workers that are dependable and responsible at a wage that is affordable," says Dick. "That's why NAPSA is focused on providing membership with employee retention tools, such as the training courses in our Sweeper School and access to employee benefits that they otherwise may not be able to provide to their team."
NAPSA offers many other benefits to their members as well such as continued education, insurance, marketing, supplier discounts and much more. "I think being a part of an association really helps to differentiate the contractors that are the most reputable options for potential clients."
Commitment to Excellence
NAPSA provides its members with opportunities to differentiate their company from the crowd by providing educational courses to train new and existing employees. "Sweeper School, which is an online platform, provides training courses for contractors of all sizes, managers and owners, to educate their sweeper operators on the proper methods to take care of their equipment or how to properly service their properties," says Dick. "There are additional lessons on to how to prepare yourself for work, how to interact with other people and courses on ethics. Also, we are planning on rolling our additional courses in the coming year."
Looking Towards the Future
During Dick's two-year term, he will be helping to roll out an association health plan. "We want to provide access to affordable health insurance plans for our membership," says Dick. "It's an opportunity for some businesses to retain operators by offering them affordable benefits they may not be able to provide otherwise." The health insurance plans are available across the country for any participating members.
As Dick Mentioned, NAPSA is also looking to introduce additional courses to their Sweeper School program that will continue to hep members learn and grow, no matter how long they have been in the industry.
"Sweeper School is the best available platform for training your team, from the operator level all the way up to owners, there is something for everyone."