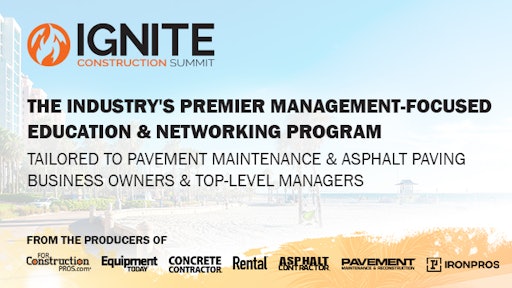 The construction business landscape is tough right now. Owners and managers of paving and pavement maintenance companies are not only tasked with the labor issues the entire country is facing, but also supply chain shortages, regulatory changes, technology shifts and more.
With all of these challenges, construction business owners need to stay up to date in order to stay ahead and we have designed the IGNITE Construction Summit specifically for that purpose. Our team has over 25 years of experience in this great industry and we have been lucky to learn from contractors across the country about what knowledge they need to succeed.
Asphalt Contractor and Pavement Maintenance & Reconstruction magazines have opened registration for the IGNITE Construction Summit, an in-person event designed to bring together pavement maintenance and asphalt paving business owners and high-level managers who are dedicated to "lighting a fire" within their company.
The event will take place December 7-9, 2022 at the Sandpearl Resort in Clearwater Beach, FL, kicking off with an opening industry roundtable to discuss the current state of the asphalt paving and pavement maintenance industries and what trends and challenges they should be on the lookout for in the months ahead.
Day two will bring to the stage a keynote address from Andrew Davis, bestselling author and well-known speaker, who will discuss how to lead through change and adversity, teaching companies how to grow their businesses, transform their cities, and leave their legacy.
Attendees will then take part in four sessions with industry experts across the asphalt and pavement maintenance fields. Sessions will be dedicated to solving the critical issues contractors are facing right now with leading industry experts and national association representatives. From winning more work to overcoming supply chain challenges, regulatory issues and hiring struggles, each panel will bring a wealth of ideas and perspective to empower attendees.
The event also features a Keynote Panel from the Association of Equipment Manufacturers. The panel will take a deep dive into their exclusive State of the Industry and What Lies Ahead report with valuable insight from leading manufacturers on what is coming down the road for the purchase of equipment and services.
The program will close with a session on technology and innovation that will leave contractors feeling ready to go back to their companies embracing change that will fuel their growth.
We are extremely excited to bring this unprecedented level of thought leadership to IGNITE attendees. Education in the pavement industry is so important at every stage of business growth and these panelists will provide actionable insight that owners and managers can take back to their companies for immediate impact.
Register and plan to join us in December at www.IgniteConstructionSummit.com