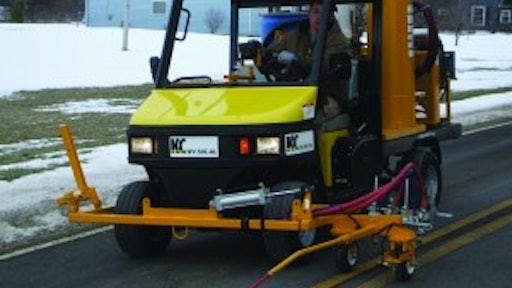 Your walk-behind pavement marking system is reliable, and it gets the job done quickly and easily. But don't ask it to stripe a larger parking lot or bike path, and definitely a road of any size is out of its league. When asked to do the bigger jobs, though, contractors have three choices. Try to do the job with their smaller, less-productive machines; take a pass on the project altogether; or move up in the striping world into a machine that will accommodate both the smaller and larger jobs.
Three manufacturers immediately come to mind when discussing these "transitional" units: EZ-Liner, Kelly-Creswell, and M-B Companies.
"These machines are a great transitional investment for painting larger parking lots," says Rob Krommendyk, project manager for EZ-Liner Industries, referring to the company's offering in this striper category, a single-operator, self-propelled airless striper mounted on a Cushman chassis.
"The power pack, a Honda gas engine that powers a hydraulic pump and compressor, is located at the rear of the machine," he notes, talking about some key features and benefits. "This means that the exhaust and noise being generated is as far away from the operator as can be physically possible. The convenient controls feature automatic line pattern programming and footage counters with gallon counters as an option."
He continues, "A two-wheel reversible gun carriage mounted in front of the driver allows for an ergonomic operating position, reducing stress and fatigue while increasing accuracy and performance."
Just how much an operator can stripe in any given day depends on the requirements of the particular striping contract or job and mobilization requirements, Krommendyk adds. "Under normal conditions, this machine is capable of applying more than 25 linear miles, or 132,000 ft., of 4-in.-wide, 15-wet-mil reflectorized thickness line in an eight hour day."
He says that the effort would require a refill of paint and glass beads (if used) about once an hour, or eight times throughout the work day. Paint can be loaded manually or transferred from a paint drum or tote using the on-board, high-pressure paint pump.
Krommendyk says that in comparison to the average walk-behind model, the S-Pro AL50 striper holds ten times the paint capacity and is able to apply paint at twice the application speed. "This means contractors can put down much more paint in less time. If there's work out there, the return on investment will soon follow."
Additional equipment options for this unit include a pole gun attachment that allows the operator to apply paint and beads simultaneously, a selection of paint and bead heads, and a second paint pump option for quick and easy color transitions.
EZ Liner offers two other single-operator stripers, including the truck-mounted model AL240. "These models are especially popular as replacement upgrades to the self-propelled ride-on type single operator stripers originally designed to straddle the center line while painting," Krommendyk adds. At the other end of the capacity spectrum is the company's Pro Series 1300, a hydraulic-driven walk-behind unit with up to 12-gal. capacity and pressurized bead system.
M-B Companies also offers a golf cart-type pavement marking system, the model 260ACL Airless Striper. Set on a Toro Workman 3200 chassis, this unit features a 31-hp gasoline engine and has a top speed of nearly 20 mph, with a striping speed of up to 10 mph. The paint system has a 60-gal. capacity and comes with three Graco pumps and airless guns mounted on the side of the carriage. The glass system has 300-lb. capacity and three glass guns.
"The Model 260ACL would be best suited for a contractor looking either to break into the road marking market or expand his territory when current equipment can't handle the workload," says M-B sales manager Rose Shrimp. "This unit can be used for premarking, temporary marking, and permanent marking jobs. With the stencil gun option, it will also allow the user to paint stencils."
Rose notes that a contractor could do between 25 to 30 miles of a single color in a day with this machine. For contractors wanting to step up into larger capacity single-operator, self-propelled units, M-B companies has two options - the Models 245 and 260RS. Powered by a 60-hp liquid-cooled gasoline engine, the Model 245 features two 60-gal. paint tanks along with two front and one right paint and glass guns. Its larger counterpart, the Model 260RS, features a full view enclosed cab with heater and air conditioning, a top road speed of 30 mph, and a floating carriage for constant pavement alignment.
The Kelly-Creswell WV-50C-AL Miniliner Striper is another single-operator, self-propelled unit that fits an affordable niche for contractors who want the performance of larger truck-mounted units without the commensurate price tag. The WV-50C-AL comes standard with a 300-lb. bead tank, two paint and two bead guns, a programmable electronic skipline controller and a flashing safety light. The unit is set up to accommodate a 55-gal. drum of paint.
"This machine is ideal for center and edge line highway striping," says Don Hollon, company sales manager. "A contractor should consider adding this unit to his lineup for striping smaller cities, villages, or even long distances of roadways." A striping speed of 10 mph and over-the-road speed of 25 mph gives it productivity at an affordable price, he adds, noting that it is available with either a conventional air atomized or high-pressure airless system. An edgeline carriage, hand paint and bead guns, loading pump assembly, and canopy top with or without a windshield are among its options.
Hollon says Kelly-Creswell has a complete line of stripers starting with its base portable model, the Heavy Duty Model C, all the way up to three sizes of truck-mounted stripers.
Contractors less interested in striping city streets and roads and more interested in speeding up completion time for their smaller projects can consider converting their walk-behind stripers to ride-on machines.
"These units are ideal for striping larger parking lots, airports, and bike paths," says Graco's,Tim Wehner, worldwide business development manager, contractor equipment division, referring to the company's LineDriver HD. The unit, powered by a 200 cc Honda engine and with a top speed of 10 mph, connects to the company's LineLazerIV striper.
"Using the LineDriver HD is twice as productive as using a walk-behind striper alone, and a patented dual pedal forward and reverse system allows the operator to change directions quickly and effortlessly for consistent lines, he adds. Fine Line Industries also offers a powered unit that attaches to its walk-behind striper.
Again, conversion riders add productivity in a very cost-effective way. These units, as well as dedicated single-operator riders, give contractors flexibility to take on bigger jobs without having to make an investment in a truck- or skid-mounted unit. That day may come, and if and when it does, these smaller stripers will likely have provided the means to that end.
Companies in this article