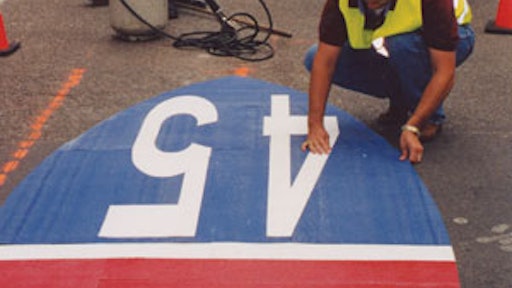 Despite its name and obvious focus, Curtis Clean Sweep is recognized throughout the Boise, ID, market as the contractor to go to for small roadway marking jobs.
"We're not a big striping contractor, so there are some jobs — the bigger jobs — we just don't handle," says Mike Zubizareta, vice president. "But that works the other way, too. There are a lot of jobs out there that are too small for a big road striper to work on. Sometimes it's not profitable for them to take their truck out for a mile-long job. That's where we fit in."
Zubizareta says that often the under-a-mile jobs are broken down into even smaller sections, meaning a contractor has to go out and stripe each section a different day as the paving contractor completes it.
"The bigger guys want to get out there and do the entire job and then not come back," he says. "We don't mind coming back so that's one reason we can be competitive. Over a mile we just can't be competitive with the guys with the trucks, but under a mile we can be very competitive."
Two years ago, during a visit to National Pavement Expo West, Joe Zubizareta, president, discovered a product, preformed thermoplastic, that both expanded the pavement marking season for some types of jobs and also eased the work. Today that's the only product Curtis Clean Sweep uses on road symbols, stop bars, and crosswalks.
"We like doing the preformed thermoplastic work," Zubizareta says. "It's different than striping and it enables us to compete in a little different market and in a different way. We now have something different to offer."
Most of Curtis Clean Sweep's road marking work is for the Ada County Highway District, which until two years ago specified 3M glue-down tape for much of its road markings. Curtis Clean Sweep uses its walk-behind stripers for centerlines and edge lines and used the tape for crosswalks, stop bars, and any symbols. Zubizareta says that as a marking material the tape worked fine but was subject to weather conditions.
"We often couldn't put then tape down because it was so cold out," he says. "That caused the state some problems and it caused some problems for the paving contractors and for us, too."
He says the tape was cumbersome to transport and often difficult to lay out. "It comes in rolls and the rolls are bulky, hard to handle, and heavy," he says. "The tape can also be hard to roll out and get straight. It can be hard to line up, and it's also hard to keep the tape clean as you roll it out. If you don't keep it clean it won't adhere to the pavement."
When Zubizareta discovered preformed thermoplastic he quickly realized how advantageous it could be for Curtis Clean Sweep and its clients.
"Now we can do a job as long as it's dry, even in the middle of winter," Zubizareta says. "We've had good luck with it as long as you melt it good." Plus, preformed thermoplastic is sold in 3-ft. sections so it's easier to work with than the tape, "especially on stop bars and crosswalks because you can move it around much easier."
Zubizareta says the application process for preformed thermoplastic is straightforward and similar to most other pavement marking work.
"All you have to do is make sure the pavement is clean and dry, make sure there's no dirt or rocks underneath it, heat the pavement to remove the dampness, and that's it. You place it, heat it with a propane torch until the flow indicators are gone, and you're done," he says.
He says unlike paint, testing the installed preformed thermoplastic is important. He uses a hammer and chisel to test to make sure the marking has adhered to the pavement.
"After it's heated we chisel right in the center of the line and pry it up a little to see if the asphalt has stuck on the back," he says. "If it has, then the material has melted enough and will be fine. If there's no asphalt on the back then it's not adhering and it hasn't been melted enough. And if it's not adhering it will chip off when it freezes."
He recommends testing every 9 ft. or so and reheating the material to remelt it if it's not adhering properly.
"If we test it and it's not sticking we'll do a couple more tests in that section to make sure and then reheat it," Zubizareta says.
He says that reheating the material is not a problem. Of greater concern is burning it while melting it to the proper temperature.
"White preformed thermoplastic is pretty easy to use. With white you can toast it so it looks like a toasted marshmallow and it will eventually turn back to white," he says. "Yellow is the hardest to heat so it will adhere right. It will burn and turn orange if it's heated too much so you have to heat it slower and you have to keep the gun farther away. Yellow takes longer and you have to use more 'touch.'"
Zubizareta says another advantage of using the preformed thermoplastic is his crews can install it without closing the road.
"With a crosswalk, for example, you can do half the road, leaving the other half open to traffic," he says. "With tape you need to lay the tape across the width of the road so you have to have the whole road blocked off because you don't want someone driving over the tape while it's laid out. It's also more difficult because you have to stretch it straight out."
He says the other option with tape is cut the tape so you are doing half the road, but then you have to match the cuts and make sure the tape stays straight.
"We prefer doing work with no seams," he says.
Zubizareta says the only real concern with preformed thermoplastic is its price, which he estimates as four or five times that of paint.
"We've tried to sell it in parking lots but it's tough because the price is a little prohibitive," he says.
He says off road they have installed it in only a couple of Wal-Mart stop bars and a crosswalk at a hospital.
"We generally don't use it other than where it's spec'd in, which means we use it almost entirely on government projects," he says.
He says the county and state like that preformed thermoplastic wears better than paint or the tape, which means they don't have to go back out and paint it again.
"They're willing to pay the extra money for the installation so they don't have to spend money hiring a contractor to go out there and paint it again, disrupting traffic again," Zubizareta says. "It costs more up front but over the long term it's less expensive for them."
Zubizareta says the county's specs still allow use of traditional thermoplastic. "But the market around here has switched almost completely to preformed for this type of work."
He says the preformed thermoplastic originally offered a good profit margin for the company when they started using it several years ago.
"Back then we were the only contractor offering it and we set our price," he says. "But soon other contractors saw the benefits of preformed thermoplastic and they began offering it and started driving the price down."
But that doesn't bother Curtis Clean Sweep, which Zubizareta acknowledges don't have the cheapest pavement marking bids. But that doesn't deter paving contractors from hiring them.
"A lot of the contractors we work with give us the work even though we're not as cheap as the next guy," he says. "Because we are smaller we can adapt to their needs pretty quickly. We can get a saw or a sweeper out there for them the next day if that's what they need to help them out.
"That's a service we offer and a lot of the pavers we work for realize that so they give us the work we can handle. If they have a quarter of a road done and need it striped to get it open they know they can call us and we'll get out there and do the quarter of the road for them. We are a little more expensive but we will accommodate them."