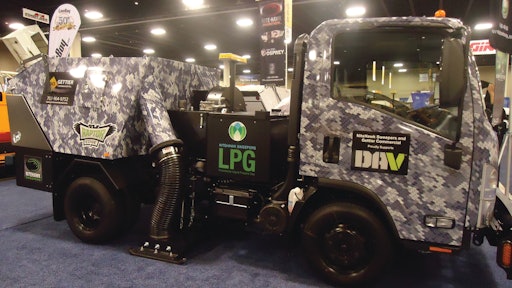 National Pavement Expo draws almost two thousand attendees each year for four days of education, training and an exhibition hall. This year, several manufacturers used NPE as the grand stage to reveal new products to the attendees.
NiteHawk Sweepers showcased their production ready alternative fuel vehicles. One product, the LPG or Liquid Propane Gas truck is a bi-fuel truck. "This means the operator can run it on propane or gasoline, but always has that option to run it on gasoline if they ever needed to," says Jake Hoerman, sales and marketing for NiteHawk.  The propane tank has a 55 gallon usable tank (the stock gas tank is still on the unit as well). "The new propane system is controlled with a push button switch in the cab, is very user friendly," adds Hoerman.
Hoerman says one advantage to using propane is that it is much cheaper than gasoline (can be over 50% cheaper). However, there is an energy loss compared to gasoline, so a propane powered vehicle will get 5-10% less fuel mileage than running on gasoline.
Another truck NiteHawk released was the CNG or Compressed Natural Gas.  It is also a bi-fuel truck, which means operator can run on natural gas or gasoline. The CNG tank is 21 gallons usable and the CNG system is controlled through a display mounted on the dash.
Hoerman says CNG is also much cheaper than gasoline (can be over 50% cheaper) and there is no energy loss with CNG like there is on propane, so fuel mileage will be exactly the same. However, Hoerman adds the CNG system on the truck is more expensive than propane, CNG infrastructure (fueling facilities) are less common and it is much more expensive to put in an onsite fueling station.
NiteHawk also used NPE as an opportunity to raise money for the Disabled American Veterans (DAV). "The thought behind raising money for DAV was that we always give away all sorts of stuff at the show," says Hoerman, "we figured we should be doing it for a better cause."
NiteHawk had t-shirts made and asked for $50 donations for each one. 100% of proceeds will go to DAV. "We estimate we have raised close to $2,000 so far."
The second part of raising money for DAV was the "wraps" on the two sweeper trucks. "The camouflage wrap was obviously military themed keeping with the DAV and our 2014 poster," says Hoerman. "The "sky" wrap was themed towards helping sweeping contracts demonstrate to their customers that they are "green" company."
"Anyone that orders a sweeper truck with either one of these wraps on them by February 28th, 2014, NiteHawk will donate $1,500 in their name to the DAV," adds Hoerman. "We had multiple orders for wrapped trucks at the show, and expect to raise another $10k for the DAV before the end of February."
Graco released the LineLazer IV 250dc, a dual-color striper that sprays two colors simultaneously in patterns as wide as 36 inches. Ideal for airports, municipalities or contractors who need to spray highlight lines or other dual color striping, the LineLazer IV 250dc has dual 15-gallon paint hoppers and Graco hydraulic motors.
Also new for 2014 is the ThermoLazer 200tc Thermoplastic Striper. This small, portable unit is designed for smaller thermoplastic striping jobs or contractors who are just getting involved in thermoplastic striping.
Schwarze Industries unveiled two new sweeping units it described as "customer friendly." "This is our 40th year in business," says Greg Heyer, vice president of sales, marketing, customer service and product management at Schwarze. "We thought we'd celebrate that by releasing a couple of new products."
The new SuperVac Aero HyDump twin-engine sweeper provides the convenience of high dump with automatic dump door activation, full in-cab controls and an easy-to-access rear-mounted sweeping head. Mounted on a fuel-efficient V6 chassis, the rotationally molded polyethylene hopper is corrosion and abrasion resistance and has an easy glide hopper interior.
The SuperVac Updraft twin-engine sweeper can now be mounted on a choice of three fuel-efficient V6 chassis. "We asked for input from the customer and we wanted to give them what they wanted," Heyer says. "What we came up with was a very versatile product and what we introduced was a chassis not only on a Chevy, but on a Ford and Toyota." The Updraft also has a fully welded stainless steel hopper that is high corrosion and abrasion resistant with increased structural strength.
"We didn't want to reinvent the wheel on things that worked," adds Heyer. "All the things that everyone liked on the performance and quality side, we didn't change anything there. If we couldn't enhance it, we didn't change it."
Also introduced at NPE was the Diamond network from Gemseal. The website, pavementmadesimple.com, is a revolutionary way to connect property managers with contractors. "It's like a dating site for the pavement maintenance industry," says Eric Peterson, director of marketing and technical services at Gemseal.
Property owners and managers now have a centralized place to find compatible pavement contractors based on many types of search criteria. Conversely, verified contractors can share their qualifications with interested property owners/managers to show why they should be considered and included in a pavement project.
Property owners and contractors can now share real-time information which enable them to make faster, better decisions while collaborating to cut costs, reduce risks, and improve the pavement industry experience.
Titan introduced the Laser Guide System that is compatible with most striping machines. This guide system includes two lasers, a mounting kit and a battery pack. The high output green lasers are visible during the daylight and can be recharged just like your cellphone. 
Also introduced at NPE was the LazyLiner Compact Series. This system of LazyLiners feature a one wheel ride on system that can attach to any Titan PowrLiner 4950 and larger. 
Titan has also added an optional tray accessory that can be placed on the back of your LazyLiner for easy storage of materials right behind your seat.
Look for more coverage of these items in upcoming issues of Pavement!