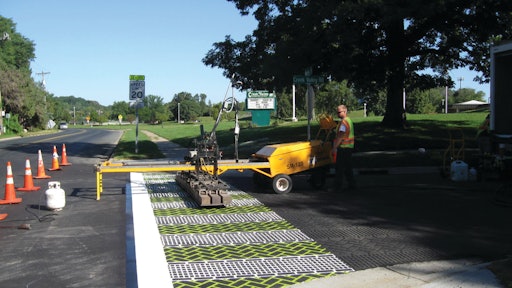 Introducing a new product or process to a market has never been easy, but Decorative Pavement Marking, Plymouth, MN, has successfully managed to create a niche for both itself and a pavement marking product through innovative use of video, controlled use of at least one social media platform, and old-fashioned legwork.
Started in 2004 by Lanet Johnson, president, and Randy Johnson, vice president, Decorative Pavement Marking is an offshoot of their successful asphalt paving company, The Original Driveway Design, which also offered Streetprint Genuine Stamped Asphalt through Integrated Paving Concepts (IPC).  Driveway Design started in 1977 doing only driveways, eventually expanding into a variety of other pavements including bike lanes, park trails and roads. Today the Johnsons have refocused Driveway Design and generate 20% of work from parking lots and 80% from driveways, and Randy Johnson says they are working to re-establish their presence in the parking lot maintenance market. When IPC introduced DuraTherm to the market Lanet and Randy were excited about the new decorative long lasting product that was more suitable for high traffic conditions and decided to start a new company to take advantage of the new product.
"We saw a great product for municipalities, bike lanes and crosswalks – and we discovered a number of other opportunities that suited the product very well," Randy says.
Today the six-person company is becoming known throughout the state for its inventive and creative efforts at designing and installing crosswalks and other pedestrian-related marking. But this is not a pavement marking company.
"We don't want to be in the striping business, we want to be in the decorative pavement business," says Lanet Johnson, president of Decorative Pavement Marking. "We want to handle and specialize in special situations that governments, municipalities and shopping centers come up with."
Lanet says most of Decorative Pavement Marking's jobs are crosswalks.  They've also done Safe Route to School marking for the national program and traffic calming center medians (6-ft.-wide decorative pavement in middle of roads to slow traffic). In fact when you visit their website the first photo that pops up is of a center median installed in Minneapolis in front of an elementary school
There is another median installed on Selby Avenue in St. Paul, MN.  The City was planning on installing a conventional concrete median in that location. Decorative Pavement Marking was brought in at the design stage and presented the idea of this 6-ft.-wide, 2,000-ft.-long decorative center median instead.
"The road has a lot of bus traffic and on-street parking and they were going to put a concrete median in the center. But if they'd done that the residents would have been unable to cross into their driveways, and people wouldn't have been able to cross to businesses," Lanet says. "It also would have created a U-turn situation, which they didn't like so they opted for our design."
She says the contractor sometimes gets invited to recommend solutions or designs, as they did on Selby Avenue, but most often the requirements are already included in bid specs. But first they had to educate he market what the product is, what it can do, and how long it lasts.
"We really kicked the market off in Minnesota," Lanet says. "We made the contacts, got demonstrations set up for people we know, and we were fortunate to have Dave Holt (retired Director of Minnesota Asphalt Pavement Assoc.) working with us.  Dave did a great job for us getting the new product through the doors at local consulting engineers and city, county and state agencies."
She says that was important because the product has to be designed and specified into projects before it is put out for bid. Once job specifications are established it's difficult to get them changed, which is why Decorative Pavement Marking works so educating end users and engineers.
Randy Johnson says that another hurdle they faced was getting the product on the MnDOT Approve/Qualified Product List.  He says engineers are reluctant to specify a product that's not on the approved list, because unapproved products cannot be used on projects that have state or federal funding.  Decorative Pavement Marking worked with MnDOT's Material and Research Division to get DuraTherm tested at the MNRoad test facility which aided in the two year approval process.
LinkedIn for Marketing
Part of breaking into the decorative pavement market is finding the right people to specify products, and Randy Johnson has turned to LinkedIn, which he first discovered in the winter of 2012-2013. Johnson says an IPC rep sent him a LinkedIn invitation, which he linked to. He set the company up on LinkedIn, created a profile, and within four days LinkedIn started showing him people in engineering positions and people involved in transportation – just the type of professionals he wanted to reach with the new business.
He continues to be selective with the firms he connects to and today has more than 390 links that would have direct interest in decorative pavement marking products.
Over the 2013-2014 winter he began his first marketing blitz via LinkedIn "because I can send information to people that are directly involved in transportation and landscape architecture." He reached out with invitations to conduct free "lunch and learns" and he has provided links to an innovative two-minute "how they do it" video among other opportunities. "We don't want to bother people but we do want to give them something to catch their attention," Randy says. "People are busy from spring into fall but once we got into November through January they are really receptive to us coming in and meeting them."
Decorative Pavement Markings, supported by Mark Sallmann, area representative for Ennis-Flint, the manufacturer of TrafficScapes products has given numerous "lunch and learn" presentations this year this year to consulting engineers and landscape architects throughout the Twin Cities. "This provides a great venue to answer a lot of questions and showcase the many uses of TrafficScapes products," Randy says. 
He says LinkedIn has proved to be an effective marketing tool for a company that doesn't want to spend a lot of money on marketing. "Marketing has always been a hurdle. We don't have bottomless pockets and that's one of the great things about LinkedIn: It doesn't cost us," he says. "Direct mail is nice but it's expensive and you're never sure if your direct-mail piece ends up in the right hands. LinkedIn solves both those problems."
 "You can tell the people that use social media, especially the younger people, are very quick to respond. We need to use technology to our advantage and that's what we're doing with LinkedIn."
"The idea is use social media to make a personal contact," he says. "We want face-to-face meetings with engineers and we think that using LinkedIn we have a better chance of getting through to the people that matter versus cold calling where you can't get past the gatekeeper. The idea is not to take the personalization out of it, it's just to make the contacts through LinkedIn so we can then make a personal contact."
He says LinkedIn is also effective in generating an audience when Decorative Pavement Marking is conducting a demonstration for a municipality or property owner. The message goes out to the LinkedIn connections letting them know the time and place and often those connections attend or send someone out to see it.
"We know it works because when we're doing a job and we let people know through LinkedIn we see people pull up and get out of their cars and put their orange vests on just to watch the process," he says. "They want to know how it works."
[sidebar]
Video Marketing: 4 Hours in 2 minutes
Randy Johnson's LinkedIn efforts have helped him find the right people, and one way he works to educate them is through an engaging video the company sends to LinkedIn connections.
"First have to find the contacts and then you have to educate them," he says.
And education is easier when you can get the customer's attention. So they borrowed an idea from their other company, The Original Driveway Design: they created an entertaining time-lapse video that's been edited to condense more than 4 hours of crosswalk installation into 2 minutes. "People are always asking us how we do it and we can show them quickly and in a fun kind of way using this two-minute video," says Randy Johnson.
 "It's a real big thing for us and has helped us educate the customer. People don't understand how we do this work and with this video they can see in two minutes how a complete crosswalk gets done," Randy says. "Then they have an 'ah-ha' moment and they get it."
The time-lapse video can be viewed at www.decopavement.net.
The Original Driveway Design's fast-paced video condenses driveway removal and reconstruction into 2 ½ minutes, and it's become a big crowd pleaser at home improvement shows. "People who start seeing it in the middle stand and wait until it goes around to that point before leaving," Randy says. "That gives us plenty of time to engage them as a customer. People say if you hold them for 3 seconds with a visual you might have a chance to talk with them. We do much better than 3 seconds."  And Johnson says he expects the same result from the crosswalk video.