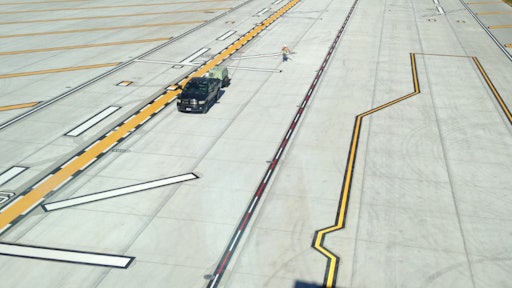 We all know how important accurate pavement marking is to the safety of the traveling public, however these markings become even more paramount in airport applications. When you add in a military factor, your job as a striping contractor just got a whole lot more difficult.
The Naval Facilities Engineering Command (NAVFAC) awarded the contract on June 26 of 2013 to Head Inc., a small business out of Columbus, OH, for construction of a simulated landing helicopter dock (LHD) flight deck at Marine Corps Air Station (MCAS), Beaufort, SC.
Head Inc. specializes in concrete paving on airfields, but for the striping portion of the job, they hired Roads & Runways Striping Service, Inc. out of Daytona Beach, FL to complete the pavement markings on the runways.
Project cost was estimated around $11 million with the striping subcontract around about $60,000 for Brian Boatner, president of Roads & Runways, and his son Ben. They completed 70,000 sq. ft. of striping in a short two week timeframe.
No Room for Mistakes
As with any project there was no room for error, but precision was especially important here as the flight deck was to serve as a training tool for future LHD marine pilots.
Construction included a LHD flight deck made with high temperature resistant concrete and a new Landing Officer Safety Officer tower to support F-35 training and operational squadrons. The project also included construction of a simulated short takeoff and vertical landing (STOVL) LHD landing deck with foreign object debris (FOD) zones, airfield lighting and associated electrical upgrades. The simulated LHD will have all the working lights and equipment found aboard a ship. The base is solid concrete made exactly to the dimensions of the real one.
Boatner and his son began their portion of the project by removing the curing compound from the new concrete which they did with an Aqua-Dyne Hydro-blaster.
Then came the fun part; striping.
"The general contractor laid out some of the markings using GPS survey equipment and I would use a transit to make sure all markings were straight and in the precise location," Boatner says.
A 100' measuring tape and chalkline were also used for the layout.
Boatner used Federal Spec TT-P-1952E, Type II (acrylic) and TT-B-1325D paint and Type I glass beads for the markings. Boatner says they used approximately 650 gallons of white, yellow, red and black paint for the job, which covered about over 70,000 sq. ft of markings on the deck and adjoining taxiway.
"We used an Isuzu striping truck that we built specifically to apply airfield markings and a Graco Linelazer for the small detailed markings," Boatner says.
The job required a variety of markings from 2" to 48" wide, including various lengths and color combinations.
"When striping airfields the markings have to be pretty exact for safety reasons," Boatner says. "We have striped hundreds of runways and taxiways around the world but this was our first LHD Flight Deck and it turned out just about perfect. I was within 1/4" on all the markings on this project."
While accuracy was a huge challenge for Boatner, coordination was another.
"We were working around the other contractors and staying out of each other's space," Boatner says. "Electricians were installing the lights, the joint sealers installing silicone sealant, asphalt crew paving the shoulders, it was a challenge but none of the markings were tracked or damaged even though there were about 50 other tradesman doing their thing."
Boatner has been striping airfields all over the world for the past 40 years and knows this project will stick with him for a very long time. "All the contractors and military personnel were very impressed with the precision of the layout and the final product," Boatner says. "I have striped airfields all over the world but this project was unique and almost one of a kind."