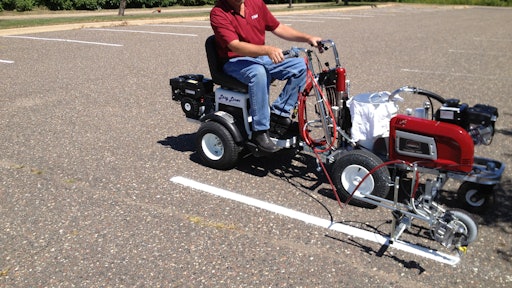 Although you and your crew may be comfortable with a walk behind unit, the time may come when you have too much work for that piece of equipment to keep up with. Manufacturers then recommend a conversion unit that turns your walk-behind striper into a piece of equipment you can ride on to complete the same work, only faster.
These "driver" add-ons might take a little getting used to, but manufacturers say once you and your crew use them, you'll wonder how you survived so long without them. So whichever approach you select, select one of them because contractors and manufacturers alike say motorizing your walk-behind striping machine is the single biggest impact you can make on your striping productivity.
"A walk behind with a pusher unit is needed when the contractor has a limited amount of time to complete the work he has to do," Denny Tooker with EZ-LINER says. "You can use the same walk-behind unit and cover a lot more area in less time with a conversion unit. Plus efficiencies increase dramatically once the contractor becomes mobile."
"When you start striping big jobs like airports, highways/interstates, large parking lots or anywhere "a lot" of line-striping needs to be done, a contractor should buy a ride on unit," says Tom Heine, specialty business sales manager at Titan Tool.
Still, over 70% of all striping contractors out there are still walking.
"It's a control issue," Tim Wehner, global product marketing manager with Graco says. "Contractor's don't believe you can drive as fast as you can walk and still get that line quality. They don't believe you can stay as strait, but actually with a ride-on you have five wheels contacting the ground instead of three.
"Most operators who stripe have never had the opportunity to use a line driver so there's lack of understanding about what it can do for them and how it can help their business," Wehner says. "These units aren't just for the big jobs, you can get twice as much work done in the same amount of time and you're not putting stress on your workers."
Your Workers Will Thank You
That worker fatigue can be a huge reason to switch to a ride-on striper.
"Fatigue is the biggest drawback to a walk behind unit," Wehner says. "You're walking all day long, pushing and pulling the unit. Plus, if there's any kind of incline, you have to push up or hold back all the weight that's on the unit."
That can really add up when you consider the weight of the unit, plus the materials inside the striper.
"When you're tired, you're less productive," Heine says. "Plus you're putting unnecessary wear and tear on your body when you're walking all day."
While the cost of these conversion units may range from $4-10,000, possibly equal to the cost of your striping unit, manufacturers say they are well worth the price tag, just based on the fatigue factor alone.
More Work, Faster
Some manufacturers say that adding upgrading your walk behind unit can more than double your productivity as jobs get done faster and contractors will be able to more accurately bid even more work.
"If a contractor wakes up in the morning and his job is put down lines three to five days a week, then he needs a ride on driver and striper combo," Heine says. "The ride on portion detaches, which is great for going back and forth between the two applications if need be."
"If a guy is striping one job per day for two-three hours, he's not a very big striping contractor and would get by just fine with a walk-behind unit," Wehner says. "However if he's striping from midnight until 6am, I don't think he's going to want to walk for six hour straight."
Wehner says it's really a business proposition. If a striper wants to go twice as fast because he can gain more jobs, that's when it's time to upgrade.
"Even if you love your walk behind, if you run out of paint and have to walk your unit to the truck to fill it up, you're wasting time," Wehner says. "If you can drive 10 miles an hour to fill up, it's an absolute time saver."
Try Before You Buy
However, there is still some push-back from contractors when they think about making the upgrade to a ride-on. Some of it is cost, some is the comfortability factor and some is the fact that contractors think the units will be too big for what they need.
"There's no job too big or too small for a ride on unit," Wehner says.
"Many line-striping contractors say that they use their Lazy Liner ride on driver/line-striper system for 1 line or 1000 lines," Heine says. "It's just as easy to back the driver/striper out of the trailer and start striping as it is with a walk behind unit."
Still hesitant? Many manufacturers will hold events for contractors where they can get on this new equipment and gain experience with these units before making the purchase.
"Ride-on units just make so much sense to have," Wehner says. "We hold these events so guys can get on the units, get comfortable and hopefully open their eyes to a different way for them to do their job and make more money."
"A walk behind also holds less supplies than the larger equipment meaning they need to be refilled more often," Tooker says.
Before looking into a conversion unit, speak with your walk-behind manufacturer. "Some smaller units are not compatible with a pusher unit," Wehner says. "The small walk-behind units are optimized to be lighter for the contractor to push, therefore they are just too light for a conversion unit."