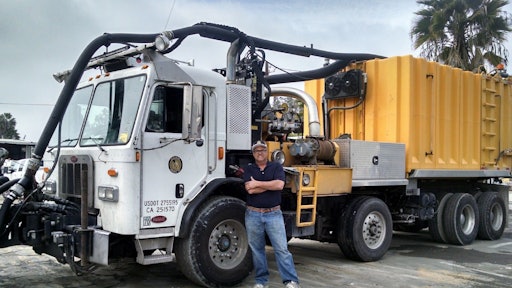 David Brilhante started his business, Statewide Stripes in 1990 after he received a Graco Tri-Pod striping machine from his uncle. He sent out 19 letters to local asphalt contractors in the San Diego area asking them if they needed any striping performed. 
"I introduced myself as a new company providing striping services," Brilhante says. "27 years later we have a staff of 39 employees and perform a variety of services from striping and sealcoating to high pressure water removal and we are still doing business with our first customers."
Today, Statewide Stripes provides highway markings, airport markings and complete parking lot maintenance to all of California specializing in city restripes, county overlays and airport markings.
Their pavement maintenance fleet consists of eight walk behind striping machines, (Graco LineLazers), two waterblaster trucks, (StripeHog 7500 / 8000), three Trinity custom street striping trucks, two TransTec Extruded thermoplastic trucks, one sealcoat truck and two seal buggies.
Trend Setters
Statewide Stripes has experienced steady growth throughout the years by maintaining a steady referral business, but it's their efforts to embrace technology and keep up with the latest trends that has set them a part from their competition. 
"We strive in thinking, "out of the box", to provide the highest quality product with unheard of production rates, in the most responsive way," Brilhante says. "In doing so, we try to maximize the use of technology in our equipment and the knowledge of our employees to do the job perfectly the first time and ahead of schedule."
The company recently positioned themselves as a preferred striping contractor in San Diego when the city chose to upgrade their crosswalks. 
The new Continental Style of crosswalks prevent hazards to both drivers and pedestrians, keeping people visible while crossing the street and setting clear limits to drivers, helping them distinguish the crosswalk area.
Studies from the Federal Highway Administration have shown that continental striping is safer than traditional pedestrian crossings marked by two lines connecting the corners of an intersection. Continental striping is a more visible sign that alerts motorists when they're approaching the pedestrian zone.
The goal of San Diego County is to gradually replace all traditional crosswalk markings with the highly visible continental striping style. This, in order to enhance safety for everyone and reduce vehicle trespassing into the crosswalk.
"The implementation of continental crosswalks in San Diego is the sign of a great change for the city and its people," Brilhante says. "At Statewide Stripes, we have cutting edge technology that exceeds the standards of the most demanding jobs. All our equipment follows a strict maintenance schedule and we have three full-time mechanics on staff that keep our equipment operational and leak free. When others fail, our trucks keep running."
The company also continually invests in their fleet to keep up with their business.
"We are always looking for ways to improve, whether it is embracing technology, or training, we never get complacent in our efforts to better our results as a company," Brilhante says.
As a non-union company, Brilhante says Statewide Stripes experiences their fair share of challenges. 
"We are forced to comply with Union requirements on all Public Works Projects. This has been a big challenge to ensure compliance in an industry where the typical job can be 1-5 days, and we can be called on to perform with little or NO notice," he says. "This makes for A LOT of paperwork that has to be sent perfectly, on time and subject to several auditors looking for mistakes that can lead to fines." 
The solution for the company? Technology upgrades. 
"We have implemented a time-tracking software that's compatible with our business software to ensure certified reports are generated accurately and on time," Brilhante says. 
In the future, Brilhante hopes to continue to expand his business into the Midwest region. 
"As long as we can perform as expected and make a little profit, I will be happy," he says.