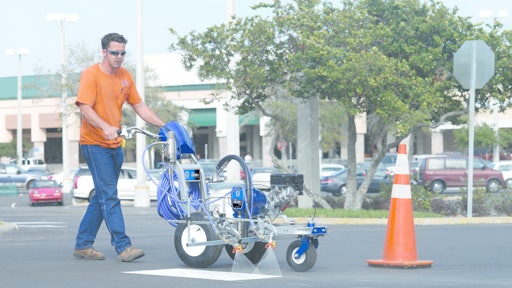 In an industry that's based on how much work can be done in less time, walk behind striping units are still holding their own.
From those just starting to learn the striping trade, to industry veterans, many contractors still prefer the ease of operation and comfortability factor these walk behind units offer.
"75% of all guys out there still walk," says Tim Wehner, global product marketing manager with Graco. "It's our job to come up with ways for them to do it better."
Why Walk?
Like many contractors out there, your company has probably agreed to do work on a job that you've never done before. You still want the business, so you say yes to the work and figure it out later. Striping is notoriously known as one of those services and a walk-behind unit is a great starting point for contractors just getting to know the business.
 "The choice of using a walk behind unit has a lot to do with the stripers experience level," says Tom Heine, specialty business sales manager at Titan Tool. "The succession of using a walk behind striper first, and graduating to a ride on system makes sense."
"Typically the guy just getting into the business won't be comfortable with a ride on unit because he's still learning how to stripe," Wehner says. "What he'll do is get a comfort level of walking and then, if he's able to get exposure with a ride on, he may upgrade down the road."
Also if cost is a concern, walk behind units are substantially less expensive than their ride on counterparts.
Best Applications
"The size of pavement marking equipment is defined by the size of the job and the amount of time that is allowed to finish the job," Denny Tooker with EZ-LINER says. "Parking lots can typically be done at night with no traffic to deal with. Beyond a parking lot many factors come in to play. The time of day, the amount of traffic, and the dry time of the traffic markings all play a role in determining what equipment is best for the job."
Many contractors will buy a walk behind unit and plan to use it for every job they do. However, just like most equipment, there are some best applications for these units and some places they shouldn't be used.
"Walk behinds are great for single-line striping, smaller lots, intersection work and sport courts," Wehner says. "These units are super maneuverable so they can get into tight spaces. On a sports court, these units are great for creating shapes like a circle, where you need to lock in the front caster and just walk it around for the perfect arc."
 Wehner says another benefit to a walk behind unit is the advantage gained from placing the gun in the rear position. "Putting a gun in the rear position, closer to the rear axle, gives guys more control on long line work like on bike paths," he says. "There will be less irregularities along a long line when you place the gun in the rear position on these units."
Heine says walk behind units are also great for small school building and grounds personnel, property managers, athletic clubs, asphalt/sealcoating contractors, maintenance personnel, golf courses and retail parking lots.
"These stripers are also general purpose paint sprayers and can be used to paint commercial buildings, houses, fences, etc.," Heine says.
"Much of the work done with a walk behind is done because it is much more maneuverable than a self-propelled," Tooker says. "Walk behind stripers should focus on small parking lots and handwork where a self-propelled unit would be clumsy. A walk behind should not be used in large areas where traffic has to be rerouted during the procedure just due to the extra time it would take with a smaller machine."
Also, one of the biggest advantages to a walk behind unit is the smaller size.
"Some contractors don't have the physical space to haul a large striping unit," Wehner says. "Most walk behind units can be moved by two workers and placed in the back of a pickup truck. That's a huge advantage."
What's New?
Technology is the main factor keeping these walk behind units competitive. Upgrades are helping contractors complete more jobs faster, with both a better quality result and more comfortable experience.
"One of the most recent upgrades to these units are auto-layout features," Wehner says. "This feature helps contractors' layout their job using on board smarts instead of a man with tape and chalk. We call it the Johnny Cash factor, you no longer have to 'Walk the Line.'"
The auto-layout systems allows you to pre-calibrate your machine with the exact requirements of the job you're working on. Enter the line information into the display and the machine will automatically do the pre-marking for you.
"The machine does the thinking for you," Wehner says. "Guys absolutely hate doing layout jobs, they are an absolute hassle so we developed an on-board solution for them."
Graco says this feature will allow contractors to complete a layout 30% faster.
Another new development in technology is the use of lasers on striping machines for layout purposes. Lasers also eliminate chalk and string lines, as an attachment with a laser is placed on your machine. The laser projects a display of a line straight out in front of your striping gun. All you need to do is follow it.
On-board information is also critical to users. They want immediate feedback as to what their units are laying down and at what rates.
"We call these SmartControls," Wehner says. "These controls tell contractors exactly what's going on the ground so he can dial it in to get the exact build he wants and then be able to repeat that on the next job. How your stripes go down today is exactly how they will go down tomorrow."
Operator comfort is another big thing manufacturers are looking to improve on these units.
"Titan has updated their machines with a new swing-back stem design which places the handles at 65° versus 80°," Heine says. "That angle increase a contractors leverage, making the striper easier to push and easy to lift."
Electric key start engines, cup holders, cell phone chargers and adjustable swing arms are all newer features being installed on walk behind units that can make a stripers job easier and more enjoyable. Even something as small as multi-position handlebar adjustment systems are being installed that make the units more comfortable for operators of all sizes to use.
"A lot of things come down to ergonomics," Wehner says. "You want a contractor to want to do his job and we want to make a unit he wants to use."