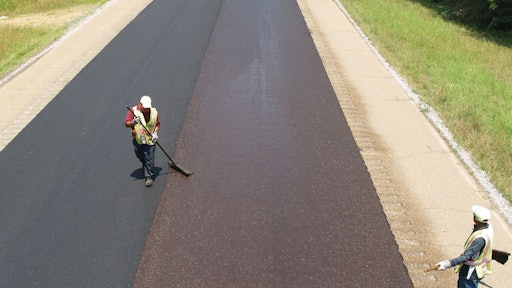 With the American Recovery & Reinvestment Act (ARRA) stimulus package coming to a close, the mid-September extension of SAFETEA-LU and the late-year progress in the Senate of the MAP-21 two-year highway reauthorization, the construction industry is wondering: what's on the business horizon for 2012?
What does the future hold for the Highway Trust Fund (HTF)?
How will the role of preserving our roads change?
These are just a few of the questions Asphalt Contractor magazine asked four construction-industry experts. Here's what they had to say.
2012 Outlook
AC: What will 2012 look like for asphalt contractors and producers?
Alison Premo Black, senior economist for the American Road & Transportation Builders Association (ARTBA): We are forecasting market decline of about 6% for both highway pavement and bridge work in 2012 down to $72.6 billion. The key reasons for the projected downturn: continued weak growth in the overall U.S. economy, the end of transportation-related stimulus funding, persistent state and local budget challenges and a static federal-aid highway program. The bridge market, which has experienced several years of growth, is expected to drop from $26.3 billion to $23.6 billion. Pavement work is expected to continue to decline slightly from an estimated $45 billion in 2011 to $44.1 billion in 2012. Other work, which includes smaller projects that are highway related, but not specifically bridge or pavement work, is forecast to decline from $5.6 billion in 2011 to $4.8 billion in 2012.
Jack Basso, director of program Finance & Management for the American Association of State Highway and Transportation Officials (AASHTO): We continue to need long-term, well-funded legislation. Until we get it, we face the very real problem of deterioration of our highways and bridges. We are already experiencing this and we are already underfunded.
Obstacles to growth?
AC: What are the hurdles impacting construction's recovery as we move into 2012? From a legislative standpoint, what can be done to help the industry overcome these obstacles?
Basso, AASHTO: The reauthorizing of federal programs should bring stability and clear up policy concerns. This will also energize state and local governments. Reauthorizations allow states to know they have stable capital funding source going forward, which put them in a better position to act on long-term projects.
Anirban Basu, chief economist for Associated Builders and Contractors (ABC): The most substantial obstacles take the form in the accumulated national debt and ongoing federal budget deficits. Beleaguered state and local government budgets add to industry uncertainty, with spending on state highways and local roads now in decline in much of the nation. With federal stimulus monies steadily being spent down, road resurfacing and similarly-situated investment may decline materially over the next two years.
Funding the highway bill
AC: Proposals for the next highway bill do not contemplate an increase in fuel taxes. Where will the financing for constructing and preserving our highways come from?
Beth McGinn, director of public affairs for the American Road & Transportation Builders Association (ARTBA): There is no lack of available transportation financing choices; rather there is a lack of political will. An increase in the federal motor fuels excise is the quickest and most efficient way to generate the revenue necessary to support expanded transportation improvements. Tolling, congestion pricing, a freight-related user fee, public-private partnerships, innovative financing and bonding on mega-projects that add capacity are all options that should be on the table.
Basso, AASHTO: There are a matrix of different revenue options on the floor including custom fees and tapping into utilities. Fuel taxes are not on the list. We will have to wait to see what our politicians come up with . . . whatever it is; they can't go back to the general funds for additional transfers.
Ken Simonson, chief economist for The Associated General Contractors of America (AGC): The Senate Finance Committee may be able to cobble together enough revenue raisers and "loophole closers" to pay for a two-year extension, but a six-year bill seems out of reach without an increase in fuel taxes or new sources of revenue -- both of which seem impossible before 2013.
Basu, ABC: The electorate seems to have expressed a preference for user fees relative to taxes. This implies significant use of tolling to promote infrastructure investment going forward. Higher vehicle fees, including higher gas guzzler taxes, are also possible.
Where does P3 fit in?
AC: Where does the public-private financing model fit in with funding future highway construction and preservation?
McGinn, ARTBA: Public-private partnerships (P3) are clearly a part of the financing solution, especially on projects that add capacity. Currently, 24 states and the District of Columbia have used a P3 process to help finance and build at least 96 transportation projects worth a total $54.3 billion. And 65% of these projects occurred in just eight states – Florida, California, Texas, Colorado, Virginia, Minnesota, North Carolina and South Carolina. Twenty-six states have not initiated a P3 transportation project. The P3 market share of total U.S. capital investment in highways by all levels of government since 2008 is about 2%. So while P3s are an important financing tool, they alone will not solve the nation's transportation funding challenges.
Basso, AASHTO: This is clearly a necessary element. Public-private funding will represent a slice, as much as 10%, of construction going forward. However, no matter what happens, future projects will require revenue streams to back them up.
Simonson, AGC: Public-private partnerships for both existing and future road segments seem likely to pay for an increasing part of highway construction. But the adoption of these models has been surprisingly slow since the Indiana Toll Road deal. The fiscal and banking-system problems in Europe may hold back P3's even more.
Basu, ABC: States and localities are increasingly looking to leverage private capital as they approach respective, often self-imposed debt limits. With the number of successful public-private partnership models expanding over time, policymakers should feel increasingly comfortable in their negotiations with private financiers. Public-private partnerships are therefore positioned to be one of the major economic growth engines this decade.
The role of pavement preservation
AC: With less funds available for new highway construction, how do you see the role of preserving our roads change?
McGinn, ARTBA: We are cautiously optimistic about the future. We don't believe it is a foregone conclusion there will be fewer funds for highway construction. The fact is the transportation network at the federal, state and local levels is deteriorating because of age and because it was not built to carry the current volume of traffic. We need a 21st century transportation system to meet the demands of the motoring public and business community, and to help facilitate economic growth and job creation. The public gets it. We just need to bring the politicians along until they do the right thing.
Simonson, AGC: While voters are more likely to support increased funding for transportation at the local and state level than they are at the federal level, it is entirely likely that the quality of infrastructure will vary from location to location based on the local political climate and the success of local transportation initiatives. As the federal role diminishes consistent with its declining investments, we are likely to see greater inequality in highway and transportation system quality.
Basu, ABC: Highway preservation, rehabilitation and maintenance will have emphasis over new construction. Stakeholders should also look for significant progress in terms of materials science.
The future of the Highway Trust Fund
AC: What does the future hold for the Highway Trust Fund (HTF)?
McGinn, ARTBA: That's a great question and one that Congress and the Obama Administration have the power to answer. The user-fee financing method for transportation projects has worked well for more than 50 years. That said, the Highway Trust Fund's balance has been drawn down and is on an unsustainable path with current investment levels unless Congress, as it should, takes action to boost the fund's revenue streams.
Basso, AASHTO: It will survive because it truly connects the user fee and the gas tax to the actual commodity it's paying for. The HTF has served us well, but we have to address what we use to fund it. We are simply going to have to come up with other methodologies (for example: direct charges through vehicle-miles-traveled fees). The popularity of fuel-efficient vehicles, hybrids and electric vehicles will negatively affect the revenue stream. Over the next 10 years, as these vehicles continue to take hold, we require a new model to feed the HTF for the long term.
Basu, ABC: According to a GAO report, all 50 states and the District of Columbia received more federal funding for highway programs than they contributed from fuel taxes and user fees from 2005 to 2009. During that time, the fund was augmented with about $30 billion in general revenues since FY 2008.
Federal gas and diesel taxes that support the fund have declined in purchasing power, in part because the tax rate has not been increased since 1993 (GAO, 2011). The reduction of vehicle miles traveled due to the recession and increased fuel efficiency have also led to a decline in account receipts. Solutions to challenges such as reducing the nation's dependence on imported fuel and minimizing the effect of transportation systems on the environment may also limit the federal gas tax (as it currently stands) as a major revenue source for the fund in the future.
Therefore, the future of the HTF is subject to massive change in the years ahead. Structural factors strongly suggest that the fund cannot be organized and managed the way it has been.