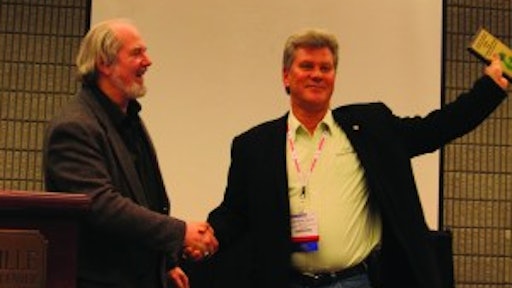 Ray Confer Receives Award of Excellence in Power Sweeping
Ray Confer (right), president of C&J Parking Lot Sweeping, Warren, MI, accepts the 2011 WorldSweeper.com Award of Excellence in Power Sweeping from Ranger Kidwell-Ross, editor of WorldSweeper.com. Confer, who received the award at the National Pavement Exposition in February in Nashville, has 33 years of experience in the sweeping industry and runs a 50-person company with more than 40 sweepers servicing almost 1500 accounts.
Kreuger Assumes NAPSA Presidency at NPE
Kevin Kroeger, DSS Sweeping Service in Dayton, OH, was elected president of the North American Power Sweeping Association (NAPSA) at the recent National Pavement Exposition in Nashville. James Larko, Katsam Enterprises, Ferguson, MO, was elected vice president; Rod Savage, United Rotary Brush, Lenexa, KS, was elected as treasurer; and Mark Carter, Bill's Sweeping Service, Orange, CA, was elected secretary. Carl Barton, Aardvark Sweeping Service, Memphis, TN, is past president.
Canadian Shield Opens First SealMaster in Canada
The first licensed SealMaster manufacturing and distribution location in Canada will be opened by Canadian Shield Pavement Preservation Products, Ltd. in Brantford, Ontario, according to Don Galliers, managing director of the international division of ThorWorks Industries, parent company of SealMaster. Galliers said the facility should be operational by late spring, joining 25 manufacturing locations and 70 sales and distribution centers in the U.S. as well as manufacturing locations in China, Australia, and Mexico.
Industry Appointments
Meredith Ware is the director of sustainability for Bonsal American, Charlotte, NC, working with design and manufacture of sustainability principles of Sakrete, ProSpec, Amerimix, and GemSeal branded products....Gretchen Jezerc is the vice president of Global Product Management for Kennametal Inc. located in Latrobe, PA.... Bill Michalski of Allmand Bros. Inc. is the Central District Sales Manager. Michalski coordinates Allmand Sales in Nebraska, Iowa, Minnesota, South Dakota, and North Dakota.
Robert McCrea, Redding, CA, received the Lifetime Achievement Award from the California Chip Seal Association in February.
The International Slurry Surfacing Association has named Pierre Peltier, General Manager of Marketing & Business Development at Terry Asphalt Materials, Inc., as its 2011-2012 President.
Companies in this article