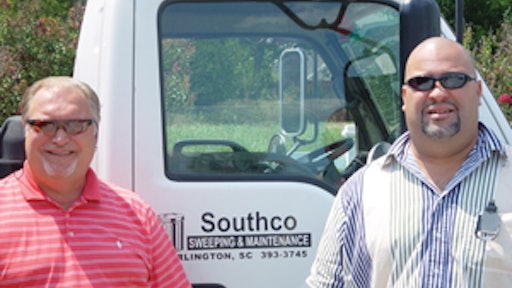 Dale McCaskill admits his company, Southco Sweeping and Maintenance, is one of the largest sweeping contractors in the Carolinas. But he'll also be the first to say, "So what?"
"Being the biggest is not what's important," he says. "What's important is providing comprehensive quality service to our customers."
McCaskill, current president of the North American Power Sweeping Association (NAPSA), says he saw a need to change the way the sweeping industry viewed itself and the way it was viewed by its customers.
"My idea was to apply a white-collar approach to what at that point was a blue-collar industry, and I think we've been successful in doing that," McCaskill says. "Our goal when we opened the business was to set ourselves apart from the competition. We believed that property managers and property owners needed a company that could offer multiple services, so our company's number one priority has been great customer service, superior quality and to make our phone number the only one they will ever need."
Setting itself apart from the competition is also why Southco Sweeping, a full-service maintenance contractor offering sweeping, landscaping and maintenance, became a NAPSA-certified sweeping company.
"Because we felt that our industry was not perceived as being professional, at least in our area, we made it one of our company goals to change that perception. The one thing that has helped to make us successful is and has been understanding the needs of our customers. We make it a priority to anticipate needs and address them before they become issues. Property managers appreciate the fact that we do not just consider them or their property as just a job, but we make them part of our 'family,' and we do everything in our power to make sure that they look as good as we make their properties look."
Sweeping drives full-service
McCaskill says that being a professional involves recognizing the needs of your customers then working to meet those needs. So it wasn't long before Southco Sweeping began adding services - first landscaping and then pavement maintenance - becoming Southco Sweeping and Maintenance.
"We started as a sweeping-only company, but we have evolved into a full-service contractor for our customers. By broadening our services we have become a more valuable supplier to our customers. " McCaskill says. "But our business is sweeping."
He says the addition of a landscape division was an afterthought, the result of property managers asking Southco to perform some landscaping services. "It's not something we actually sought out and planned to start, but we decided to go ahead and market landscaping and sweeping as a package.
"I would like to say that we planned to get into the maintenance business; however, that would not be entirely accurate. When we first opened the sweeping operation I had one property manager in particular that was several states away and managed four properties in my area. She was a great lady, and I always wanted to help, if I could. She would call me on Friday afternoons with an emergency at one of her centers. Luckily, my father-in-law was able to come to the rescue, and we did so well in this area that we were able to keep my father-in-law and a crew of four busy every day of the week. We worked ourselves into a niche market there, and it's really paid off."
He says most of the maintenance jobs were small in the beginning, "the kind of job that a major contractor won't even take the time to look at," but that's not the case any more.
"We want to be there for our customers and be able to provide whatever it is that they need," McCaskill says. He says the biggest challenge the maintenance division faced was in 2002 when his father-in-law died unexpectedly. "Even now, over five years later, when a job doesn't go as smoothly as we think it should someone in the office will say, 'Johnny would not have done it that way.'
McCaskill credits his father-in-law with Southco's approach that the company can take on any job and make it work.
"If I can figure out a way to go to a property manager and take away the bulk of his headaches, he is going to do business with me for a long time," McCaskill says, a fact borne out by the fact that Southco still has its first customer from 17 years ago.
Currently Southco has five locations: Florence/Darlington, SC, which is the home base; Camden, SC, which is the administrative headquarters; Myrtle Beach, Charleston, and a new branch in Raleigh, NC. McCaskill says Southco focuses its efforts in South Carolina but will venture into North Carolina as accounts need the service. Southco operates 20 trucks, all manufactured by Schwarze Industries.
In 2006 sweeping generated 45% of sales, maintenance generated 35% of sales, and landscaping generated 20% of sales. He says 80% of sweeping is done on parking lots with 20% being some streets, light construction site cleanup, and a variety of other work.
"I'll take any of the other work, but it all dovetails nicely together and they all start with sweeping," McCaskill says. "Sweeping is the means to the end, without a doubt. If I can get in there to clean your property that opens up a lot of potential work for us because we're out there every day and we see things as they happen, as they come up, and when they're just starting to become an issue. And if we do quality work for you on the sweeping side then you're going to be very likely to give us the repair work or the landscape work to do for you. But sweeping is where it starts. We're sweepers first and foremost."
Fighting low-ball pricing
McCaskill says Southco's full-service approach to its business also helps defend the contractor from the low-priced competitors many contract sweepers have to contend with.
"Anyone with a pickup truck can now become a sweeper and that keeps driving the price down, and it's very hard to compete with that," he says. "There are guys out there, not just in the Carolinas but all over the country, who lease a sweeper for $1,400 a month, and if they generate $2,000 a month they go 'Hey, we've got $600 profit. We're a successful business!' But it doesn't work like that and the professional contract sweepers know that, and that's what we're fighting."
McCaskill says he and his employees have worked hard over the years to educate their customers about what it takes to run a sweeping business and sweep a parking lot. "A lot of our customers know they can solve more than their sweeping problems with a phone call to us, and that's something these low-priced sweepers can't offer. That's a value to the customer, and if we do a good job helping selling to them, they know it," McCaskill says.
"It helps that we keep our customers savvy enough about this around here. They don't want to lose that service, and that's worth something to me. I know of more than one of our customers who has told a low-priced contractor 'I can't afford to take the chance with you even though you're half the price'."
He says that as a result of sweepers who compete only through low-ball pricing, the sweeping industry is not as strong as it could be.
"I know how much it costs me to run a sweeping truck, right down to the penny…including insurance, training, wages, everything. If I know my cost is $55 to $60 an hour it's easy to figure out what I have to charge to cover that and make a profit for my business," McCaskill says. "If I have a competitor who is charging $25 an hour for his sweeping, how do I compete with that?
"We sell quality and we sell service, that's how. Now if we lose a customer or if we lose a bid to a contractor who's charging half of what we charge, we often get that business back, eventually. But even if we get it back it's awful difficult to get that price back up to where we need it to be, so that's what erodes the pricing in the market. It's not that the professional contract sweepers don't get those accounts back; it's that even when we do get them back we can't price them the way they should be priced. That's how the sweepers who compete on price damage the market."
They also damage the market by not providing quality work and not providing the work they promise.
"Normally we are not the lowest-priced sweeping company, but our customers know that if they hire us they never have to worry about us being there, doing the work, and providing whatever service it is that they contracted for," McCaskill says. "I tell our customers that 'If the sweeper you're talking with can deliver to you what I deliver to you, and do it at half the price, I'd be a fool to tell you not to go with them.' But I also tell them I know what will happen. I tell them 'I know what it costs to run my sweepers and those low-priced sweepers can't do it or at least can't do it for very long, for the price he's quoted.' Contractors who sell based only on price just can't last - and they don't."
Internal success<
When McCaskill started in the sweeping business in 1989, he started like many other sweepers with just himself, a sweeping truck, and several small properties. Initially working part-time, the out-of-work sales manager soon realized that part-time needed to become full-time if he was to pay his bills.
"Then, once I got to 10 or 12 accounts, which didn't take all that long, I hired my first driver and that enabled me to work during the day, running it as a business and selling while the driver got the work done each night," McCaskill says.
After only a short time in the business, McCaskill felt he could bring some of his sales management experience to the sweeping industry, and today he runs a 25-person sweeping company that just experienced 14 months of unprecedented growth, requiring McCaskill to add staff and equipment to handle the increase.
McCaskill is quick to point out the importance of his administrative staff and regular employees in the company's success.
"We've made it a point to hire smart people, people who had goals for themselves, because we figure if they have their own goals they will be willing to work toward our goals," McCaskill says. "Then once we've got them hired I set goals to help them meet their goals."
Main administrative staff is all-in-the family. Dale McCaskill Jr. is his Dad's executive assistant; Debbie McCaskill, (Dale Sr.'s wife) is the company's vice president and financial officer, working with division managers on budgets and job-costing. Sister-in-law Luanne Hart serves as director of maintenance and also handles presentations and proposals, working with property managers, and making site visits. Daughter Lauren pitches in during the summer by making site visits and helping out in the office. Jeff Thompson, operations manager, has been with the company 10 years and keeps all the employees and equipment on track, works in sales, and manages special projects.
"We all work together to keep all the employees very, very involved," McCaskill says. "It's important we're all on the same page with the concept of what we're trying to do, so we keep everyone involved."
That involvement starts each morning with a 15-minute administrative meeting. McCaskill runs the administrative meetings while Thompson handles any field meetings.
"I know exactly what I want to have done and the way I want it done, and I think I've communicated that to everyone here. So the meetings are to make sure that happens, and we tell everyone do what you tell me you're going to do and everyone's going to be happy."
The Southco sales call
McCaskill says the most obvious example of a quick and easy improvement Southco first made when he started the company was in the bid and the sales presentation. "I was surprised how informal some of the sales presentations were," he says. "A number of times people were scrawling numbers on a legal pad and that was both the bid and the contract."
He says he knew he could make an impact there.
"When we started our approach was 'look bigger than we actually are' so we developed nice-looking brochures, formal contracts, and we instituted automated computerized billing," he says.
Now when Southco makes a sales call on a prospect, McCaskill says they present a professionally done conceptual presentation designed to let the property manager know all the different problems Southco can solve for him.
"It's a totally different approach than 'I'll sweep your lot for $35.' We talk about job quality, service, and we tell them 'We will sweep for you if that's all you want, and we'll do a great job just like you want. But we also can offer you more if you happen to be looking for more.' Generally people are very receptive to that approach.
"I never sell price because I believe profit is not a dirty word," McCaskill says. And that philosophy extends into Southco's approach to the work it bids and the work it accepts.
"I won't take a property just to keep someone else from getting that work, and I won't take a property that I can't make a profit on," McCaskill says.
Southco also won't accept a contract on a property that's under swept.
"We know our business, and we know how often a certain kind of property needs to be swept. I won't take a property that's under swept because whenever you've under swept the property it's always the vendor's fault," he says. "It's never the fault of the property manager who only wants it swept twice a week; it's the fault of the vendor who didn't do a good enough job the two nights he was out there. The first contractor to take the job, to agree to under sweep it like the property manager wants, is the loser. I'd rather come in later and solve the problem."
McCaskill says Southco has passed on a good deal of sweeping business that the company ended up getting eventually anyway.
"I've gotten that business eventually because I am honest with them," he says. "I just tell them 'Here's what I think will happen…and if it does please call me.' I tell them that if the other contractor doesn't work out - and I know full well it's not going to - I'd like to explain to them why properties need to sweep their parking lot and how often they should sweep it. That gives me an opportunity to tell them why we do what we do and how we do what we do."
McCaskill says it's important contract sweepers help their customers understand what a sweeper can't do as well as what the sweeper will do. "A lot of people get turned off on sweeping because their expectations are too high," he says. "Some sweepers go in there and promise they'll make that pavement sparkling clean, and that's just not going to happen. So when it doesn't happen the property manager gets upset and the sweeping industry looks bad. So we make sure what they're asking us to do, and we make sure we can do what they're asking. And that's what they're going to get."
He says, for example, a low area of the pavement that retains muddy runoff and dries to a mud film can't be removed by a sweeper. "And even if we can remove it the pavement likely will be stained, plus it will happen again the next rain. All that is fine provided the customer understands all that," he says.
"If we work in a professional manner, deliver what we promise, these customers will stick with us and price will not be an issue."