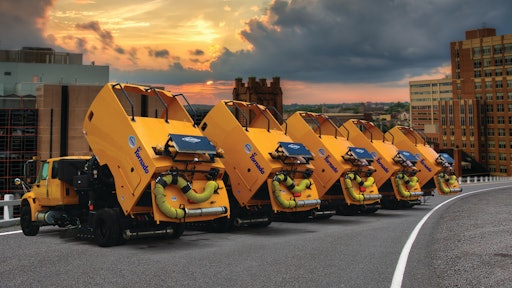 When the Tier rating program started in the U.S. in 1996, the goal was to reduce nitrogen oxide and particulate matter from the exhaust of diesel engines. Since then, engine technology has been getting more complex and costly in the drive to meet emission requirements. Tier 4 has been implemented in two stages since 2011 with the Tier 4 Final rule being a requirement for the majority of new diesel engines manufactured as of Jan. 1, 2014.
What does this mean for sweeper manufacturers and sweeping contractors?
"All sweepers using 'non-road diesel engines' (the auxiliary engines that are commonly used to power the sweeping equipment on truck-mounted sweepers) must now meet Tier 4 emission requirements," says Steve Douglas, product manager at Johnston Sweepers.
This essentially means that the two worlds of on-road and off-road EPA standards need to collide. "It's two different engines and two different pieces of legislation," adds Douglas.
Sweeper manufacturers that produce units with just one diesel truck engine will focus their attention on on-road emission standards and adapting their cabs to a new chassis. And those manufacturers that also use an auxiliary engine for the sweeping unit will encounter different challenges when selecting an engine that meets their standards and also complies.
And since no single technology enables an engine to meet the stringent emissions standards, sweeper manufacturers have been challenged with designing equipment that delivers maximum power and productivity, while also dramatically reducing particulate matter and nitrogen oxide emissions.  As you can imagine it's been no easy task.
Complicating the challenge is that many of the engines available from engine manufacturers usually will not bring a piece of equipment into compliance with Tier 4 standards on its own. Instead, the engine manufacturer will give their buyers, in this case sweeper equipment manufacturers, application standards that are needed to bring the sweeper, into compliance with Tier 4.
"The engines come from the manufacturer completely certified," says Brian Giles, sweeper products manager at Elgin Sweeper. "Different manufacturers achieve compliance through various after-treatment options, but all these come as part of the engine assembly package. The sweeper manufacturer must install the loose pieces where and how the engine manufacturer instructs them." And while there are many "after-treatment" options, there are a few main ones used by a sweeper manufacturer that can vary with the engine on the unit.
 "After-treatment" Options:
Manufacturers say there are few main "after-treatments" that can be used on machines to assist the engines in meeting the Tier 4 emission standards. "It's basically a whole new engine," says Jim Adair, product manager at Schwarze Industries. "It's not just adding components to an existing engine and then you have a Tier 4. That Tier 4 engine is certified by the manufacturer and you follow those parameters of its application."
The technology being used to reduce emissions in combination with the new engines is:
Particulate Filter: A diesel particulate filter is used to collect the particulate matter generated by combustion. Often called a particulate trap, it does just that - traps the particulate matter. As more and more material is collected, backpressures increase and the filter must be cleaned. Normally, the filter cleans itself by oxidizing the material in a process called regeneration. 
Regeneration: As stated above, the cleaning of the particulate filter is accomplished by regeneration. Regeneration of the filter cleans it by converting particulate matter to nitrogen oxide and water. The temperature within the filter must be at a certain level to make this happen. Regeneration can happen passively, actively or a combination of both. 
"A regeneration on the chassis of a sweeper is probably one of the worst-case scenarios," Adair says. "Sweepers do not get up to the speeds needed to regenerate and burn off the soot that the particulate filter collects. When you're running at such a low speed, you never get the RPM's up to regenerate while sweeping. A forced regen is needed where the sweeper has to sit for a full 30 minutes to incinerate the collected soot."
But sweepers sitting for an hour are not getting any work done and thus not making any money. "You don't get any credit for less than 30 minutes either," Adair says. "You can't sit 15 or 20 minutes and restart. It has to start all over and go through the process again for the full 30. 
"Over the road trucks will be driving long enough that they can go through regeneration while they're driving and the driver doesn't even know it's going on," he says. "In the auxiliary engine for sweepers, though, it's a better scenario because once you bring them up to speed, they pretty much stay at speed without having to do any forced regen." 
Cooled Exhaust Gas Recirculation: Cooled Exhaust Gas Recirculation is very effective at lowering combustion temperatures, thereby reducing nitrogen oxide. Controlled amounts of exhaust gas are routed through a cooler and routed back into the engine, mixing with the fresh air in the cylinder. The process reduces the oxygen concentration and lowers the combustion temperature.
Selective Catalytic Reduction: Selective Catalytic Reduction technology has greatly impacted the chassis used on sweepers.  A catalytic convertor basically reduces the oxides of nitrogen targeted by the EPA into something not harmful to the environment. As part of the system's operation a 'Diesel Exhaust Fluid' or urea is injected into the exhaust stream just before the catalyst.
"We have to make sure that we follow the guidelines," Adair says. "The exhaust system has to be a certain distance from the engine, certain components need to be in place to monitor the filter to ensure it's regenerating and triggering the warnings for regeneration."
Matching engine to chassis
Because the Tier 4 technology is continually developing, it's been difficult for some sweeper manufacturers to meet deadlines. "Our biggest challenge has been getting the new prototype engines from the manufacturers," says Giles. "Most manufacturers are getting engines completed just before new regulations take effect in January 2014. This doesn't leave much time to develop reliable, cost-effective engine installations."
Due to these challenges, the EPA has instituted a Transitional Program for Equipment Manufacturers (often termed a "Flex" program) that allows manufacturers to continue to introduce equipment meeting past tier emission requirements as a limited part of their total production. Manufacturers that have an inventory of engines that meet older tier requirements can continue selling equipment with those engines until they run out of stock.
However, these regulations have been coming down the pipeline for some time (see sidebar so manufacturers have had plenty of time to prepare their sweepers for the deadline. It's just a matter of how they went about it.
"Once we researched the market and decided upon the best engine supplier for our application, each new engine required about a one-year development project," Douglas says. "We used this opportunity to significantly upgrade our products and relaunch as a new improved range with many additional benefits. We didn't have to change our body style (to accommodate these new engines), but if we had remained with our former engine supplier, more space probably would have been required." 
 Size is Money
That is a challenge many sweeper manufacturers are facing. Most new engines being made are larger than their Tier III counterparts, so some sweepers have undergone massive changes in body style in order to accommodate these larger engines and changes to the chassis due to selective catalytic reduction.
 "As you can see it's about a matter of real estate," Adair says. "You're adding the particulate filters, the urea reservoirs, then those have to be thermostatically controlled to prevent freezing. As we add Tier 4 engines to sweepers, you have to find the place for all of these elements.
"You change one thing and you end up changing a dozen," he says. "We had to go in and find new mountings for the exhaust system and in some cases some of the other components were moved around on the engines. The way things move around, we have to make sure we get the proper heat rejection and meet application standards." He says this led Schwarze to redesign many of its sweepers.
Giles says that for the smaller-sized engines used on sweepers, design changes have been minimal. "The engine manufacturers have been able to comply with new regulations without major changes in complexity or operation."
But for the larger-sized engines, the story is quite different. "The Tier 4 Final requirements are more difficult to achieve in higher horsepower engines," Giles says. "These larger diesel engines require significant changes that result in much higher acquisition and operating costs."
He says the added complexity and maintenance requirements of the newer engines have slowed the purchase of new sweepers in both the private and public sector. "By the time all engines have reached Tier 4 Final requirements, the cost could be as high as tens of thousands of dollars," Giles says.
"The cost of a chassis is quite a bit more expensive now," says Jake Hoerman, sales and marketing at Nite-Hawk Sweepers. "Since we are only a single-engine manufacturer, the Tier 4 process has been less complicated, but there has been a price increase tied to the chassis. Customers will see about a $7,000-$9,000 increase for a diesel chassis."
"Unfortunately, there is no getting away from the fact that compliant engines are more expensive," says Douglas. "We have attempted to contain this increase as far as possible, the value of which varies dependent upon the configuration of the machine selected." 
Where is the benefit?
With all the cost added to these new sweepers in order to comply, many manufacturers and customers are left wondering what good all this work is doing.
"The upkeep and maintenance on those units is all added cost," Hoerman says. "To replace the diesel particulate filter, for example, you're talking anywhere from $1,500 to $2,500. There are a lot of extra costs built into the new units, and as a sweeper operator you're not really getting anything back from that. It's just added cost and burden to your business."
Giles says the changes will create challenges for service and maintenance personnel. "Typically, lower emission engines will require increased maintenance to service the emission control devices," he says. "Dealers and customers will also need to be trained to perform diagnostic service on new systems."
However the outlook is not all bleak. "In Johnston's case the new machines are easier to maintain," Douglas says. "Our engines have comprehensive on-board diagnostics and we now provide oil and coolant level indications in the cab. In addition, as part of the general upgrade, we have included ground level drains for engine, gearbox, hydraulic oil and coolant which makes the servicing of these items both easier and safer."
And while most Tier 4 machines have not seen significant increases in fuel economy, for either better or worse, the changes have helped a little for Schwarze. "The new engines are slightly better in fuel economy because they are able to run at a little less BTU through the urea and you're not putting as much fuel into it to get the temperature up, to drop the particulate down," Adair says. "You're doing that now through a particulate filter and the urea."
"The primary goal was to drop the particulate output and the emissions of the engine down, and that definitely seems to be accomplished by all the manufacturers; they are cleaner," Adair says. "In some cases the air that is going into the engines is actually dirtier than the air that is coming out, depending on the city you're in."
"If they could have added all the cost and bumped the fuel economy up by 50%, then you could make the argument that for an operator it pays off," Hoerman says. "But really there isn't anything operators have got out of it other than it costs them more upfront and more to maintain the system."
A boom for used equipment & a shift away from diesel?
The complexity of the newer engines is certainly driving up sales of sweepers equipped with less complex technology. Manufacturers say contractors are turning to older machines or staying away from diesel engines all together. "There are people who are trying not to have to go to it, and who want to hold off as long as possible," Adair says. "We just have come out of a global downturn in the economy and some people are still digging out of that. To hit it with such a big increase, like a double hit on twin engine with an auxiliary and a truck engine, is really hard."
"In some cases we have single engine machines so you don't have the double hit, and we see a little bit of an improvement in that market, but in a lot of cases customers like the performance of a twin engine machine," he says.
Hoerman concurs that some buyers are shying away from diesel engines. "When people are looking at making a purchase, they are less inclined to purchase a diesel because they don't want to deal with regeneration. That's something they are looking to avoid," he says. "We went from selling all diesel trucks to selling primarily gas Isuzu's now rather than diesels since Tier 4 came around. It's 8 to 1 selling the gas cab over the diesel cab."
"We all still wish we could run the '06 Tier II units and that's a pretty common opinion you hear from sweeper operators out there," says Hoerman. "We actually have people who call in asking only for that model year – they want to find used ones. It was such a great truck and unfortunately all the Tier 4 things that they added on to it made it from a fuel performance view, worse."
Manufacturers stress that contractors looking to buy used sweepers need to be careful before they choose to put their money in an older machine. "Equipment owners looking to acquire or sell older sweepers should be aware that some states are considering enacting emissions regulations that are more stringent than the EPA requirements," Giles says. "Some municipalities are starting to require meeting these stricter guidelines to participate in the bidding process for government purchases and contracts."
"The sluggish economy—combined with the complexity of achieving Tier 4 compliance—has resulted in a reduction in sweeping," Giles says. "This reduction in sweeping has certainly had a negative impact on the sweeping industry."
"There still are a lot of unknowns about some the changes, since there are different families of engines and classes of horsepower," Adair says. "It gets quite in depth, but for the most part we are all moving toward cleaner emissions. It just would be nice if it wasn't so costly to do so."