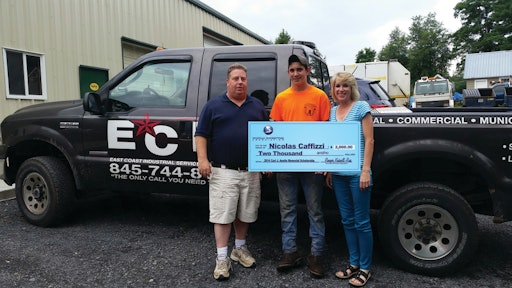 The World Sweeping Association (WSA) has announced the winners of its 2014 Carl J. Austin and Dale McCaskill Sr. Memorial Scholarships.
Named in honor of two past leaders in the power sweeping industry, each scholarship is available to students who are affiliated with power sweeping companies, either as employees or sons or daughters of employees. Each scholarship is for a maximum of $2,000 (if the power sweeping company is a WSA member company) or $1,000 if the company is not a WSA member.  
The Dale McCaskill Sr. Memorial Scholarship was awarded to Daniel Dumont, Harvest, AL. Dumont is a business major entering his senior year at Auburn University. He has worked part-time at PowerVac Services, Madison, AL. WSA said Dumont received the award because of "his strong work ethic and honor roll history" and "a strong track record with volunteerism in his local community." Dumont, who received a $2,000 scholarship, said he hopes to someday operate his own sweeping company or other, similar, type of company.
The Carl J. Austin Memorial Scholarship was awarded to Nicolas (Nick) Caffizzi, Walden, NY. Caffizzi graduated from high school this year. His senior year also included attending an offsite school, CTech, for a class in heavy equipment repair. While attending school Caffizzi, who received a $2,000 award, worked for his sponsor company, East Coast Industrial Services, Pine Bush, NY. He will attend Pennsylvania College for Diesel Mechanics to become a qualified diesel mechanic.
Tax-deductible donations to the WSA Scholarship Fund can be made to World Sweeping Foundation, P.O. Box 667, Bellingham, WA 98226. For more information, call 866-635-2205.