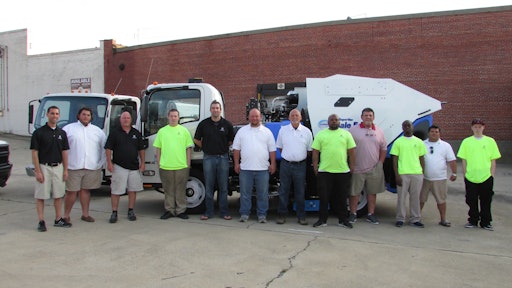 Andy Coolidge has been managing parking lot assets for over 15 years in the Birmingham, AL area. His experience with parking facilities (decks, surface lots, valet, shuttle, etc.) led him to purchase Cam South in 2014.
"I had a mentor talk about "stick to your knitting" or stay focused on what you know and do it better than everyone else," Coolidge says. "Since my background is operations based; managing front line teams, schedules and providing top quality service and with my experience in parking operations, it was a great fit to diversify my interest via a service that complements parking lot sweeping and full service property maintenance."
Coolidge knew that his firm background in business would be key to the success of this new venture. Through this, Coolidge was able to expand the sweeping company into a full service property maintenance contractor that even offers day porter services with onsite parking lot attendants.
Cam South offers full property maintenance services to the greater Birmingham metro area, including the east-west corridor along I-20/59 from Pell City to Bessemer and north-south on I-65 from Gardendale to Calera.  They are made up of 80% sweeping, 15% pressure washing, 5% porter service.
Standing Out
One visit to their website, www.camsouth.com, and it automatically feels different than any other sweeping contractor. "The website definitely stands out compared to our competitors," Coolidge says.
And for good reason. Along with sweeping services, the company aims to be a full service provider for all property managers.
"If you own commercial property, there's always room for improvement," Coolidge says. Improvements in how your buildings are maintained. In making sure minor repairs are done correctly. And in making sure that your tenants are happy. CAM South makes the property owner's life much easier, giving them a host of services with a single phone call-with professionalism and integrity."
Along with sweeping, CAM offers construction services such as full service tenant build out, landlord's work, tenant upgrades and annual maintenance contracts along with vacancy cleanup and vendor management for property managers.
Their motto is "Maintenance Made Easy," and that is absolutely what CAM provides.
 "We keep it clean from the very beginning and with an ongoing focus," Coolidge says. "We want to be first-class in every way. Especially in our response to customers. If a customer takes time to call, I want their issue to take priority- if we're aware of a deficiency we're taking immediate action to remedy."
Fleet Focus
With the growth of the company, Coolidge experienced growing pains like any other business, but the challenges came with fleet management and not necessarily employees.
"Vehicle maintenance costs and fleet service were our biggest challenges," Coolidge says. "We overcame it by acknowledging it was one of our weaknesses and focusing on improvement."  
To better manage their fleet, the company invested in and installed fleet management software and GPS units on each vehicle. 
"The fleet management tool h"as allowed us to gather lots data and develop benchmarks." Coolidge says. The data collects average time on location, travel time, estimated schedule, and has served as an invaluable tool to show when we've been onsite (vehicle tracking & history). I originally used a startup company that did a great job, but when I wanted to add the GPS units they weren't ready to deploy that feature.  I demoed several products and chose Actsoft,"
The company also started to more properly manage vehicle maintenance using a variety of tools and inspections.
"We've implemented pre and post trip inspections by the drivers," Coolidge says. "Our shop manager has daily, weekly, and monthly service checks to conduct as well. We log all service work and now have a solid understanding of the routine maintenance items.  We completed a cost analysis on the fleet and identified the most expensive, time consuming, and repetitive issues and developed a program to effectively manage them. We identified and negotiated service agreements with specific vendors for tires, hydraulics, supplies, and a general mechanic. Those vendors now know us and our equipment. They've become an integral part of our team.
"Gathering information on both topics; vehicle maintenance and fleet management, has been extremely beneficial to really understanding one of our largest costs. However, collecting data is only one part of improving operations," Coolidge continues. "While we're always collecting new data, the real benefit is analysis and implementation.
"As an example, we knew that our tire expense was high, but that didn't change our program. It did tell us to focus on reducing that cost. We now purchase top quality tires, have standardized our wheels, buy in bulk and use a preferred vendor for the work."
Coolidge also personally interviews every employee and he says selecting a shop/fleet service manager was integral to getting past these challenges.
Coolidge recognizes that CAM is in a good place these days and doesn't have any real plans for growth...yet.
"Although I entertain other business concepts and am always interested in opportunity, I want the CAM service to keep existing customers satisfied and continue growth organically," he says.