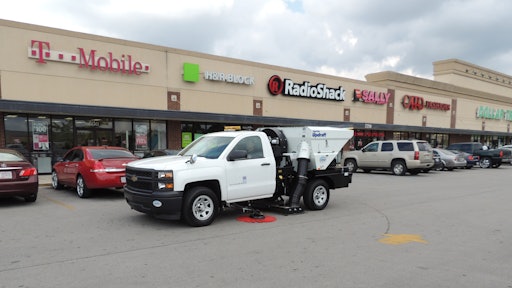 While state by state regulations may vary, the Federal statute says that a Commercial Driver's License (CDL) is required for vehicles that are at a gross vehicle weight rating (GVWR) of 26,001 lb. or higher. Most street sweepers reside right around that area.
In an industry where it's hard enough to find and keep good workers, the added burden of obtaining a CDL can cause added stress for sweeping companies looking for drivers. Non-CDL sweepers are generally in the 10,001 lb. to 26,000 lb. GVWR. Non-CDL sweepers also feature hydraulic brakes, as opposed to air brakes.
Sweeping Without a CDL
The demand for lower cost, non-CDL sweepers, primarily for parking lot sweeping, started back in the early 1990's.
"With their smaller wheelbases, non-CDL units are very maneuverable, which is important when sweeping tight, confined areas like parking lots, parking decks and alleyways," says James Crockett, product manager for Elgin Sweeper. "A full-size CDL sweeper would be overkill for parking lot sweeping, simply because the sweeper wouldn't encounter as much debris as it would in street sweeping applications."
The Elgin Pelican broom sweeper is specially suited for applications that require extreme maneuverability due to congested areas, heavy debris such as that found in northern climate spring clean up, and bulky items up to 9-in. long. 
In addition, non-CDL sweepers tend to be easier to maintain than their larger, more complicated counterparts. These units normally do not have an auxiliary engine so they are able to deliver performance with efficiency.
"Lower operating and maintenance costs and total cost of ownership generally favors the non-CDL equipment," says Tracy Day, president of NiteHawk Sweepers. "This also includes decreases maintenance costs." 
Day says there are also benefits to the customer when a contractor chooses to bring a non-CDL sweeper in to their parking lots.
"It's less stressful to have smaller machinery operating on their grounds," he says. "Operating smaller parking lot sweepers may also lower the cost of operation on the lot, which may in turn lead to increased service or reduced rates in comparison to CDL units."   
The NiteHawk Osprey II features a low-profile conventional cab and hopper design that gives drivers access to low clearance areas. The sweeper also operates on a single engine hydraulic design making it extremely quiet to operate.
Smaller Sweepers Help with Worker Shortage
While the process differs in many states, the testing involved to obtain a CDL tends to be strenuous and includes both written and a three-part skills exams. Since 40% of the construction industry as a whole is having a hard time finding skilled workers, adding the time and expense required to get a CDL is simply another burden for hiring managers at a sweeping company. 
"Municipalities are very budget conscious," Crockett says. "Non-CDL sweepers are less expensive than full-size sweepers, and a non-CDL sweeper operator can be paid a lower wage than a CDL operator who earns a higher, premium wage in the marketplace. Operating a non-CDL sweeper does not require the same expertise and skill set required for operating a CDL sweeper or other piece of heavy equipment, such as a sewer cleaner. Having a CDL operator who can operate a full-size sweeper and a sewer cleaner when needed is certainly an asset to a municipality though."
"There are a multitude of additional legal requirements that go along with running a CDL unit including but not limited to training and endorsements," says Day. "This typically leads to a larger labor pool to choose from in a very competitive landscape."  
Many of these smaller sweepers are also more user-friendly allowing these units to be easier to train new users to operate. 
When to Upgrade to a Larger Sweeper
While there is a market for non-CDL machines for sweeping parking lots, parking decks and alleyways, if you're going to complete larger jobs, then you need a sweeper that requires a Commercial Driver's License (CDL) to operate. 
CDL sweepers offer the larger payload capacities that cities and municipalities demand. Many CDL sweeper options include air, mechanical, specialty and waterless sweepers for sweeping and catch basin cleaning, leaf removal, year-round sweeping and heavy-duty sweeping. 
"The demand has never been higher for our "larger" sweepers that require CDLs," says Jason Condon with Global Environmental Products.
And when it comes to price, some of the CDL units can be comparable to the larger non-CDL sweepers.
"As you get in to the larger units, there's not much of a cost difference between a 26,000-lb GVW chassis vs. a 33,000-lb GVW chassis," says Jim Adair with Schwarze Sweepers. "Then you just have that much more payload that you can put on the truck. Generally non-CDL units are going to have close to the same size engine due to emission controls today since we're kind of limited to the size of the wheelbase for these units to get that equipment in there, but the suspension, axles and brakes will all be the same compared to a CDL-unit. A lot of contractors are saying a CDL-driver is a benefit to their company. Not only are these guys at another more experienced driving level, but they're sometimes these drivers also offer a decrease in insurance due to their licensing."
Depending on the type of sweeping performed a CDL unit may be appropriate. However, for the parking and light industrial applications a non-CDL unit may the most cost effective and beneficial tool.  Be sure to work with the manufacturer to evaluate your needs and staffing concerns before making any buying decisions.