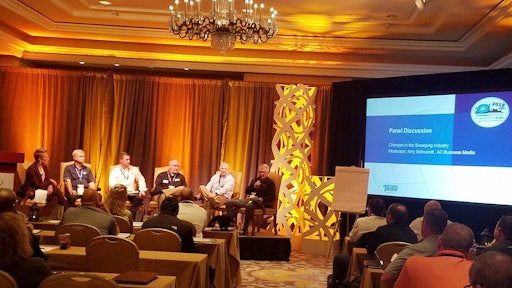 1-800-Sweeper has hosted their annual Sweeper Summit since 2011, offering sweeping professionals the opportunity to expand their knowledge in this increasingly challenging business. 
Hosted in Las Vegas, NV this year, the summit was opened for the first time to non-members of the 1-800-Sweeper network. Just under 200 people gathered for a panel discussion that addressed the concerns sweepers have today and what the industry might be facing down the road.  
Rising Equipment Costs
The rising costs of equipment is a problem that is not unique to the sweeping industry, but still has been weighing heavily on the minds of business owners. Sweeping manufacturers are working hard to keep costs down and not pass them on to customers, but sometimes increased costs are unavoidable. 
"Some costs you can't control," Mike Higgins with Elgin says.  "You're probably looking at a 2-3% increase in costs per year, barring any new EPA regulations or higher tariffs." 
But tariffs are already having an impact on the industry. 
"Labor issues, steel tariffs - those issues impact us too," Tracy Day with Nitehawk says. "Steel prices went up 30% this year alone. We try to keep costs down but it's unfortunate that we're going to have to see steady increases. We're trying to improve efficiencies on the manufacturing side to keep costs down. Maybe that increase will slow down, but that's hard to say." 
However, it's a hard job working to improve efficiencies and keep costs down while retaining product quality. 
"Sweeper manufacturers have three options with rising costs, absorb, mitigate or pass it through," Chad Bormann with Global Environmental Products says. "We are trying to mitigate with cost control without jeopardizing quality." 
Bormann says one way to do that is through a proper preventative maintenance program. 
"With proper preventative maintenance, you can sweep more, you won't need to replace equipment so often and that provides safety and quality without having to replace parts too early," he says. 
Craig Cook with TYMCO adds that improving sweeper fuel efficiency is yet another way to keep costs down, referencing the fact that newer machines can achieve a 5-18% savings in fuel alone. Managing inventory without prolonging delivery and controlling big ticket variables like engines and chassis are other ways to manage rising costs. 
Jim Adair with Schwarze Sweepers says optimizing the total cost of operation on the sweeper is where contractors will see real cost benefits. 
"We're trying to make buying equipment more about the total cost of operation," he says. "We want customers to not have to do repairs as often and that helps them to get that longevity out of their investment." 
Adiar also says that having the right piece of equipment for the job is paramount to lowering total cost of operation. 
"Don't bring a heavy mechanical machine to a parking lot sweeping job," he says. "You're not going to get the most out of every job if you're using the wrong machine or the right machine wrong."   
The Sweeper of the Future
Technology today is changing rapidly to help further improve sweeping efficiencies and sweeper manufacturers are going to be using these innovations to help contractors improve their business. 
"We are looking at ways to do more with less," Higgins says. "Contractors that excel in areas that are more efficient, have less downtime and repairs, they will stand out as industry leaders. How that looks on a machine, we can't say, but that's where we're headed."  
Cook says one way to do that is to design sweeper technology that gives you more insight into how you sweep and finds areas where you can improve. 
"We trying to make it so you can draw more data from the sweeper so operators can make better decisions on how the equipment is used, how it's maintained and how your operators are performing," he says. "We can draw real-time data with telematics to send the information to a computer and it can be tracked at all times. It changes how the manager is going to use that machine and helps them to use it more effectively which can make you more money in the long run."  
This also means sweeper safety is improving, 
"Sweepers of the future will have more advanced driver awareness systems," Day says. "This will help drivers be safer and that technology is morning forward rapidly. Systems that help keep your employees safe you're going to see that sooner rather than later."  
And safe operators is the goal, but what happens when operators are removed from the equation down the road? Currently, China is developing a fully autonomous sweeper and another company in California looking in to it.  
But Adair says autonomous sweepers are a ways off because even when you make that machine, you're liable for what happens to it.  
Still, drastic changes are coming to the industry and contractors need to be ready for it. 
"We're going to see greener machines that run on alternative fuels and increase efficiency," Bormann says. Full electric sweepers are inevitable and in fact, hybrid equipment already exists. Zero emission, hydrogen fuel cell sweepers exist and are being tested. These are products that are being driven by the customers. They tell us what they need and we design it. Someone just has to be willing to pay for it."