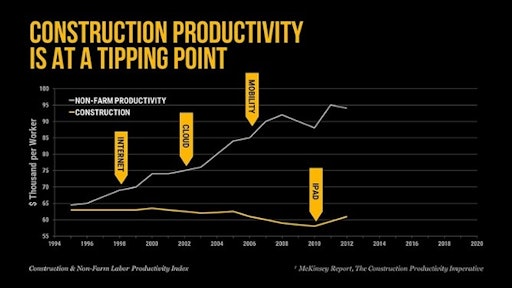 In 2010, Steve Jobs created a new digital product category that lived between a computer and phone. Prior to the launch, the Wall St. Journal said, "The last time there was this much excitement about a tablet, it had some commandments written on it."  The iPad was a game changer. And not just for the personal consumer.
For the 15 years prior to the iPad launch, at a time when non-farming industries were seeing a huge uptick in productivity due to digital technology, the construction industry was actually becoming less productive.
Does this mean that industry pros were purposefully ignoring the writing on the wall? Were pencils and paper so ubiquitous that any kind of disruption would prove to be disastrous to the bottom line? Or was it that the specifics of the construction industry didn't yet lend themselves to the kind of technologies that were driving other industries?
Things changed quickly in 2010 as cloud computing, broadband connectivity, lower costs and field-specific software took hold. Today, software is even more advanced and integration and adaptation are much smaller hurdles than in the past.
So just how far will the industry go? The answer is up to the industry.
There's a current shortage of roughly 250,000 skilled workers in the U.S. with average labor productivity on job sites is still only at about 35% of maximum. We're also building with an industry average of C- in infrastructure across all U.S. cities. The fact that a trillion-dollar infrastructure spending plan is being floated out there, it's clear that our willingness to adopt new solutions and invest in new technologies is more important than ever.
The good news is that it's happening.
New Class of Field Technology 
Technology is finally reaching the 67% of workers on construction projects that have never before had access to technology. Companies like PlanGrid, Procore, Bluebeam and others are putting iPads and Smartphones in the hands of field workers. The benefits for completing this last mile of data collection hold great potential. Not just for the workers themselves, but for the entire project team.
Bridging Construction's Digital Gap
With the right field technology, you can understand the nuances of construction down to the crew level. This, in turn, enables you to make better decisions at each phase of the project lifecycle: from design, to estimating, all the way through to project execution. 
General Contractors Speeding Adoption
Another promising sign is the speed at which general contractors—and even smaller companies—are adopting new technology. This is in stark contrast to just three or four years ago when resistance to new technology was more pronounced. What firms understand today that they didn't know just a few years is that investing in technology is going to increase their operating margins.
Construction is a highly competitive and fragmented industry, so any solution that enables a company to come to the table with a more competitive bid gives them a big strategic advantage. It's also a differentiator. Owners and people paying for projects want to see technology in the hands of workers because they know they're going to get better results.
Tools to Augment Human Work
In addition to field technology, construction is seeing the early potential of exoskeletons and robots to create a safer jobsite. Constructions really is the perfect ecosystem for an Internet of Things (IoT) deployment with materials, equipment and people all working together in a dynamic environment. If a drone controlled by a surveyor can calculate the volume of a quarry faster than having a surveyor putting themselves in danger by climbing to the top of rock piles to do manual measurements, then the industry should be all for it.
Facing the Future Together
Despite all the advancements in new tech, there are still very real challenges the industry must overcome to realize the full productivity benefits. Many field tools require a measure of behavior change for the user, and this does not happen without effort. And most existing solutions are targeted at large General Contractors, while overlooking the many subcontractors engaged on large projects. 
But we're optimistic that by working together, construction firms and technology companies can solve these challenges and make adoption as seamless as possible.
About Rhumbix
Rhumbix modernizes construction field operations, helping builders go paperless in the field and improving how they measure and manage labor productivity.  Their Field Intelligence Platform is a cloud-based mobile workforce management solution that collects and digitizes data from previously paper-based workflows. This ensures all project stakeholders have the best data, when they need it, to make better decisions and draw actionable insights. Headquartered in San Francisco, California, Rhumbix was founded in 2014 by Navy veterans with deep experience in the construction industry and is backed by tier-one investors. For more information visit: www.rhumbix.com