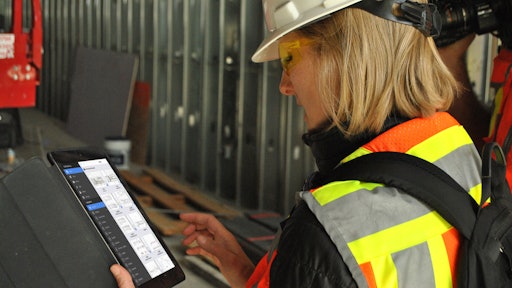 By Jonathan Barnes, Contributing Editor
Contractors are embracing cloud computing for project management to get omnipresent data, lower printing and jobsite costs, and fewer record-keeping errors than with handwritten data collection.
Putting project data in the cloud reduces paper printing costs and jobsite visits. Cloud data is always accessible, decreasing document-retrieval time and providing up-to-date intel about the status of a project so that managers can adapt plans to improve cost and production as conditions change.
Getting the full benefit of project data means integrating project management tools, and smoother cooperation on projects. It involves using project management software that fits.
Collaborating Freely
Construction is becoming more tech savvy and contractors that don't keep pace will be less competitive than others. Tech knowledge is trending upward.
"As the construction industry adapts to the availability of data any time, any place, mobile usage continues to grow on the jobsite and in the office," says JBKnowledge's 2018 Construction Technology Report.
Cloud computing enables greater collaboration and immediate changes improving accuracy, saving costs and boosting profits. Taking full advantage of cloud computing means working smoothly with other site-management apps and gaining the production insights available when tracking individual tasks, labor hours, materials and other costs. It also improves value for owners, who want contractors to respond quickly to changes.
"Today, with 2D and 3D tools, changes in design can be made daily by owners who expect to see the cost impacts of those changes almost immediately," says Walter Davis, Estimating Market Manager for Sage Construction & Real Estate Division.
Clear communication between managers and tradesman on a project means fewer mistakes will be made and les rework needed. Constant communication ensures deadlines are met.
Better software and cooperation between workers can simplify documenting change orders. So when project costs increase unexpectedly, photos can document the work and defuse potential for disagreements between owners and contractors.
To know whether to adopt a new project management tool, identify critical tasks and decide whether your existing software handles them well.
"Look at software that helps you win revenues, like bidding software; and software that helps you deliver profitability, like field management software," says Yves Frinault, CEO of Fieldwire, a project management software firm focused on field operations.
If the project­-management software you're using doesn't make your processes simpler, faster and better, it could be time to change.
"If the software cannot automatically maintain a current set of documents, has difficulty sharing information between the field and office, or if the company is using spreadsheets to manage construction workflows like RFIs, submittals or punch lists," consider new project management software, says Kumar Wiratunga, corporate VP for ARC Document Solutions. ARC's SKYSITE provides project management for construction.
Contractors of all sizes may use several apps together on a project. Those tools should integrate well, so that data collected in one app can be used in the others to make digital insights more practical. The right software in the cloud will make the integrations easier.
Managing Savings
Based on better performance, project management software provider Jonas Construction Software won a client from COINS.
Current Mechanical, a contractor specializing in mechanical, HVAC and plumbing, found COINS cumbersome because it isolated data in places not accessible to all departments. Also, COINS encouraged using pen and paper.
Current Mechanical's search for a project-management alternative lead them to Jonas's eMobile solution. The company saved money by reducing time spent on jobsite visits and handwriting reports, and by enabling them to bill faster, speeding payroll processing.
"Since implementing Jonas eMobile, our techs complete jobs from the field and don't have to return to the office to drop off paperwork on a weekly basis," says Ted Current, vice president and CEO of Current Mechanical. "It's allowed us to have access to more timely information."
Accurate info when you need it helps you run projects with a proficiency that gains long-term clients, and better bidding based on correctly reported labor, equipment and materials costs makes projects more profitable. Timeliness of the data tends to reduce change orders and re-work, improving profit and competitiveness.
"The construction industry is experiencing a labor shortage," Frinault says. "Companies have to find extra leverage somewhere; that means making the process more efficient."
Many improvements with the right software.
"Our customers report saving one hour each day due to improved jobsite coordination, and one of our larger contractors, Graham Group, recently saved $35,000 on a single project just on printing costs, while Fuse Consulting Engineers saved 10 to 15 hours per week for each engineer using the platform," says Zachary Reiss-Davis, director of marketing for Fieldwire.
On a $285-million hospital project, Canadian general contractor Graham tracked 15,000 punch items and collaborated with trades to complete the work. By using Fieldwire for jobsite coordination, mobile plan viewing, punch list and document management, they reduced printing costs by $35,000.
Prior to Fieldwire, doing one inspection report per week could take Fuse employees 10 hours or more in the office. Now Fuse is saving a day of work hours previously spent on reporting every week.
Companies in this article