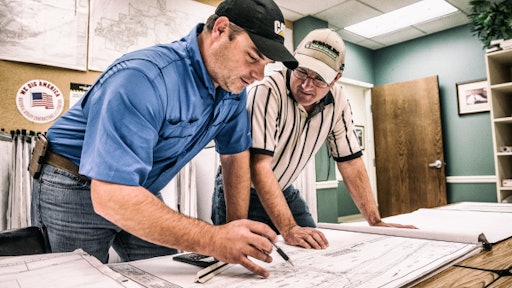 Caterpillar
By Lonnie Fritz, Market Professional, Construction Industry, Caterpillar Inc.
Are your jobs running over budget or behind schedule? You're not alone. Less than one-third of construction projects in the last three years came within 10% of budget, according to Klynveld Peat Marwick Goerdeler (KPMG). The McKinsey Global Institute discovered that large projects run 20% over schedule and up to 80% over estimate.
What's the cause? You can blame lousy weather, picky clients or bad luck, but poor planning is often the source of the problem. Renewing your focus on project management can keep schedules and budgets on track.
Pre-project planning
Before you respond to an RFP, consider a feasibility study. Are the project timeframe and requirements realistic? Can you make money? Are the required labor, material and equipment resources available? Understand the risks and rewards before you commit time and energy to bidding a job, and don't be ashamed to walk away if you can't be profitable.
After you win the work, team up with others assigned to the job. Developing a project plan and making adjustments early in the process is much easier when you've built a collaborative relationship and open lines of communication with the client, design and engineering team and any subcontractors.
Change WILL happen, so prepare for it. Have contingency plans in place for weather and utility delays, sudden changes in commodity prices, material shortages and supplier issues.
Mid-project planning
Materials are a big cost driver. Ensure your project management team is monitoring quantities closely and eliminating overruns. Fleet planning is important, too. If you wait until the last minute to purchase machines, add work tools or rent products for specific tasks, they may not be available.
Keeping your eye on safety and security is critical in keeping projects on track. An accident-free worksite is a more productive, profitable one. Take precautions to protect your fleet as well. More than a billion dollars' worth of construction machines and materials are stolen annually. Telematics, smart keys and simple security measures can help you keep equipment on the job.
By tracking data during the project, you'll be alerted to potential problems before they lead to delays and cost overruns. Use machine telematics to monitor everything from daily production targets and material use to operator performance and fuel burn.
After-project planning
When the work is done, make sure all inspections are completed, certification documents are submitted, quantities are agreed to for final payment and invoices are paid. A formal project closure checklist can help you make sure every "t" is crossed and "i" is dotted, so there are no surprises down the road.
Conducting a project postmortem is a great way to apply lessons learned to your next job. Compare actual production and unit cost numbers to estimates. Ask your team for feedback on what went well and what could go better. Document what you hear, implement necessary change into your organization and measure the resulting outcomes.
No construction project will ever go exactly according to plan. But a good planning process can help you deal with the unexpected, stay on schedule, maintain your budget and keep your bottom line healthy. Interested in more tips to help protect your margins? Check these out.