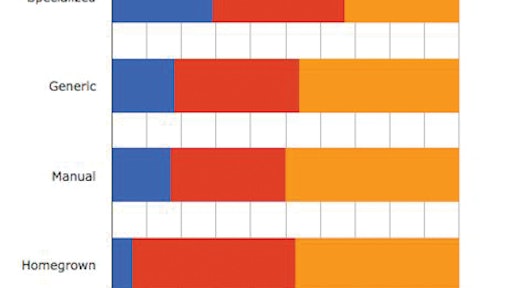 We've covered the topic of software multiple times in this blog, and its prevalence and importance in the construction industry continue to increase. In a recent survey from Software Advice, 94 percent of survey participants said they relied on some kind of software to manage their projects.
Trends in Online Project Management
The 2013 Construction Project Management Benchmark Report shows the important findings from Software Advice's survey of 230 construction industry professionals regarding their use and satisfaction with construction project management software. The top three takeaways from the survey, according to Software advice are:
Construction project management software produces superior outcomes.
Survey participants are embracing Cloud-based software. Survey results showed 57 percent of participants access their application over the Web.
Preconstruction planning is a top challenge and top priority for 2013.
Podcast: Project Management Software 101
Survey respondents were asked to categorize the type of construction project management software they use into one of four categories:
Specialized: Project management software designed specifically for the construction industry.
Generic: Software designed to handle general project management needs.
Homegrown: Custom software built from the ground up for the survey participant.
Manual: No software; projects are managed using email, fax, phone or other manual means.
The Benchmark report showed that 72 percent of specialized software users reported that their system met their needs while only 18 percent of users reported that generic systems met their needs.
Of the 61 percent of respondents who reported using specialized software, 29 percent said that they deliver projects under budget almost all of the time. For the 25 percent using generic software, the results showed less than 20 percent reported delivering projects under budget almost all of the time.
While the survey results indicate software's possibility to help deliver project under budget, the results showed that software was not as helpful delivering projects ahead of schedule - no matter what type of software a contractor was using.
Products: Construction Project Management
The survey also asked contractors about project management and software obstacles and benefits. View all the survey results at Software Advice's website.
Have you experienced similar results with construction project management software? Share your thoughts and experiences in the Comments section below.