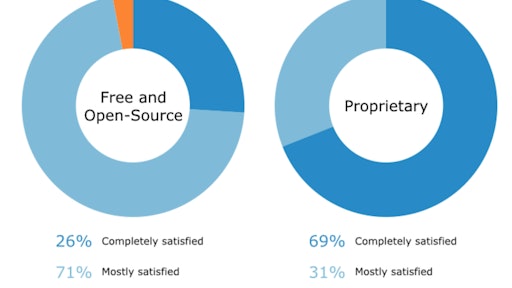 All construction companies, whether large or small, look for ways to streamline project management and make it more efficient. And with the number of technologies, software programs and mobile applications available, contractors have a wealth of options to make those dreams a reality. But when it comes to choosing the right project management software for your construction business, is a proprietary option a better bet than a free option?
What are my options?
First of all, what is the difference? Free software refers to a software product that is licensed for use free of charge. Open-source software refers to products with license cost free of charge but may include implementation, development and other costs. Proprietary software includes products with either one-time or recurring fees for the license to use the software.
Construction contractors and project managers need to understand the different license types to help choose the option that best fits their construction business. The license type impacts both costs and the way a company can use the software.
When considering free versus open-source versus proprietary software, Software Advice suggests construction contractors factor four elements into their buying decision:
Talent - does your company have the resources to implement, configure and maintain an open-source system or will those tasks need to be outsourced?
Customization - is proprietary software with typically more limited customization options enough or will you need an open-source product that may offer more options for customization to fit your workflows and processes?
Functionality - do you need all the bells and whistles and industry-specific functionality proprietary products offer or will a more basic option work just fine?
Total cost of ownership - just because a license may be free, don't forget to factor in implementation, customization and other costs.
What are the pros and cons?
As Software Advice points out, each type of software license poses its own set of pros and cons.
Here are some pros and cons of proprietary software:
Pro: Free or premium customer support and training provided by vendor
Pro: Construction trade-specific feature set available
Pro: Vendors continually enhance products and release updates
Con: Limited customization options may require adjusting existing processes
Con: May not integrate with other software products such as job costing or estimating programs
Con: Recurring license and maintenance costs can be high
On the other side, here are some pros and cons with free and open-source software products:
Pro: Free or inexpensive to use; low upfront costs
Pro: Highly customizable with modifiable source code
Pro: Can upgrade and redevelop product to support new business processess
Con: Limited or no customer support when problems arise
Con: May not have trade-specific features
Con: Custom development, setup and integration costs can be high
What are other contractors saying?
Recently, Software Advice surveyed construction project manages to discover their overall satisfaction and top challenges when using both free and proprietary project management software. Some contractors may decide open-source or free license products are the best option because they may be less expensive. But according to the Software Advice survey, proprietary software users 69% of proprietary software users reported being completely satisfied with the purchase compared to only 26% of free construction project management software users reporting complete satisfaction.
However, 71% of free and open-source software users report being mostly satisfied with their products.
Despite a lower number reporting satisfaction with their product, 55% of free and open-source users say they would recommend their current product to other construction managers. Eighty-seven percent of proprietary users say they would recommend their product. And while proprietary software users did report a higher level of satisfaction, they are not as satisfied with the cost of the products.
Neither proprietary nor free and open-source products come without their challenges. And while proprietary users reported fewer challenges compared to free and open-source users, the top challenge for both demographics was integrating the project management software with existing systems.
What are your project management software experiences?
Do you use proprietary, open-source or free software products?
What is your satisfaction level with those products? Would you recommend them to other contractors?
Please share your opinions in the comment section below.