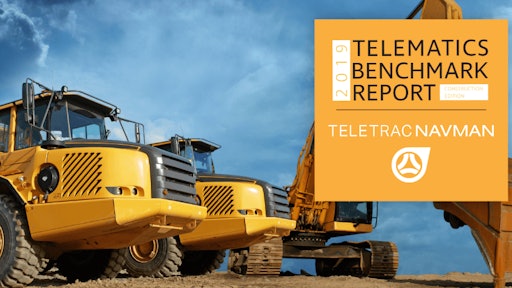 Teletrac Navman
Technologies, such as telematics, are an everyday part of the construction industry. However, the 2019 Teletrac Navman Telematics Benchmark Report has uncovered just how grossly underutilized construction technologies are. Why does that matter? Because it means contractors are making investments they aren't fully utilizing, meaning they might possibly be throwing money away — which can harm their business and productivity in both the short- and long-term.
The report results don't advocate that contractors invest less in technology. Instead, contractors should make sure they are fully utilizing the features of the technology they are investing in.
The Teletrac Navman report gathered input from contractors in construction, mining, and oil and gas in the United States, UK, Australia, New Zealand and Mexico. Of the respondents, 90% indicate they use telematics — primarily to track vehicles and equipment. However, respondents, on average, were only using three of 12 tested features, indicating most aren't even using half of the technology available to them.
Construction contractors responding to the survey indicated that increasing material and labor costs is the biggest concern. The second biggest concern is driver/operator safety. When it comes to business specific concerns, managing costs tops the list. And 31% of respondents indicated equipment and vehicle maintenance is the largest expense area, followed by 27% reporting fuel as the largest expense area.
Contractors missing opportunities with telematics

While respondents indicated that increasing profits, reducing operational costs and fleet upgrades are top goals and investments, the report has unveiled that contractors are missing opportunities to use technology to achieve those goals.
Read next: 3 Tips for Construction Firms to Get Quick Telematics ROI

For example, while contractors report that fuel is a high expense for them, only 21% indicate they use telematics technology to monitor fuel usage. Compare that to 73% that use telematics for vehicle and equipment tracking and 55% who use it to monitor speeds. What's more, the report showed that those who do use telematics to monitor fuel usage have seen average fuel consumption reduced by 13%.
While most contractors are using telematics to track equipment, not as many contractors use it to monitor behaviors that could impact the bottom line.
30% use it to track idling

28% use it to track maintenance

22% use it to track engine hours
"Though we're glad to see so many organizations realizing significant safety benefits from telematics, it's dismaying to know their results could be even better in all operational areas if more of them took full advantage of telematics' cost-savings capabilities," said Michael Bloom, director of product management, Teletrac Navman. "Using telematics to track metrics like idling and maintenance might seem insignificant on their own, but they add up to meaningful cost savings. In an industry with such thin margins to begin with, it's essential to take advantage of any opportunity to reduce expenses, and the customers we've seen who leverage telematics to its fullest report it can make a big difference to their bottom line."
Read next: Construction Technology: Get Past the Telematics Data Dumps

Using telematics to monitor areas like maintenance and engine hours could have a meaningful impact on a contractor's bottom line, which is why it's dismaying to see the lack of utilization of these features. Telematics can also help contractors with top business challenges like increasing profits and reducing operationsal costs, according to Teletrac Navman. But the Benchmark Report shows only 38% of respondents are using this technology to increase profits and only 37% are using it to reduce operational costs.
Contractors need every business advantage they can get to continue to remain profitable and compete for business. If you're investing in technological tools to help your business, make sure you are taking full advantage of the features and putting the technology to work for your bottom line.
Read the full Teletrac Navman 2019 Benchmark Report.


Companies in this article