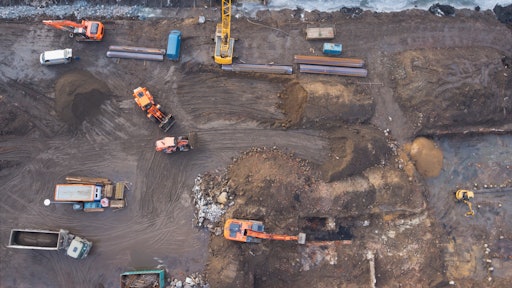 iStock/Getty Images
Over the last year we've heard rumblings of a possible upcoming recession in 2020 or 2021. If that's the case, contractors should start preparing now to keep the impact of a recession on their businesses to a minimum. 
Read next: Economists: Recession Likely After 2020 Election

There are several essential steps a contractor can take to insulate themselves from the impact of a recession.  Conversely, there are a few things we see many contractors do that could harm their business more than help. 
When facing an oncoming economic downturn, avoid doing these five things:
1. Don't self-perform work usually done by subs
If you have been and can continue accessing acceptable subcontractors don't start self-performing that work pre-recession. Recessions are the wrong time to move from subcontracted production to more self-performing work.
Only do self-performing fieldwork when necessary to deliver the work – never to "make more money" – because you won't. Save that energy for the end of a recession when lots of people are available and affordable, and you can reasonably expect a good flow of pent up business to be available. 
Being overstaffed or under-productive at the start of a recession will surely drain whatever cash you might have at the beginning of the recession.  Perhaps you remember 2008 through 2012?  Get lean.
This doesn't mean you shouldn't fill open and needed positions – you should if you find the right people in this challenging labor market.  
2. Don't take on more debt
Get debts paid off before the start of the downturn if you can. Lending sources can become ruthless, and new sources of working capital availability will dry up. You'll need your working capital, and you don't want to have to lose it to debt service during a downturn.
3. Don't maintain the wrong profit center mix
Different profit sources fare differently in a recession. Don't get caught doing all commercial or all new build. New construction will become very difficult to fund. Remodel typically survives much better. 
Certain types of work do fine during a recession. Those would include Aging-in-Place, some forms of government work, insurance-based work, and a few other specialty niches. If you can, be there at least a year before the downturn starts.
Bank-financed high-risk profile work should be shelved until the recession ends – flips, specs, small developments, etc.
Read next: A Checklist to Help Recession-proof Your Business

4. Don't cut marketing efforts
Do not stop marketing – continue anything that is working. Cut only marketing efforts that cost more than the gross profit generated. Marketing efforts should be sharply focused on recession-friendly profit centers, not high risk or break-even profitability projects.
5. Don't add or retain any profit center that is break-even or worse
Any profit center not truly making money must go. Have a design center full of inventory? It probably needs to shut down until the economy turns around (or forever). 
What can you do now?
You don't have to be a victim of an oncoming recession. It's your choice to make. However, real business moves need to be put into practice as soon as possible. 
These moves are not difficult, costly or significantly time-consuming, but you may need to gain some additional business tools and knowledge.
Dedicate a little more time to your continuing education over the next six to 12 months, and look for training that is numbers (margin) focused.
Put your attention on margin management – not just revenue generation (remember, it's about how much you keep, not how much you make).
Plug your profit leaks. The most common include estimating deficiencies, contract shortfalls, change order management and production inefficiencies.
Expand your marketing knowledge and implement practices to differentiate from the competition and better reach targeted leads at the right time.
Review and realign your profit centers. Expand your project base in the higher-margin areas and reduce or remove those that are at or near breakeven.
Stay nimble.
And above all, don't panic.
Ken Brookings is a former Fortune 500 business strategist who gave up the corporate grind and founded The Aspire Institute to help residential builders improve their business practices, profitability, and work-life balance.  For over 20 years, Ken has been helping owners and leaders of small businesses achieve new levels of success by helping those who are experts in their craft become equally powerful as professional business operators.
Read more:
FMI: Recession-proof Your Construction Business Prior to Another Economic Downturn
Economic Vulnerabilities Could Trigger a Recession in 2020
Six Business Lessons from the Recession: What we can learn from a challenging economy
Earthmover Builds Business through Recession with Satellite Grade Automation