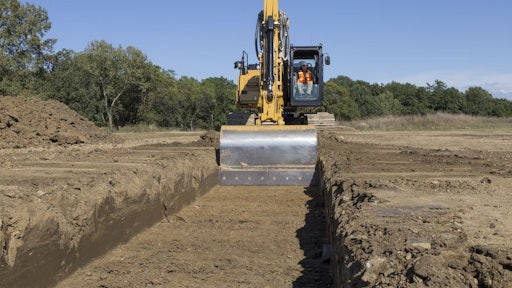 Caterpillar
With many public project owners including a hard requirement for grade control technologies in their request for proposals or contract language, it is no wonder the industry is going through rapid adoption of technologies to control screeds, blades and buckets to deliver specific results using global navigation satellite system (GNSS), geographic information system (GIS) or laser technology.
Constrained availability of operating engineers and a tight labor market makes inexperienced employees more productive faster also pushes more and more contractors towards grade control.
Grade control may be a fixture in dedicated excavation and sitework contractors where earthmoving is a central discipline, but it is also making its way into lighter equipment and more diverse use cases. Meanwhile, grade control technology vendors continue to up their game, making an already proven and trusted technology even more suitable for more types of contractors.
Factory or Aftermarket
Multiple vendors are offering grade control that can be added to equipment after the sale—at purchase or at various points in the equipment asset lifecycle. Some components of these aftermarket systems can even be moved from one machine to another, making these products well-suited to contractors who may rely on rentals for some of their production work or simply need to extend a smaller number of grade control tools across a larger number of pieces of equipment.
On a recent Contractor's Best Friend podcast, experts from Caterpillar however made the case for equipment with 3D grade control installed at the factory, by the original equipment manufacturer (OEM).
"When you think of the old blade mounted systems—the masts, the cables, everything were exposed to the elements in an industry that is known for tearing things up, whether it be on a dozer, a motor grader, even on excavators," Caterpillar Senior Market Professional for Construction Lonnie Fritz said. "The factory integration has been a real pivotal point in Caterpillar, bringing those solutions right off the factory line, most recently with the motor grader, putting those antennas on the neck of the motor grader and the cab, getting rid of the mast, getting rid of the cables."
Integrating 3D grade control more tightly with a piece of equipment may also improve safety, according to Fritz.
"What is the last machine to stop working when the rain comes—usually it is the dozer," Fritz said. "Too often, we have the muddy boots trying to go out there on those masts and remove those antennas."
Regardless of whether 3D grade control comes from the factory or a third party supplier, the technology's ability to make operators more productive with less training and experience is extremely attractive.
"Back in the day, you would start as a laborer on a shovel, lowering pipe into a trench," Caterpillar Dozer and Excavator Specialist Sam Meeker said on the Contractor's Best Friend podcast. "Unfortunately, today it just doesn't work that way. There is a struggle to get operators—you are getting guys that want to work and gals that want to work, but they don't understand grade or how to get that machine to lay that grade down. So we need this 3D grade control technology to take that brand new operator and make them able to spread that material out to within a tenth of an inch by the end of the week."
Grade Control Innovation
In the last year, indicate-only systems, which give the operator visual feedback to help them dig to plan, are proliferating in the market. Offerings for excavators from entrepreneurial vendors like Unicontrol are being met by offerings from established aftermarket equipment automation vendors like Trimble. Siteworks Machine Guidance, a new offering from Trimble, will provide indicator-only machine guidance while providing an upgrade pathway to full 3D automation. This would be similar to CAT Grade with 2D, and extends technology to contractors reticent to pay for full automation while helping them avoid painting themselves into a corner with a solution that cannot move forward with them.
Trimble leads the market in terms of integrated steering control that more fully automates the operation of many classes of earthmoving and compaction equipment, but may be unique among major players in making a push down into machine guidance.
Tommi Kauppinen, vice president of technology at Leica Geosystems' machine control division, caught up ForConstructionPros.com on the flow of innovation from his group, which is part of Hexagon. Leica Geosystems has been rapidly adding new capabilities to their offering, including a new machine control product for smaller excavators and an on-cab solution for dozers with support for six-way blade systems.
"This advanced technology gives operators the ability to gain precise control over the full range of movement of a six-way blade attachment, enabling them to enhance maneuverability and achieve optimal grading results," Kauppinen said. "We also implemented a Modified Model feature that incorporates surface logging capabilities which provides real-time monitoring and analysis of terrain, giving operators crucial data on ground conditions. The surface logging feature allows the system to create a detailed model of the terrain, indicating areas where material has been excavated or deposited -- perfect for dredging or other projects where accurate monitoring of material movement is essential. By utilizing this information, operators or project planners can optimize their excavation and grading."
Leica has also pushed its product onto lighter equipment, making it an option for more and more contractors involved in more types of projects.
"Our iCON Site Excavator solution is an all-inclusive excavator system built upon our user-friendly iCON Site Construction Surveyor software package," Kauppinen said. "This cutting-edge solution is specifically tailored to meet the requirements of smaller contractors, providing them with an affordable and intuitive machine control solution … One of its key features is the ability to generate design data directly in the field, using measured data acquired through the same solution utilized on a rover pole. This ensures seamless integration of field operations and enables contractors to make informed decisions on-site, resulting in improved efficiency and accuracy."
Caterpillar, too, has been moving towards more automation on smaller excavators rather than less.
"The big advancement would be the automatics," Caterpillar Market Professional for Machine Control and Guidance Scott Hagemann said. "We had indicate-only on excavators. The automatics have really upped the game. Without the automatics, it was only as good as your operator. We can take the operator and make him better and incrementally help him, or if he is a new operator, help them become more productive faster."
Caterpillar is also pairing grade control with other features to control not the end effector like a blade or bucket, but the direction the equipment is traveling in.
"One feature we just released on the tracker is steer assist," Hagemann said, stressing that the solution requires no GPS base station. "You select an alignment line, determine your left blade tip or right blade tip, and the machine not only grades automation-wise, but turns to the blade stays on that alignment line."
This is particularly helpful when preparing an urban cross section with curb and gutter because there is a good, consistent line with plenty of room for the slip forming machine.
Caterpillar has also worked to simplify 3D operation of motor graders by removing the mast from the blade.
"Without the mast on the blade, you can put the blade physically in places we never could before," Hagemann said. "At CONEXPO, some did not realize it had a GNSS antennae on it—it is located on a gooseneck on the cab. In a high bank position, this allows an operator to rotate the blade up underneath a side slope, without the mast getting in the way."
Other features augment Caterpillar's grade control offering, simplifying operation even more. These include tools like e-Fence, which can be configure to stop a blade or bucket from hitting things like a tire, a wall or other obstruction—and E-Swing, which prevents a boom from colliding with adjacent objects for easy operation in tight quarters.
"If you are digging and have traffic running next to you, it will physically stop before it swings in that direction," Hagemann said. "Our systems detect people, but also other objects—smart cameras are looking at what is around them."
CASE Solutions Configurable
CASE's OEM-Fit 2D and 3D semi-auto excavation systems are designed by Leica Geosystems and are available on D Series and E Series full-size excavators. The system automatically controls boom, bucket, tilt and tilt rotator bucket movements to automate digging to plan.
"The operator can select auto boom control, auto bucket control, auto tilt control and auto rotation control — or any combination of all of them — to finish the job," CASE Construction Equipment Site Solutions & Telematics Sales Manager Bob Flynn said.
To this system, CASE adds its mastless system which controls all blade movements – up, down, tilt, pitch and the swing or rake – and handles all the calculations to ensure operators hit the right grade.
"Finally, we enhanced our GPS components, providing a cleaner, easier-to-use design, along with rover poles," Flynn said. "It used to be when you held rover poles for positioning that they had to be perfectly up and down to take the shot. Now the pole could be leaning, and through calculations, you can still achieve an accurate reading to that point. Obviously not needing to hold the rover pole exactly perpendicular helps speed up the surveying process so you can get to moving dirt faster."
Grade Control ROI
While the financial case for grade control technology is strong, a cagey executive will want more than generalities before making investments. Determining a precise return on investment (ROI) for grade control can be tricky because it depends in part on the baseline skill sets available within a contracting business.
"We do productivity studies on our machines," Hagemann said. "A productivity study on grade control is kind of judgmental because it is all based on how inefficient your customer is to begin with. It is also a process change. This is not just pressing the easy button—you need to change process of job. You are not calling surveyor for grade stakes—you are calling data processing person for plan data. But the data guy is much cheaper than the surveyor. The surveyor's timing is based on weather and daylight."
Based on these factors, Hagemann said contractors could expect a 30% increase in productivity.
CASE, too, works with customers to pin down specific ROI from grade control technology.
"Our precision team has access to ROI calculators where we can enter the customer's average expenses like materials, fuel and labor costs to calculate how long it will take for the system to pay itself off," Flynn said.
Leica's Kauppinen, meanwhile, suggested their ROI strategy also took into consideration the broader lifecycle of model, productivity and operating data as it flows across the equipment assets.
"We have created an ecosystem of interconnected machine, surveyor, and office solutions that seamlessly integrate with our cloud platform and work together -- providing a smooth and efficient flow of data across all stages of a customer's construction project," Kauppinen said. "And the benefits derived from this ecosystem deliver a clear return on investment for contractors … The seamless data flow between our solutions eliminates the need for manual data transfer, reducing errors and saving time. Moreover, our ecosystem enables smooth navigation and effortless data management whether on-site using the machine solution, conducting surveys with the surveyor solution, or analyzing data in the office solution. This consistent and efficient experience enhances customer workflows throughout the construction process."
Rapid Adoption
Owners requiring the use of 3D grade control, increased productivity per operator and lowering barriers to entry augmenting the strong ROI case, are driving more contractors to make the leap to grade control. This adoption is extending well beyond heavy, highway and civil sector and into commercial and even residential contracting.
"Across the board, we're seeing increased interest and adoption," Flynn said. "Part of that is technology being more accessible and part is that it's more affordable. In the past, you primarily had road contractors and heavy highway companies using the technology. But now, we're seeing small and mid-size companies, including landscapers and basement diggers, wanting grade control technology because of the payback they get."
Innovations from the vendors themselves, too, may be driving grade control technology into smaller and more varied types of contractors.
"The iCON Site Excavator is gaining significant traction among smaller businesses due to its user-friendly nature, allowing users to effortlessly generate their own data directly within the system," Kauppinen said. "This capability empowers smaller contractors to work more efficiently and effectively. In parallel, larger contractors are increasingly recognizing the value of comprehensive data to measure key performance indicators (KPIs)."
"When the technology was first launched, and we've been in it since 2004 with Caterpillar, it always seemed to be focused on a finished grade application," Hagemann said. "Now, we're realizing though, even if you need to cut 10 to 15 feet, it will still benefit you. It is not just for road jobs. People are out enjoying automatics on our 395 excavator with grade control. Even if you are loading a truck, it is easy to over-dig one to two feet. It is all over the job sites. Once you start getting used to it, you realize you need it. Size wise, it is on almost all of our large contractor jobs. You can't win a bid without having it. The smaller guys who are not into GNSS are still using Slope Assist, our 2D solution and still seeing some benefits."
Companies in this article