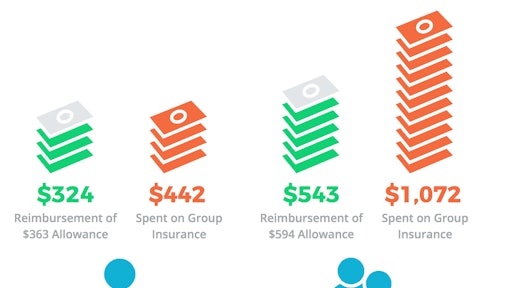 W​ith affordable group health insurance difficult to find, small companies in the construction industry have increasingly turned to health reimbursement plans, which cover 22% more of employee premium while saving businesses as much as 49% in benefits costs. This is a key takeaway from the 2017 Small Business Health Insurance Reim​ bursement Report from Zane Benefits, a leading employee benefits software firm that helps small businesses administer reimbursement plans.
Under a health reimbursement plan, small businesses set aside a fixed amount of money each month to reimburse employees for individual health insurance and other medical expenses, rather than choosing a one-size-fits-all group plan and paying a portion of the premium.
[INFOGRAPHIC] How Construction Companies Are Using Health Insurance Reimbursement 
Drawing on data from more than 15,000 reimbursement plan participants, as well as industry wide statistics, the ​Small Business Health In​ surance​ Reimbursement annual​ report analyzes how small businesses and their employees used these plans in 2016. It also examines how these plans compare to traditional benefits options, like group health insurance. Each finding is then analyzed by metrics including state and industry – including the construction sector.
The report will be used by businesses looking to make the best choices when evaluating strategies to hire and keep their people. By showing a 45% increase in health reimbursement plan participation since 2015, the report clearly identifies the need for reimbursement options – including the new Small Business Health Reimbursement Arrangement (HRA), a new plan created by Congress in December 2016.
Key report findings for the construction sector include:
Small construction companies gave an average monthly allowance of $507 per employee in 2016, across all states and family sizes – a 29% increase since 2015. By comparison, the average individual insurance premium underwent a relative change of 8.3% from 2015 to 2016, suggesting that construction companies respond to changes in the individual market when determining allowance amounts.

By company size, construction companies offered: $564 for employees in a two- to five-person company, $514 for employees in a six- to 10-person company, $481 for employees in an 11- to 25-person company and $547 to employees in a 26- to 50-person company.

Employees in the construction sector were reimbursed an average $460 each month in 2016, meaning they used an average 91% of their employer's allowance amount. This suggests construction companies offer allowances that more than cover their employees' health insurance costs.

Construction companies using a health reimbursement plan instead of traditional group health insurance save an average of 23% on single employees and 49% on employees with a family every month. This is based on a comparison with data provided by Kaise​ r Family Foundation/HRET's 2016 E​ mployer Health Benefits study, which found the average cost to employers for single and family employees was $442 and $1,072, respectively. Under a health reimbursement plan, businesses in the construction sector reimbursed single and family employees for an average $324 and $543, respectively.

At the same time, the average health reimbursement plan monthly allowance covers 100% of the average individual premium cost, while group health insurance covers only 82% of an employee's premium.
Download the ​full
2017 ​Small Business Health Insurance Reimbursement Report​
 for a deeper analysis of these trends and detailed considerations for small businesses.