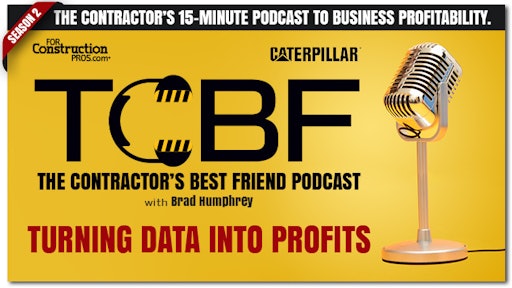 Get ready to sharpen your pencils and lower operating cost with Brad, Lonnie and Jason. The team discusses how to utilize the data machines are gathering and how to generate reporting with the Vision Link App.
Brad and the Caterpillar subject matter experts talk about understanding what reports are vital to profitability and how you, as a contractor, can become even more competitive in the industry.
Money talks, take a listen!
Moderated by: Brad Humphrey, The Contractor's Best Friend, Pinnacle Development Group - Founder
Brought to you by: Jason Hurdis, Caterpillar Inc, Global Market Professional – Quarry & Aggregates Industries
Lonnie Fritz, Caterpillar Inc, Market Professional – Construction Industries
NEW EPISODES EVERY OTHER WEDNESDAY 
 
Subscribe on iTunes: itunes.apple.com/us/podcast/the-c…d1406479825?mt=2 
Listen on Stitcher: www.stitcher.com/s?fid=205707&refid=stpr 
Leave a review: itunes.apple.com/us/podcast/the-c…d1406479825?mt=2
Tell us what you think of the podcast series, take our survey: 
www.surveymonkey.com/r/DSVVLX9 
Listen to more construction news on the Construction News Tracker at www.forconstructionpros.com