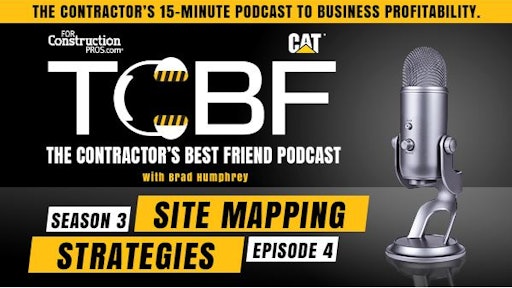 In the construction world, site mapping really comes down to the scope of the project and what is involved. Hosting a discussion prior to starting your construction project, taking a bird's eye approach, is essential when planning provisions to allow for the staging and storage of construction equipment.
Brad Humphrey and the Caterpillar subject matter experts discuss how important it is to have an effective plan in place before the official job start. From understanding the scope of the job and the equipment needed, to having conversations with the whole team, from top down.
Tune in now and put these ideas to work for your team and improve your bottom line!
Moderated by: Brad Humphrey, The Contractor's Best Friend, Pinnacle Development Group - Founder
Brought to you by: Jason Hurdis, Caterpillar Inc, Global Market Professional – Quarry & Aggregates Industries
Lonnie Fritz, Caterpillar Inc, Market Professional – Construction Industries
NEW EPISODES EVERY OTHER WEDNESDAY 
Subscribe on iTunes: itunes.apple.com/us/podcast/the-c…d1406479825?mt=2 
Listen on Stitcher: www.stitcher.com/s?fid=205707&refid=stpr 
Leave a review: itunes.apple.com/us/podcast/the-c…d1406479825?mt=2
Tell us what you think of the podcast series, take our survey: www.surveymonkey.com/r/DSVVLX9 
Listen to more construction news on the Construction News Tracker at www.forconstructionpros.com
Caterpillar experts are here to answer your questions: https://www.cat.com/en_US/by-industry/construction/tipstechandtools.html