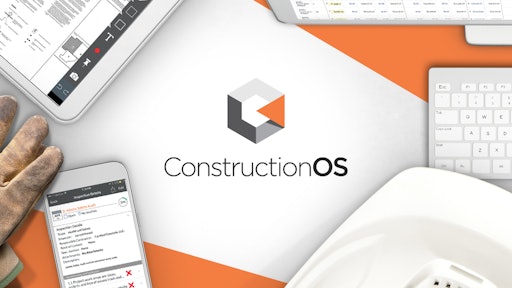 The new Procore Construction OS offers significantly expanded, integrated project-management features including new reporting and visualization tools; access to approximately 100 apps in the App Marketplace; a newly launched developer portal; and the ability to securely integrate, store, and manage your projects within one platform.
Cloud construction computing purveyor Procore Technologies has made a mark on construction computing with its flagship project management software, one of the most-used systems in the world due in part to being available exclusively in the cloud, where construction's mobile workforce can use it best. Procore calls this next iteration, Construction OS, "a cohesive platform that connects people, applications, and devices to create a frictionless construction process."
Procore recognizes there are critical steps in the construction process that fall outside the project management realm, and Construction OS is designed to give customers continuous visibility into more aspects of their construction business, integrated seamlessly with essential project management capability. Construction OS launches two new mobile-optimized solutions – Procore Construction Financials and Procore Quality & Safety.
The unified platform, which includes Procore Project Management, offers companies the tools they need to inform decisions spanning the entire lifecycle of their business.
Procore Construction Financials is a job costing solution that connects the field and the head office, providing businesses with a central location to monitor the financial health of their projects in real time. Field teams can track contracts and change orders, payment applications, forecasts, and potential cost impacts. The combined data rolls up to the head office and gives company executives access to actionable insights that can be leveraged to accurately forecast and make data-driven business decisions. Construction Financials serves as a single source of truth for project financials – eliminating double entry, mitigating risk, and streamlining monthly reporting with key stakeholders.
Procore Quality & Safety consists of easy-to-use tools that help customers establish performance benchmarks, identify trends, and measure quality and safety improvements. Input from industry leaders and customer drove the development process to create a system that gathers valuable data as people do their work. It helps customers identify trends that pinpoint company strengths and weaknesses across a single project or whole portfolio. Procore dashboards enable teams to act upon insights and improve overall quality and build on the best aspects of their safety culture.
Through Procore's public API, third party applications and custom built-integrations can plug into Procore Project Management's centralized location, where everyone involved on a project can access the information. More than 75 new apps have been added to Procore's App Marketplace in the past year, and the company is committed to allowing solutions from throughout the computing economy to integrate with its open architecture.
"We are a software company that believes openness means freedom, partnering, choice, and truth," said Tooey Courtemanche, CEO, Procore Technologies. "Construction OS is the culmination of all the technology that we've built, the API and the App Marketplace, that will help Procore scale so we can help you realize the promise of the single source of the truth. It will help further align all parties around that common goal of a frictionless jobsite with free-flowing communication that gets everybody closer to the main hub of information."
Increasing labor gaps and diminishing access to capital are driving a transformational change in the construction industry, with companies looking to technology to enhance the way project teams communicate and drive greater value on and off the jobsite.
Procore debuted Construction OS, Construction Financials, and Quality & Safety at its annual conference, Groundbreak, taking place March 29-31, 2017 in Austin, Texas.
Procore Technologies Inc. is a provider of cloud-based applications for construction. Through Procore Construction OS, the company connects people, applications, and devices through a unified platform to help construction firms manage risk and build quality projects, safely, on time, and within budget. The company has a diversified business model with products for Construction Project Management, Construction Financials, and Quality & Safety. Procore has more than 2 million users managing billions of dollars in annual construction volume. Headquartered in Carpinteria, California, Procore has over 700 employees in offices across the globe.
Request More Information
Fill out the form below to request more information about
Procore Construction OS Integrates Safety, Quality, Financials with Project Computing