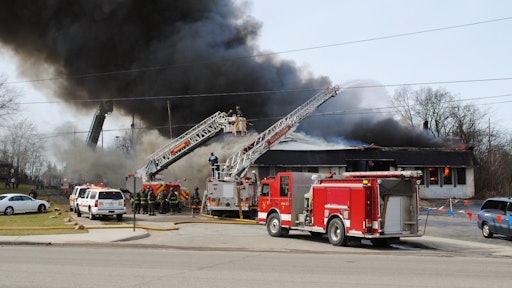 Heading into the 2015 season Asphalt Solutions had 25 employees, had come off a $3 million-plus 2014, was on the brink of having all its equipment completely paid off, and was starting to replace old equipment with new models.
Then they lost it all.
But the fire that hit at 1:20 p.m. March 19, 2015 forced co-owners Bob Roth and Justin Bishop to reexamine the company and start from scratch – but with knowledge they had gained over 16 years in business.
And while they did not reach that $3 million mark in 2015, they came closer than expected. And they now have a streamlined, more-efficient and profitable company with a solid direction – and they surpassed that $3 million mark last year.
"We love what we do and we love what we built and now we've built this company from nothing – twice," Roth says.
Here's how they did it.
An Accidental Startup
Co-owned by Bob Roth and Justin Bishop, Asphalt Solutions was started in 1999 as a small residential sealcoating company as a way to pay college student loans. In a Master's class Roth met a property owner who needed help in class, in return he would try to get Roth some work.
"We completed 15 shopping centers for him that summer and we did so well and made so much money that the business became our primary focus," he says, adding that they went from part-time to full-time in two years.
Today the Youngstown, OH, contractor covers Ohio, Indiana, western Pennsylvania and northern Kentucky, doing sealcoating, cracksealing, paving, repair, striping and concrete work for commercial customers. Crews are usually out on the road as 90% of their work is outside the Youngstown area.
The Fire Hits
"I was the only one in the building, sitting at my desk, and I was getting ready to leave for the day," Roth says. "We were working half days that time of year because the season hadn't started yet. Someone was banging on my door and when I answered he said the building was on fire."
There was no fire in the 10,000-sq.-ft. shop, but when Roth opened the break room door he saw the entire side of the building was aflame. "We had all the equipment in the shop from the winter and we had just finished getting it ready for the season," he says.
He tried to open the garage door to get some equipment out but it was too late. Roth says that by the time the fire department arrived the roof was on fire and within 20 minutes the fire department pulled out of the building for safety concerns.
"I had to sit there for five hours and watch everything we owned go up in flames, 16 years of work," he says. "It was brutal -- especially for the time of year it happened because we were going to be up and running with small stuff the next week."
That was pretty much out of the question, and Roth, sitting watching the fire, realized he and Bishop had 45 days to find equipment and get up and running if they were going to have a rest of the year.
Turns out the "rest of the year" – and the rest of their future – began the next morning at a Bob Evans restaurant.
"Justin and I sat there and we started talking about whether to persevere and it took about 30 seconds to decide we would and we drew up a 15-year plan right there," Roth says.
Even though the decision to continue wasn't made until the following morning, Roth was making plans while the fire was still burning.
"As I'm standing there, a local reporter kept waiting to talk with me and I was just stone-faced, watching and plotting and figuring out what I have to do. What do we need to get back into business quickly? While the fire was burning I'd considered two areas: What equipment do we need and what kind of work can we do?
"After the fire we didn't have a single tool, not even a screwdriver," Roth says. "Overall we lost more than $76,000 in tools and a million dollars in equipment so we were really starting back from scratch. We had our name, we had our website, we had our employees and we had some work in the pipeline and our customers. The only thing we didn't have was equipment."
He decided they could be up and running doing patching, cracksealing and striping – work they had on the books – if they could get a dump truck, a roller, a cracksealing truck and stripers.
"I knew we could find a dump truck, a striper and a roller and that would get us going," he says. "I knew the biggest dilemma was the sealcoating equipment because we built our own sealcoating trucks."
Roth says that prior to the fire Asphalt Solutions was as efficient and as profitable as they were partly because of the 1,000-gal. and 1,250-gal. sealcoating units they had built themselves and customized for aggressive, high-production work.
"Our trucks had bigger pumps, bigger air compressors, bigger strainers, a spray bar and a dual wand setup," Roth says. "Because there was more power behind the system we could operate two wands at a time with a 10-ft.-wide spray bar path. It's all about production."
Roth says he and Bishop knew that especially that close to the start of the season they would have difficulty finding any sealcoating trucks, and they also knew they didn't have time to build their own from the ground up.
"So we went on a nationwide search for sealcoating trucks," he says.
They found one in Florida and another in Kansas City, but the trucks were not built or set up the way Asphalt Solutions would have designed them, so crews weren't going to be able to sealcoat the way they would have liked.
"That meant we wouldn't get the production we'd had in the past," Roth says.
But they worked for a week modifying both of them as best they could to get through the season.
The Industry – and Customers – Step Up
Asphalt Solutions did have work in the pipeline, and Roth and Bishop made sure clients and prospects knew about the fire. "We were telling everyone, 'We're still in business. We just have to get some equipment' and a lot of our customers said, 'Fine, no problem. We'll wait if we have to.' They were very cooperative and understanding."
Roth says that they caught a small break when the weather was terrible until mid-May.
"We had a lot of rain so we didn't miss out on too many opportunities," he says. "Looking back on it, it was kind of funny because I was selling jobs when we didn't have any equipment yet."
Roth says that as word about the fire got out they received numerous offers of help.
"There was a lot of outreach by the industry. People called from all over and just asked what we needed," Roth says. "We didn't take advantage of it because we got moving on our own so quickly, but it was very impressive and we were very touched by that."
He says their suppliers were particularly understanding, offering assistance and in some cases extending terms.
"We had to wait for our insurance, which was a big number, and it took us three week to get our first check," Roth says. "But a lot of our suppliers just told us not to worry about it."
He says the real dilemma came when trying to purchase the sealcoating trucks "because you can't purchase something with nothing and for a while we had nothing."
So he and Bishop had to put about $100,000 of their own money into the business. "We did have some of our own money tied up in it just to enable us to keep moving ahead and get stuff we needed while we were waiting for the insurance money," he says.
Surviving ...and Thriving in 2015
Roth describes 2015 as "very chaotic" until October. "I joke now with a lot of people that I probably had a stroke and a heart attack every week," he says. "We were operating in survival mode."
He says that for the first two months of the 2015 season, despite their best efforts, sales figures were down. That was due partly to scheduling issues: Asphalt Solutions just could not maintain the schedule they'd planned on because they didn't have the high-production equipment they had lost in the fire.
But part of it was lost sales, too. Roth says that because they thought they were going to have to hire subcontractors to complete some jobs, they bid some work higher than they normally would. As a result some customers went to other contractors; still others thought Asphalt Solutions was out of business.
By mid-summer Roth was busy doing estimates and dealing with the post-fire issues, both sealer trucks were running full time, and things were as close to "normal" as Roth and Bishop could have expected.
At the same time they began applying what they had learned over 16 years as they rebuilt their company.
"But we were surprised that we ran into the same growing pains we had when started running the company," he says. "Before the fire we had way more equipment than we needed, a bigger payroll than we needed, a bigger warehouse than we needed, and more employees than we really needed."
And he and Bishop were way too involved in the business.
So as they rebuilt they addressed those issues specifically. When they began acquiring new equipment, for example, they made sure to get what they needed – and not much more. Insurance from the fire paid for the lost equipment, so they were able to acquire new equipment without saddling the company with large debt. Being virtually debt-free enabled them to put money to use in other, more productive areas – something they'd learned over their years in business.
"Being debt-free gave us money to do some other things like hire additional people," Roth says, which they did – an office manager and two operations managers.
"Before the fire we didn't need the extra people because Justin and I were hands-on and involved in just about every aspect of the business," Roth says. But adding people at both positions meant that much of the work Roth and Bishop used to handle – from sales to follow through to administrative work – is now handled by others. And it was work that should have been delegated before.
"The fire forced us to streamline our operations, which freed us up to focus on other, larger things and it made us and our whole company more productive," Roth says.
They also pared back the labor staff from a high of 25 to a high of 20, which made employee management easier and freed up even more cash. Some of that extra cash was used to implement a new clock-in system and a new QuickBooks system, both of which streamlined the operation and made it more efficient.
He and Bishop also cut back on their own salaries to enable the company to get through the year. "We took a hit on our personal pay so we could get some things in place to help us out."
Then, partly because they had more time to think bigger, Roth and Bishop opened a sub-office in Columbus, OH. The company doesn't have any equipment in Columbus because equipment can come from the main office.
"We were looking where our company was growing and where our work is, and Columbus is a big market for us. So we decided we wanted a local presence there," Roth says. "It's a plan we had in place for a couple of years but, once again, the fire refocused us."
The 2015 Bottom Line
"We knew we were doing a lot of work during the year but we didn't know how much. We didn't know any numbers," Roth says. "It wasn't until we compiled our numbers for the Pavement Top Contractor list that we realized what we'd done."
What they'd done, despite the fire that destroyed the whole company, was generate more than $2 million "on a shoestring," Roth says. "Yes, it was down from $3 million the year before but we were amazed."
He says he and Bishop attribute their approach to the fire challenge partly to their past athletic careers. "Both of us played sports at a high level – he was a boxer and I was a baseball player -- and you learn in sports that you don't give up," Roth says. "We each had faced challenges and we were determined this fire was not going to beat us. The easiest thing to do was just give up, but that wasn't even an option."
He says that in the almost two years since the fire he and Bishop have made Asphalt Solutions "100% more efficient that before the fire, which has allowed us to see more profits." It also gave them insights into where their growth can be and where it should be.
"Sometimes it takes a disaster to get you back on track and see where you're supposed to be," Roth says. "It was the worst thing but also one of the best things that could have happened because it enabled us to refocus.
"After 16 years you can get into a rut and do things the same way all the time because that's the way you've always done them. This gave us an opportunity to step back and look at our business and our operation and apply what we've learned over the years."
Roth says that 2016 was a good year "because 2015 was gone. There was tremendous relief that last day of the 2015 season that we knew we could survive," he says.
And he says 2016 was the easiest year in business for him and Bishop.
"I was able to leave the office at five rather than be there until eight or nine every night because we have other people doing things for us," he says. "The last day of the 2016 season I was optimistic and already looking forward to next season, because if we can rebuild this we can do anything."
[possible captions]
"A fire hit their facility at 1:20 p.m., March 19, 2015, and Asphalt Solutions lost everything, including $1 million worth of equipment.
"This has been the biggest accomplishment of my personal and professional career," says Bob Roth, co-owner. "But I never was backed up against the wall like this."
Bob Roth says that the equipment they lost in the blaze was almost completely paid off, so as a result of the fire the new equipment they had to buy was paid off 100%, too, leaving virtually no equipment debt.
Asphalt Solutions is a productive operation partly because it custom-builds its own high-powered sealcoating units so two people can be spraying at same time on big commercial projects.
"One contractor from North Carolina offered us his sealcoating trailer to use, but we decided that if we had to sub out work we'd do that instead, so we were bidding a little higher than we would have normally and that did cost us some jobs," says Bob Roth.