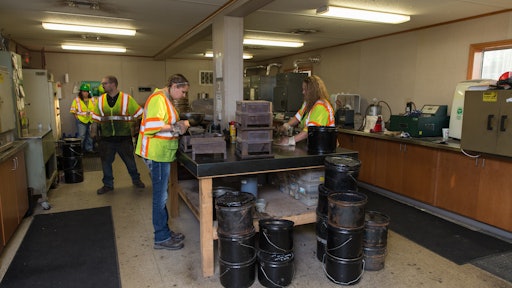 A recession economy, a 10-year hiring freeze, an aging workforce, high-skilled labor leaving through retirement, and recruitment methods that didn't yield the quality employees a contractor needs. That's what Cadillac Asphalt, headquartered in Canton, MI, faced in 2015.
And what did the decades-old paving contractor/hot mix asphalt producer do to improve its hiring?
"We turned the process on its head," says Aaron Price, vice president and general manager. "We decided that if the skilled people aren't out there the onus is on Cadillac to find people with no construction experience and teach them the skills they need from the ground up."
And to teach people the skills that could give them a career.
"We realized we need to view investments in humans the same way we view investments in hard, raw, physical capital. And that meant we had to completely retool the way we hired and trained new people."
The result was a collaboration with a union local to develop and implement a unique hiring and training program – they're calling it the FP3 Future Paving Professional Program -- that, after two years in place, is showing significant success.
With nine asphalt plants and 11 locations throughout southeastern Michigan, Cadillac Asphalt employs 250 people doing hot mix asphalt production and asphalt paving. Cadillac runs seven paving crews and three prep crews and generates 25% of its paving from commercial customers, 40% from municipalities and counties, and 35% from highway DOT work. Cadillac says it is the largest HMA producer in the state, consuming half of its production internally and the other half sold to other contractors.
Price says that like the rest of the country, Michigan experienced an economic downturn starting in 2004, with the result that skilled workers left the state in droves as they sought work. That coincided with Cadillac Asphalt scaling back from running 15 crews to, at its lowest point, only five. Cadillac had a hiring freeze from 2005-2014, which was essential for survival but was soon to create some concerns for the company.
"Eventually the market started to recover, partly because of a $1.2 billion road funding bill passed in 2015 and we quickly ran into a situation where we needed more workers," Price says. "But not only could we not find the skilled workers we needed to grow as work picked up, we couldn't find skilled workers to replace people leaving the company through retirement. And, our existing workforce had aged by 10 years over that time and we hadn't brought in any new people because we didn't have the work to support them."
Price says that in 2014 and 2015 they worked hard, using tried and true "old" methods to find new hires but had little luck. "We had a very difficult time attracting people to our company the old way, which was posting a job opening on the Internet and hoping people would find us," he says. "So it's May 2015 and nobody's applying and we started talking with other companies in our market and we realized that it wasn't just us. The ability to get and grow a skilled workforce was a challenge not just for Cadillac but for everyone."
So they turned the process upside down, but they didn't do it by themselves. As a union shop they enlisted the help and support of union Local 1191, collaborating with Michael Aaron, who Price says was influential in getting the program off the ground.
"Michael saw the opportunity here for a program that could benefit not just Cadillac Asphalt but an entire industry, so he worked with us to develop a pre-apprenticeship program," Price says.
The FP3 Future Paving Professional Program
Among the keys to the FP3 Future Paving Professional Program are a union-agreed-upon, pre-apprentice hourly rate equal to roughly half what a full journeyman would earn; a 700-hour maximum time limit an individual can be in the program; and the requirement that the pre-apprentice employees are additions to a paving or preparation crew – in other words they can't take the place of a higher-wage employee.
"We run eight to nine-person paving crew so all these people on the crew must be full union," Price says. "That means any pre-apprentices on the crew must be the tenth or eleventh person on the crew. We try to put two pre-apprentices on each mainline paving crew and one additional person on each prep crew."
The pre-apprentice program runs 700 hours – about 14 weeks or half of a Michigan paving season. After 700 hours the worker is moved into the union apprenticeship program, which has five defined steps and pay raises. Price says that Cadillac can identify some people as "keepers" within as little as 200 hours and those people are moved immediately into the union apprenticeship program.
"The benefit to the individual is that once he's in the union apprenticeship program he gets an immediate raise of $3 an hour plus Cadillac begins making contributions to the pension program," Price says. "Plus, being in the union apprenticeship program opens doors to further training and step raises."
The FP3 new hires start in a classroom on the first day where they learn about the company and receive safety training. Then each new hire is paired with a mentor and a crew, and the pre-apprentice shadows and works side by side with the mentor. "That's where they learn shoveling, raking, traffic awareness, those kinds of things," Price says. "It's real on-the-job training."
Price says Cadillac will change mentors if there's a good reason to change and will also change which crew the pre-apprentice is assigned to as well if needed. He says mentors receive no special training, because even though it's a one-on-one working arrangement eventually the whole crew pitches in.
"Over time you see the whole crew investing time and energy in the pre-apprentice," Price says. "It becomes a team effort and more of a family than a company. The crew knows that getting the pre-apprentice up to speed helps get the job done more efficiently and helps the crew be more productive.
"In training the question is how can you best mimic a real life experience of working on asphalt and it's very difficult to mimic without actually being on the job. Ninety-degree heat and 350-degree asphalt is not for everyone, so the only way to really find out if people are a good fit is to get them out on a job."
He says the on-the-job aspect of the program does create some headaches for schedulers because they don't want to put pre-apprentices in situations they shouldn't be in. "We don't want them working at night or working in traffic, for example, before they're ready," Price says. "We also can't have them working on airports where they don't yet have clearance. But we don't let that stop us, it just takes some juggling."
Throughout the FP3 the pre-apprentice receives monthly feedback to guide his development. Each month the pre-apprentice completes a self-appraisal that covers a variety of areas such as punctuality, working well on a team, paying attention, and on-the-job attitude. The new hires rate themselves on a one-to-four scale for each area, then they meet with the foreman and the operations manager for a three-way conversation to compare evaluations. "If there's a gap we want to understand what caused it but more importantly how it can be fixed," Price says. "We want to put together a plan to close that gap."
And to make sure employer and employee are on the same page.
"After a while it becomes clear, and in some cases you have to make a tough decision, that we're not a right fit for each other," Price says. "But there's a real effort before that point to make it work."
Price estimates Cadillac Asphalt's investment in the program at between $200,000 and $250,000 annually – which includes wages and the contractor's contribution to health care.
"That might sound like a lot but if you consider it's about 20 cents per ton of material it's not that much and it really is an investment in the future," he says. "It helps position ourselves for growth."
No Hiring Restrictions
Price says that in turning the hiring process on its head, Cadillac Asphalt considered only three attributes when talking with prospective hires: attitude, desire and fit.
"That's the crux of our hiring."
He says Cadillac Asphalt and Local 1191 started looking for new hires at a job fair in Detroit, which had a 40% under/unemployment rate. "We thought if we could make a dent in the employment rate in Detroit, we could get more tax dollars into the city. Then the city could invest more money into its infrastructure and we're in a strong position to do some of that work," Price says. "We feel we have a responsibility to give back to the city of Detroit after the city has given us so much."
At the 2015 Detroit job fair they interviewed 100 people and hired 15.
"We tried to find people looking for an opportunity. We thought that if we could offer a construction job and a career opportunity to the right people we would be successful," Price says. "We didn't hire them based on job experience or knowledge of construction, we just tried to get a sense of how much they wanted it and their desire to be a part of something more."
Price stresses Cadillac Asphalt also had no limitations or restrictions in its hiring process.
"That's important," Price says. "We didn't limit people based on a criminal conviction or what their personal life was like. We didn't limit by their location or the transportation they needed to get to and from a jobsite, which in the past might have been a limiting factor when hiring."
He says that once people were hired Cadillac relied on a "buddy system" to get the new hires where they needed to be each day.
"We marked their locations on a map and figured out how to help bring them in," Price says. He says Cadillac is also considering starting up an internal transportation system that would use a van to get people to and from jobsites.
"We haven't done that yet, but it's in the plans to start if we need to," Price says. "We need to find a way to get over that transportation hurdle because workers are not at the same place every day and it's not easy for everyone to get all over where we need them. It can be a real issue for some people."
Of the 15 people hired in 2015, seven remain with Cadillac, which Price says is more than they expected. He says those seven people work in various aspects of the company -- from crews to administration to the quality control lab. One person is working on obtaining quality control certification, and Price says some on the crew are showing signs they could eventually become foremen.
In 2016 Cadillac used the FP3 pre-apprenticeship program to hire another 18 people, eight of whom remained with the company at the end of the season.
Price says Cadillac Asphalt and the union Local are encouraged by their successes so far. "It helps sustain the program when we hear from people how they couldn't envision this career opportunity and how it's positively impacted the course of their lives," Price says. "We're very encouraged by the retention rates and we continue to refine the process along the way."
He says Cadillac expects to be back running 10 or more crews by 2020 or 2021, but for that to happen they need an influx of skilled workers, so FP3 needs to continue to be successful.
"Not only do we need to get the pre-apprentice people up to speed and productive, but we'll need the current rakers and luters ready to move up to run the back end of a paver or a roller. Often people who want to step up from rake to roller are training their replacement so they can move up," Price says.
"For that to happen we need these entry level people to be successful and we're doing everything we can to give them the opportunity to become successful in a paving career."