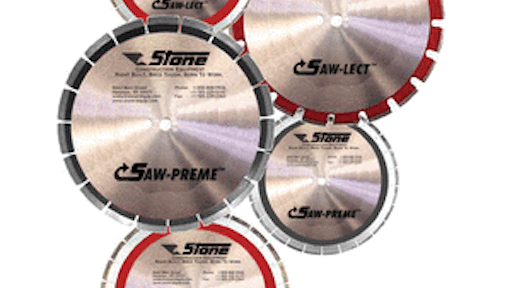 Diamond Saw Blades
Stone has added a line of diamond saw blades to compliment its Saw Devil concrete and masonry saws. The new blade line consists of 26 general purpose blades ranging in size from 12 to 20-in. with bond rating from 3 to 8. The saw blade line is broken into the Saw-lect value line and the Saw-preme premium line.
Stone Construction Equip. Inc.
Drilling and Sawing Products
Diamond Products offers a variety of diamond blades, saws, core rigs and core bits.
Grinding, grooving and slot cutting equipment, including the Bridge Deck Groover
Custom equipment truck
Polishing tools and equipment
Diamond Products
Earplugs
Gateway Safety offers a full line of disposal and reusable earplugs with noise reduction ratings ranging from 25 to 31 NRR. All earplugs come in bright colors and are available with optional breakaway cords. Earplugs include two styles of Diposable Earplugz - GloPlugz and SoftPlugz - and Twisters Reusable Earplugs.
Gateway Safety, Inc.
Icon Series gloves
Ironclad Performance Wear has introduced a new line of gloves, the Icon Series.
Features more durable materials, increased wrist support and higher abrasion resistance
Completely washable
Resist stretching, shrinking and hardening
Ironclad Performance Wear Corp
PeakFit Respirator
Gateway Safety's PeakFit Respirators are NIOSH-approved N95 air-purifying respirators specifically engineered for personal comfort as well as safety. PeakFit has a contoured design and ample size to make breathing easier, and the molded nose bridge helps the respirator fit most faces with no need to pinch a metal nosepiece to achieve fit. These respirators are available in three versions: PeakFit (filtration against aerosols free of oils below PEL); PeakFit OV (additional filtration against aerosols free of organic vapors below PEL); and PeakFit AG (additional filtration against aerosols free of organic vapors and acid gases below PEL).
Gateway Safety, Inc.
Scorpion SM Safety Eyewear
The new Scorpion SM safety eyewear is 10% smaller than the identical Scorpion style eyewear. Scorpion SM is lightweight, adjustable with four-position ratcheting temples and features a venting system between the frame and lens to minimize fogging. Lens options for the Scorpion SM include Clear, Gray, Clear Anti-Fog, Clear In/Out Mirror and Silver Mirror.
Gateway Safety, Inc.
Supereight E1 Full Brim Hard Hat
Full Brim hard hats
Offer greater protection against the rain, falling debris and the sun's harmful UV rays
Smooth crown design deflects falling objects
Technically advanced eight point suspension offers the most sophisticated head protection system available
Fibre-Metal, a North Safety Products brand ships all hard hats fully assembled
North Safety Products
Tuff-Coat KV200
Medium/heavy-duty gloves
Cut resistant DuPont Kevlar liner with durable latex coating
Provides a secure grip on smooth surfaces
Higher dexterity, good puncture, cut and abrasion resistance
Good choice for jobs with sharp edges such as forming and handling gutters, siding, demolition, stripping wire, and working with rebar
Great combination of performance and value
Sperian Protection Americas, Inc.