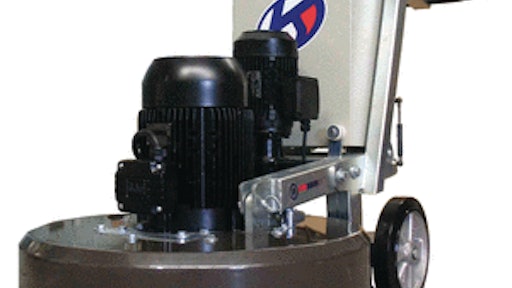 Black Max floor machine
Matches the durability of roto-molded units with simple design of metal machines
Easy-to-use units
Powr-Flite
Boost
Boost (Battery Operated Orbital Scrubbing Technology) machine is a specially engineered hybrid merging Clarke scrubbing technology and high-speed orbital sanding technology
50- to 70-percent reduction in water and chemicals, battery and labor savings, and a 40-percent increase in pad life, compared to traditional disc scrubbers
Alto Cleaning Systems, Inc.
BS-50 Stripper
Blastrac BS-50 Stripper
The Blastrac BS-50 compact, lightweight stripper removes coatings, adhesives and mastics, roofing materials, ceramic tile, wood, VCT, carpet and sheet vinyl. The BS-50 is easy to use, featuring a handle that detaches for transport so the unit can fit in smaller vehicles. Its light weight, so it can be handled by a single person. Adjustable rear wheels make finding the ideal blade angle quick and simple and its whisper-quiet operation allows it to be used on virtually any jobsite, including sensitive environments.
Blastrac
EDGEKutter 7120
Designed for polishing and preparing the edges of concrete, stone and wood surfaces
Rocker Pivot suspension maintains flat and even contact between the abrasive wheel and the surface
Spring-loaded Tension Throttle offers precise control of the grinder head
KR7 EDGEKutter dust shroud enables virtually dust-free operation with adequate vacuum system
Kut-Rite Manufacturing
FA-8 Floor Abrader
Floor abrader designed to micro-abrade factory-finished and site-installed floors
Alternative to traditional "pad and re-coat" or chemical process for abrading floors
Cylindrical-designed brushes allow machine to abrade with or against the pattern grain, ideal for parquet, herringbone, distressed and hand-scraped flooring
Tool-free quick-change brush design
Easy-to-dismantle, three-part body is simple to transport and store
120V motor uses 8 amps during operation
Clarke
Floor Covering Scraper
Weighs 130 lbs.
Removes direct glue-down carpet, hardwood flooring, linoleum, non-slip floor coverings, vinyl tile and a variety of adhesives, cements and mastics
¾-horsepower fan-cooled capacitor-start motor with thermal overload protection
Operating at 115V/10.3 amps under full load, scraper can be plugged into any regular 15-amp electrical circuit
23-in. width makes it ideal for working in narrow, space-restricted areas
Comes complete with a built-in lifting handle as well as a blade change wrench, sharpening file, and 6- and 10-inch straight laser cut heat-treated blades
Multiquip Inc.
ProGrind Series
Include Flowmax dust extraction system
Patented Dual-Drive Technology
Designed for concrete floor preparation and repair, grinding and polishing of concrete floors and also terrazzo and natural stone
King Concepts
Saber Compact 20
Large solution and recovery tanks
Rugged machine construction
Ergonomic handle and simple controls
Wide-open accessibility and an overall reduced parts design
Available in brush/pad assist drive or traction drive
Windsor Industries
SG12/E
General Equipment's SG12/D signle-head surface grinder is powered by an enclosed, fan-cooled 1.5-hp electric motor. It's single rotating disc has a 12-in.-wide working width and a top disc rotation speed of 250 rpm.
General Equipment
SL8V2 Velcro Drum Sander
Requires no tools to attach sandpaper
Simplicity of paper installation allows renter to use extra-coarse sheets (such as 12 and 16 grit) with ease
User only has to insert the abrasives in the alignment slot and roll the paper on the drum
Hook and loop system saves counter people time and helps ensure a positive rental experience
Essex Silverline
Stow SFCS16
Floor covering scraper weighs 130 lbs.
Removes glue-down carpet, hardwood flooring, linoleum, non-slip floor coverings, vinyl tile and other adhesive, cement or mastic
.75-hp fan-cooled capacitor-start motor
37 ft. of FGI-protected extension cord
Scre-type height control
Foldable handle
Multiquip Inc.
U-Sand Pro
Weighs 40 lbs. less than original U-Sand
Patented four-pad, random orbit design
Can be used as a sander, edger and buffer
Internal vacuum system allows for virtually dust-free environment
Cherryhill Mfg. Corp.