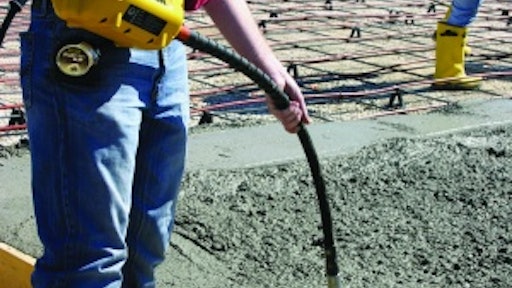 At first glance, concrete vibrators seem like a straight-forward piece of equipment; as if they're all alike. In fact, there are many types of vibrators and choosing the right one for the job can make a big difference.
All vibrators are not alike
According to Fred Paul, sales engineering manager for Wacker Neuson Corp., there are several types of concrete vibrators available which can be broken down into two categories: internal and external. Internal vibrators are the most common and are submerged in the fresh concrete. The energy produced by the vibratory head has a direct influence on the concrete surrounding the unit. External vibrators are clamped to the formwork and the energy produced is transmitted to the concrete via the formwork. External vibrators are especially useful on tall walls where an internal vibrator can't reach the bottom, or in areas where congested reinforcement steel will not allow insertion of an internal vibrator.
Fred Oswald, president of Oztec Industries Inc., says there are different types of internal vibrators such as flexible-shaft, high-cycle and pendulum. Flexible-shaft concrete vibrators consist of a power unit (either an electric motor or a gasoline engine), flexible shaft and a vibrator head (either steel or rubber). The power unit drives the inner core of the flexible shaft which turns the eccentric of the vibrator head which creates shock waves in the concrete. Flexible-shaft vibrators have an eccentric that runs almost the entire length of the head, which makes it more powerful than the high-cycle and pendulum types.
"Electric flex-shaft vibrators are used for smaller jobs," notes Todd Jurjevic at Minnich Manufacturing. "There are several head sizes available, from 3/4 inch diameter up to 2 3/8 inch We recommend using as big of a head as your space will allow for better consolidation."
Oswald explains that high-cycle vibrators were an advance in concrete vibrators when they were developed because the 180 or 360 cycles per minute resulted in a more powerful motor than was available in series motors (like the ones used in flexible shaft vibrators) at the time. "The high-cycle vibrator head is less powerful than a comparable size head of a flexible-shaft vibrator. It has a rotor/eccentric that is less than half the length of the head. The rest is an electric motor, whereas a flexible-shaft vibrator has an eccentric that runs almost the entire length of the head. The electric motor in the head of the high-cycle takes away from the centrifugal force, which is already less due to the shorter eccentric. High-cycle heads start at 1 3/4 inch; anything smaller would have to be flex-shaft type."
Pendulum-type vibrators were another innovation when they were developed, Oswald says. "At the time, vibrators were run with gas engines with an output speed of 3,500 rpm. The pendulum design had a multiplying effect on frequency in the nose without a speed-up unit. The downside, however, is that all of the vibration in the nose end of the vibrator diminishes to almost zero at the other end of the head. You get the frequency but without the amplitude," he explains.
Ed Varel, engineering project manager at Stone Construction Equipment, notes that vibrators are not a "one-unit-fits-all" product. They are mostly sold in three pieces: motor, shaft and head.
With regard to the head, Varel highlights the choice of steel or rubber. "Rubber heads tend to consolidate the concrete a little better and they won't chip rebar. Steel comes in standard or pencil size, which can get into smaller spaces. Pencil heads are usually less than 1 inch in diameter."
When it comes to the motor, electric and gas-powered each have their benefits. Generally speaking, gas-powered vibrators offer greater horsepower, which means they can handle larger jobs, since larger jobs typically require larger heads, which take more power to achieve optimum consolidation.
Gas-powered units are not as portable, however. There are backpack vibrators, though, that offer 1 1/2 to 2 1/2 hp and are highly portable.
For their part, shafts come in a variety of lengths up to about 21 feet. The most common lengths are between 7 and 21 feet.
Quality is top priority
On any electric-motor concrete vibrator, a UL Mark symbolizes that the motor has passed Underwriter Laboratories Safety Tests and Requirements. Other features that suggest high quality are shock-proof frames to ensure the motor is protected while on the job, as well as switches that are protected. Both will reduce repairs after equipment has been rented.
"Today's high-quality vibrators offer the operator protection against electrical shock and have circuitry built in to protect the machine against damage due to a variety of potential electrical problems," Paul says. Quality vibrators also have systems in place to ensure stable speeds under load, which is critical to achieving proper consolidation results.
Varel says a quick disconnect is a valuable feature to consider. "In the past, the user had to screw the shaft into the power unit and the head onto the shaft. This is difficult to do," he says. "With a quick disconnect, you screw the adapter onto the shaft, insert it into the motor and lock down the release. It's much easier to connect."