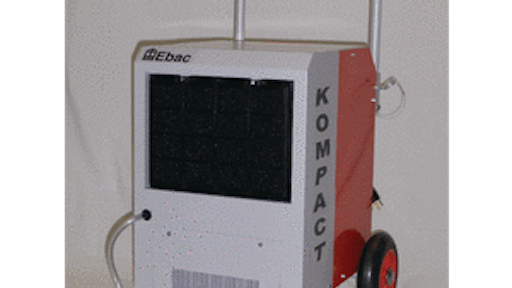 BEXT Hot Water Box Extractors
Easy circuit locator prevents breaker overload by verifying the receptacles chosen are on separate circuits
Heat increases cleaning effectiveness by up to 40%
Low moisture system of 0.8 gpm provides faster drying times and no overwetting
Clarke
Carpet Dog
Fast and efficient
Whisper quiet
Pulls up glued-down carpet in 22-in. widths at over 30 ft. per minute with one operator
Enables crews to dramatically increase the number of jobs complete each week
Carpet Dog, LLC
CS 2000 Water Recycling & Slurry Containment Vacuum
Concrete slurry / debris contained in porous filter bag for safe and easy disposal
Integrated sump pump can recycle or discharge water
Flow rate of 78 gal. per minute at level
13-gal. stainless steel canister with cart
Ideal for wet working power tools and equipment
Portable water supply saves time
CS Unitec, Inc.
GP8/GP8H Blower
The GP8/GP8H portable gasoline air ventilation blower is designed to accommodate most confined workspace requirements.
Supplies fresh air and removes toxic and noxious atmospheres
Honda or Briggs & Stratton 3.5-hp, 3,600-rpm engine
Adjustable governor with manual speed control
GP8 weighs 56 lbs.
Cast aluminum blower housing
General Equipment
Kompact Dehumidifier
The Ebac Kompact Dehumidifier for commercial and residential work is compact and permits one man operation. The dehumidifier has the capacity to handle several room size areas at one time. Its hot gas defrosting feature automatically eliminates frost buildup for operation at low temperatures.
Ebac Industrial Products, Inc.
STO-STACK
The STO-STACK blower hose can be used for ventilation, drying, dehumidification or temporary heat or air.
Constructed of flexible, single-ply, PVC laminated polyester fabric supported by helical wire that compresses at a 10:1 ratio
6- to 24-in. I.D. sizes and standard 15- and 25-ft. lengths
Belted cuff end fits any blower
Flame retardant and mildew resistant
Comes in an easy to handle, self-contained storage pouch
The Flexaust Co., Inc.
Studebaker AirPath
The new Studebaker AirPath from Dri-Eaz dries all floors in minutes and lets you dry carpets and hard surface floors with the same unit. With its aggressive, patented 360-degree airstream, the new AirPath dries carpets fast, and locking casters keep it firmly in place on hard surfaces. Precision engineered for performance, the AirPath now includes a more durable grill and a rugged rotomolded housing. Features include a 1-hp motor with two-speed switch for flexibility and an integrated stand that allows space-saving on-side storage.
Dri-Eaz Products, Inc.
Companies in this article